This article was previously published in the UConn Advance newspaper on Oct. 6, 1997, with the headline "'Little Stone House' represents 50 states, pays tribute to Connecticut agriculture."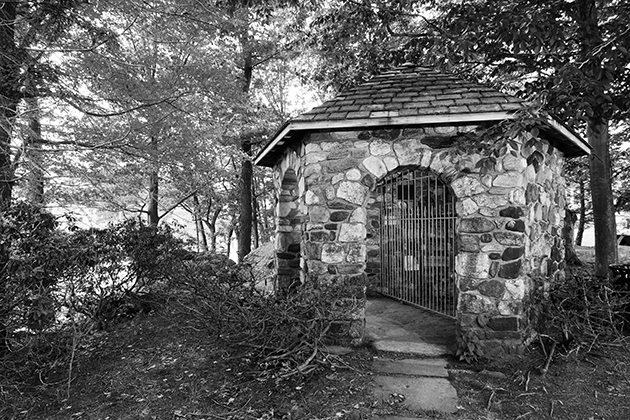 If you live in New England, it's not hard to gather a collection of stones in your backyard. Back in the 1930s, Mr. A.P. Marsh of New Britain had just such a collection. It was a collection that came not from his own backyard, however; it came from everyone's backyard.
Marsh had stones from each of Connecticut's eight counties. He also had collected stones from each of the 48 states that made up the United States at that time. Lots of stones. Enough for the retaining wall he planned to build at his house.
But then Marsh began to think that the stones were too fine to put into a wall and instead he donated his collection to the Connecticut Grange, of which he was an active member.
The Grange, a national organization of farmers, decided to use the stones for a tribute to agriculture, by building a memorial on the campus of Connecticut State College. The Grange had been active in supporting the creation of the college when it began in 1881 as Storrs Agricultural School, and had continued to support the institution as it fought off various proposals to limit its enrollment, move it elsewhere, or shut it down.
On May 16, 1937, nearly 3,000 members of the Grange came to the college for the dedication of what has been referred to over the years as "the stone shelter," "the stone pavilion," and – in recent years – "the little stone house."
The occasion was the ninth annual Grange Sunday, and the guest speaker was Louis I. Taber of Columbus, Ohio, master of the National Grange.
Following a church service in nearby Storrs Congregational Church, and while Grangers ate their basket lunches on the lawn, Taber said the stone building was "to commemorate the service of Connecticut agriculture to the state and the nation."
Albert N. Jorgensen, just two years into his 27-year tenure as president, responded on behalf of the college. He said the building was also dedicated to Connecticut youth, adding his hope that "this building will be used by the good sons and daughters of Good Grangers."
A bronze tablet identifies the stones from the 48 states. Name plates were added in the 1960s, when stones from Alaska and Hawaii were incorporated into the structure.
Now mostly hidden by trees – including an elm planted by the Class of 1905 – the little stone house stands on a rocky rise along North Eagleville Road, in front of the Congregational Church's Community House and across from Swan Lake.
Sources: The Connecticut Campus, "Grange Gives College Unique Stone Shelter," "Memorial Dedication Feature Attraction," May 18, 1937; unpublished manuscript, Evan Hill, 1980.