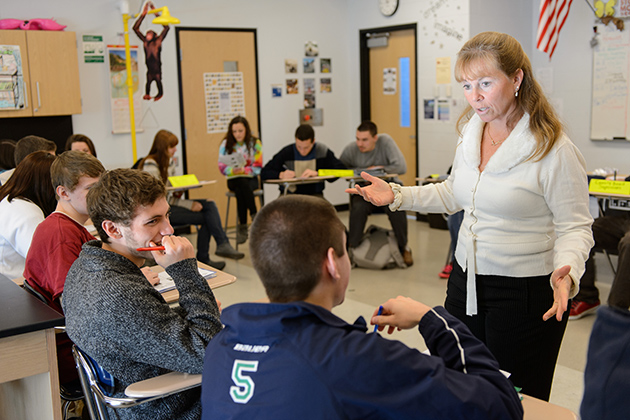 For many college freshmen, transitioning from the structured lesson plans of high school to the hands-off learning environment of a college campus can pose a challenge – fortunately, though, not for Theus McBee '16 (ACES). Before he had even graduated from Hartford's Classical Magnet High, McBee was already getting a taste of what UConn would be like.
As a high school senior, he completed a college course in advanced classics through the University's Early College Experience (ECE), a program that allows motivated students from public and private high schools across Connecticut to take university courses taught by specially trained teachers at their school. Through ECE, students earn high school credits and, at the same time, credits that can transfer toward a degree at UConn or other universities.
Taking a UConn course during his regularly scheduled high school day allowed him to transition into the rigor of university academics more easily, says McBee, now a UConn freshman and first-generation college student.
"I was able to gradually build my skills and get a feel for what college courses are like," he says.
For high school students taking part in ECE, exposure to UConn courses can also open their eyes to possible careers, says Brian Boecherer '03 (CLAS), associate director of the Office of Early College Programs.
"For a student who maybe doesn't know if they want to go to college, they take an ECE class and say, 'I can study this and turn it into a career?' It flips a switch," he says. "It takes that population of students who are maybe in the gray zone and it ignites that fire, that academic interest – instead of just going to college because Mom and Dad say so."
10,000 and growing
Established at UConn in 1955 and previously known as the High School Co-op Program, ECE is the oldest program of its kind in the U.S. Also among the country's top three largest programs in terms of student enrollment and course offerings, UConn's ECE allows high schoolers access to 50 UConn courses in more than 20 disciplines – ranging from physics to American studies.
The program reached a milestone this past fall, now serving more than 10,000 students at 165 high schools statewide. Currently, about 900 high school teachers are certified by the University as ECE instructors and, as part of the program, designated as adjunct UConn faculty members.
The nationally accredited program is based on standards that assure that the UConn courses taught in high schools are in fact the same as courses taught on campus, says Gillian Thorne, director of the Office of Early College Programs. "The standards have been adopted by many states across the country and accreditation mandated in order to validate the concept that certified high school instructors can actually teach college courses – and teach them very well," she says.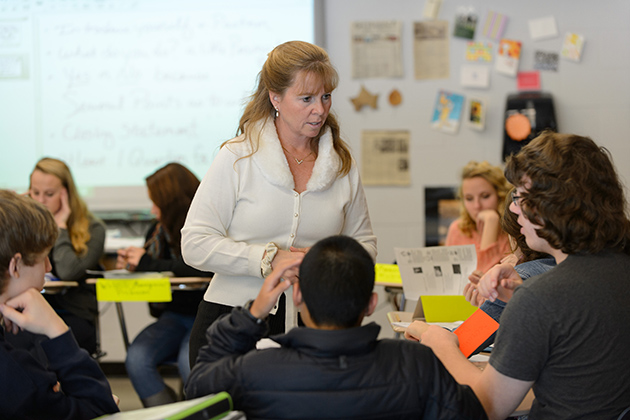 Karen Cordero, a teacher at Bolton High School, is in her fifth year as an ECE instructor. Teaching a UConn environmental science course, she has seen several of her students go on to major in and pursue careers in the field. "I love the fact that they can get college credit for a class that I absolutely love," she says. "The ECE class is far more detailed with information; it's engaging and more career-oriented."
In addition to offering high school students a glimpse into college academics or potential career paths, ECE gives a jumpstart to students striving to keep costs down by finishing college in four years or less. In fact, students who participated in ECE during their high school years and later enrolled at UConn are consistently 18 percent more likely than other UConn students to graduate within four years.
ECE does not exclusively target high schools with the best rankings or highest test scores. "It has an impact on the quality of education throughout the state," says Professor Tom Recchio, who has led the coordination of UConn's ECE English courses since 1989. "[For] a lot of schools that are underfunded, particularly urban and rural schools, it does enhance their curriculum … and really provides material support for our teachers."
There are also benefits to the University. For one, ECE students matriculating at UConn arrive accustomed to college coursework – a plus for UConn professors. "They see the students coming in very well prepared," Boecherer says.
And with thousands of ECE students statewide completing UConn degree requirements while still in high school, there is less of a demand for introductory courses once those students enroll at UConn as freshmen. That effectively opens up course sections for other incoming freshmen, saving money for the University, while allowing ECE alumni to advance more quickly.
For instance, says Boecherer, "They don't have to go through the Freshman English course. They can just jump into an Irish literature or Shakespeare course."
Last but not least, ECE instructors enjoy networking with UConn faculty, who guide them in developing ECE coursework. During ECE professional development workshops held at the University throughout the year, ECE instructors and UConn professors collaborate and swap ideas.
"Everyone really likes the collegial interaction," Boecherer says. "That's where the magic is: Seeing that exchange."
For more information about ECE, visit ece.uconn.edu.