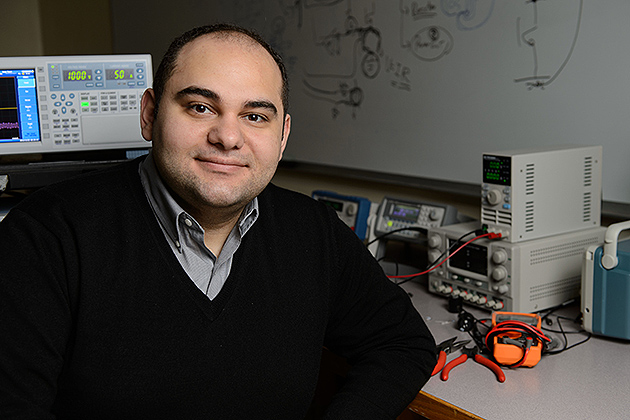 UConn's rapidly expanding power and energy research division received a boost recently with the hiring of Ali Bazzi, an expert engineer in advanced power electronics who comes to the University after a brief stint with the Delphi Corp., a global leader in electronic systems technologies.
Bazzi specializes in power electronics applications, electric drives, and renewable energy integration – those key pieces of technology used to convert raw, natural power collected by such things as photovoltaic solar cells and wind turbines into usable power for the commercial electric grid.
Power electronics applications are also used in the electric motor drives found in plug-in, hybrid, and full-electric vehicles. They help transfer and regulate the flow of electricity from an onboard battery to the vehicle's drive train.
"With any energy system, unless you have power electronics, you cannot make use of that energy," says Bazzi, an assistant professor in the Department of Electrical & Computer Engineering. "In order to interface with any electrical load, you need energy conversion and that conversion process is done with these electronics and their controls."
Cutting-edge programs
Bazzi joins UConn as part of the University's Faculty 500 initiative. The initiative is expected to hire approximately 500 professors over the next four years, including 275 newly funded positions, in order to bolster UConn's standing as a top public research institution and strengthen its academic core.
"We are very excited to have Dr. Ali Bazzi in the ECE department," says Professor Rajeev Bansal, head of the Department of Electrical & Computer Engineering. "Along with two other ECE faculty members hired in 2009 and 2010 respectively, Dr. Bazzi will be developing cutting-edge educational and research programs in the area of renewable/sustainable energy."
With any energy system, unless you have power electronics, you cannot make use of that energy. In order to interface with any electrical load, you need energy conversion and that conversion process is done with these electronics and their controls.
Bazzi comes to UConn after a year-long stint as a senior power electronics engineer with the Delphi Corp., a leading private sector supplier of electronic technologies for the automotive industry, commercial vehicles, and other markets. Bazzi earned his Ph.D. in electrical and computer engineering from the University of Illinois at Urbana-Champaign, which is known for its exemplary power and energy research programs.
Although only a few months into his new job, Bazzi has already opened an advanced power electronics and electric drives lab at UConn's Center for Clean Energy Engineering on the Depot Campus. With several dynamometers and other key pieces of equipment ordered or in place, Bazzi says he is eager to get started on projects with the help of graduate and undergraduate student assistants.
"Most of my work is experimental. It has to be tested," says Bazzi, who hopes to lead an undergraduate course in electric machines and electric drives next fall. "In my field, if you want to get proposals or research for students done, you need to have a lab where they can sit, work, and focus."
Meeting industry demands
Bazzi hopes to use his academic background at the University of Illinois and work experience at Delphi to make sure UConn's research and training is in line with current industry demands and expectations.
Continued national interest in fossil fuel alternatives and sustainable energy has put tremendous pressure on science and industry to develop more efficient, more reliable, and less costly power system technologies.
Bazzi says he looks forward to collaborating with other researchers at the Center for Clean Energy Engineering, which has an established national reputation for its fundamental and applied research with fuel cells, solar energy, smart grid technologies, and other clean energy systems. The Center also has strong ties with commercial partners such as United Technologies Corp., Siemens, General Electric, FuelCell Energy, Northeast Utilities, and others.
"Ali is a great team player and we are very pleased to have him here," says Professor Prabhakar Singh, director of the Center for Clean Energy Engineering. "He's a very energetic person, and he's already involved in many of our ongoing projects related to smart grid and micro grid. With his interests in integrating different energy systems – wind, solar, fuel cell – Ali should be a major contributor on our electrical engineering side."
The Energy Age
Bazzi, who completed his undergraduate and graduate education at American University of Beirut, says, "UConn is an excellent research institution. UConn energy research is something that is going to grow, and I think the University is a very good match for me in terms of my research interests and interests in academia."
Bazzi already has several research projects brewing. He is working on improving micro-inverters for individual solar panels so that they will be more efficient and less costly than the large central inverters used in many solar panel arrays today. In those larger systems, if the central inverter fails, the entire system has to be shut down unless there is some form of redundancy. Having small power converters on each panel allows users to bypass just one panel in the array if there is a failure or needed repair, rather than shut down the entire system.
Another of his projects involves the development of more "intelligent" plug-in chargers for electric vehicles that will transfer maximum power efficiently and reliably, despite fluctuations in the electric grid. A third project involves a novel safe-mode system for electric or hybrid vehicles that would alert drivers to a component failure and provide a reliable backup system so the vehicle can continue operating safely. He is collaborating on the project with Prof. Shalabh Gupta's group: they bring expertise in the fault identification area, while Bazzi brings experience in electric drives and their failure modes.
"We're looking into real-time detection of failures in electronic drives, because if you have a pure electric or hybrid vehicle, you always need to know if there is something wrong with your machine, power transfer, or sensors," Bazzi says. "If you have a serious failure and you're driving on the highway, you don't want to lose control. If the fault is in a sensor, you want your vehicle to still operate independent of that sensor so you can continue on or at least park and wait for help."
Bazzi says technology in the power and energy field is developing rapidly.
If the past few decades are to be defined as the Information Age or Digital Age due to the tremendous growth and technological advances in the Internet, personal computing, and communication, Bazzi says we may be entering a new era defined as the Energy Age.
"In many ways, we are in the Energy Age already," says Bazzi. "Everyone wants clean energy, green energy, more energy efficiency, and so on. Within the next few years, I think there will be some very major technological achievements, and I don't think it is going to slow down for a while. I also think that UConn should and will be a major innovator in the energy research."