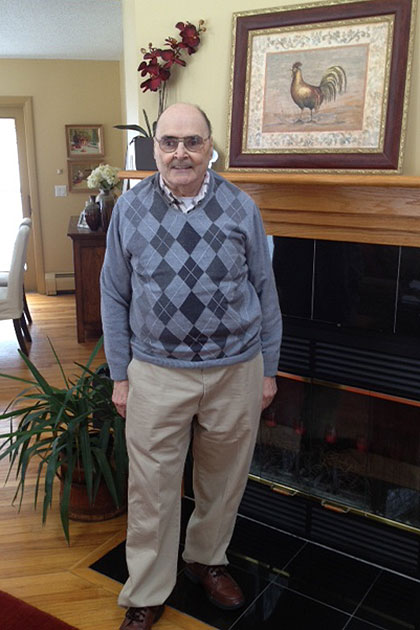 For more than 30 years, the influence of Alexander "Bud" Gavitt Jr. '67 MA (member, UConn Alumni Association) was felt in the College of Agriculture and Natural Resources through hundreds of articles, photographs, and publications he created while working in the College's Office of Communications.
Even greater than that, though, was his influence as an instructor and mentor to numerous CANR students. Generations of UConn alumni now working in agriculture, nonprofit leadership, and communications can trace part of their success to Gavitt, who will receive the College's highest recognition, the Augustus and Charles Storrs Award, in April.
Many professionals would happily retire after such a distinguished career, but Gavitt has remained a strong advocate and communicator for agricultural organizations across the state, serving as the editor for newsletters and publications as recently as 2012.
His path to UConn and the Storrs Award began, as it does with so many other influential CANR alumni, with 4-H.
At the age of 13, Gavitt was actively involved with farming, raising nearly 100 chickens and winning a statewide 4-H poultry contest. Within a year, he was working on the organization's 4-H column in the local newspaper, which he still regards as his professional start in communications.
As a graduate student at UConn, in addition to his main job of writing and editing for the College, he began training interns from the journalism department and later the English and animal science departments. Gavitt went on to receive many awards throughout his career in the College, including a national award for excellence in writing by the American Association of Agricultural College Editors in 1990.
Upon retirement in 1992, he considered how best to keep writing at the forefront of the educational experience for students in the College, and made a major gift to establish the Gavitt Agriculture and Natural Resources Communications Fund. The award offers employment-level writing experience in the field of agriculture and natural resources communications, as well as financial support.
"The University and the College were very good to me," Gavitt says. "So many deans in CANR supported communications and recognized the need to have effective communications with local farmers and the agricultural field nationwide. UConn is one of the top land grant institutions, and I just wanted my legacy to be one that helps students improve their writing and other communication skills."
One of those students is Victoria Smey '13.
"Receiving support from Mr. Gavitt's fund is incredible because it allows me the opportunity to cultivate two of my passions – communications and agriculture – at the same time," she says. "I really feel like I'm gaining relevant and useful preparation for a career in these fields."
"Bud's body of work is a legacy in itself, and with his generous financial support, he has planted seeds for the future," says Sara Putnam, director of communications for the College. "The scholarship provides a wonderful opportunity for talented students to follow in his footsteps. Our Gavitt Students, as we call them, work with us in the College's communications office, honing their skills in writing, editing, photography, graphic design, and web development. We get much-needed assistance, and the students leave us better prepared for the real world."
Looking back at the whirlwind of transformation in communications that has occurred since his first 4-H column, Gavitt notes that schools today are preparing students to succeed in the new communications channels available online, most of which he could only have dreamed about through his long career. One constant remains, though: the ability of communications to tell the vital role of agriculture in our society.
"What I have enjoyed each semester is that almost every student says the experience really opened up their eyes to agriculture and other fields in the College," says Gavitt. "I often hear students say that they never realized that agriculture is so important. That's very rewarding."
From the UConn Foundation's Our Moment newsletter (February-March 2013).