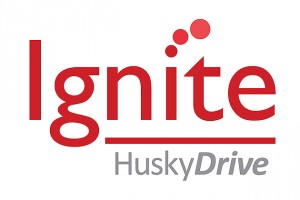 A UConn alumnus is offering $25,000 to University-related causes or organizations that can get the largest number of students and young alumni to support them before May.
The Ignite initiative, run through the University of Connecticut Foundation, is the first crowdfunded competition at the University, and includes 20 groups of UConn students that applied to take part and raise funds for something they are passionate about.
For the third consecutive year, alumnus David Barton '61 (BUS), a member of the UConn Alumni Association, has posed a $25,000 student giving challenge to UConn students. For the past two years, his gift has been a 1:1 match to donations made by current students, with Barton's support going to The Fund for UConn. This year his support will go to the top seven groups in Ignite, with a $10,000 1st place award, and six runner-up awards of $2,500 each.
The 20 causes are competing to see which can get the largest number of student and young alumni donors – not the largest dollar amount raised – to give to their UConn Foundation fund by May 3, 2013. Young alumni are those who earned a degree from UConn between 2003 and 2012.
The competing groups represent a wide range of UConn activities, and vary greatly in size, scope, and mission. A full listing of the groups, and information about donating to Ignite, can be found at ignite.kintera.org or the UConn Foundation's home page.
Barton, who started donating to instill a sense of student philanthropy that he felt was absent when he attended UConn, says that Ignite helps the student groups, their alumni, and the University at large.
"Ignite gives UConn students and young alumni the opportunity to follow, connect with, and support causes at the University of Connecticut that they are most passionate about," he says. "The competing groups keep all of the funds they raise in their UConn Foundation account, as well as my match, should they be one of the winners, and the University benefits from having an engaged alumni body that knows the great things that today's students are doing."
UConn student Perry Wasserbauer '13 is a member of the Student Philanthropy Association at UConn, as well as the student representative on the UConn Foundation's Board of Directors.
"As with any donor, students are more likely to donate to things they care about, and Ignite allows us to do just this," Wasserbauer says. "Students can easily fundraise for and support their interests within the UConn community. As students become involved, we will continue to raise awareness within the student body about the importance of philanthropy in their UConn experience."
Since 2009, nearly $100,000 has been raised through HuskyDrive, UConn's student giving campaign. In addition, $75,000 in matching funds from Barton and $25,000 from UConn Trustee Denis Nayden '76, '77 MBA, supporting the Fund for UConn, have also been raised through annual student giving challenges.
—————————————————
View the list of causes and Ignite your UConn passion today!
Join the Student Philanthropy Association on March 27 at the Student Union for "Tuition Runs Out Day," featuring an Ignite team exposition. More information can be found on www.facebook.com/huskydrive