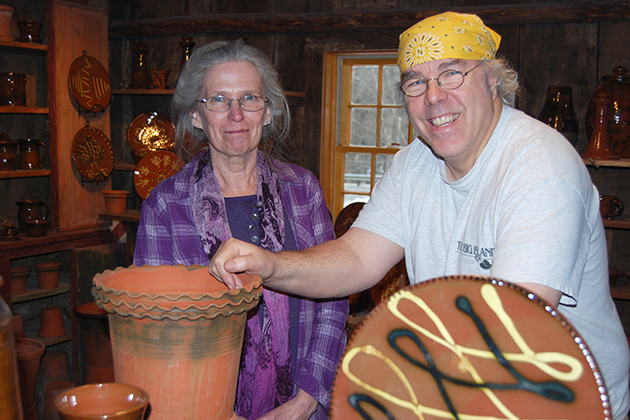 As head of the General Books Department at the UConn Co-op, Suzy Staubach has more than a passing acquaintance with all manner of books and the people who both write and read them. And as a longtime potter and gardener, she's clearly comfortable sitting at the wheel in her studio, overlooking expansive perennial flower gardens developed over decades at her home in Ashford.
Now those three passions have converged in a new illustrated biography she's written about an internationally known Connecticut potter titled Guy Wolff: Master Potter in the Garden, which will be published in July by University Press of New England. The book features photos by UConn alum Joseph Szalay.
An authority on early English and American ceramics, Wolff will showcase his signature garden pots and his slipware, including plates and platters, in an exhibit at the UConn Libraries from March 4 through July 10 to coincide with the book's publication. A reception, free and open to the public, will formally open his exhibit and those of two other artists on Sunday, March 10, from noon to 2 p.m. in Homer Babbidge Library.
On July 14, Staubach will celebrate the book's publication at the Hickory Stick Bookshop in Washington Depot, Conn., which is near Wolff's home in Bantam. Though a distance from Storrs, UConn will be well represented: Fran Keilty, the owner of the Hickory Stick, and her husband Michael Keilty, are both UConn alums; he is currently doing work on sustainable agriculture for the University.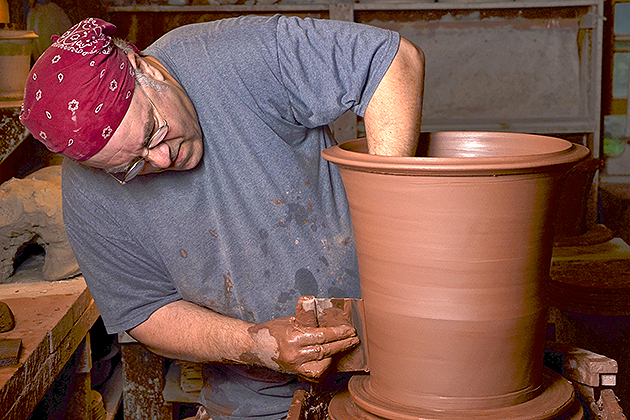 Guy Wolff's traditionally inspired horticultural wares grace gardens and homes throughout the U.S., including those of Martha Stewart, the late Steve Jobs, and the noted garden writer and designer Joe Eck, as well as leading botanical gardens and house museums. His pieces have been frequently featured in magazines such as Horticulture, People magazine, and Victoria magazine.
"If you mention Guy Wolff to a serious gardener, that gardener will tell you he or she either owns a Guy Wolff flowerpot or how much he or she covets one," Staubach says, adding that Wolff's pots, ranging from small windowsill-sized to massive outdoor pots, are widely considered the epitome of garden-ware.
Wolff, as Staubach details in her book, is painstaking in his approach to his work. See Wolff at work.
"The outward sweep from the foot to the rim, classically proportioned, the simple decoration, the pure color of the clay, terra cotta or white, the marks of his hands, make plants look their best," Staubach writes. "His pots possess an honesty and liveliness that machine-made flowerpots lack. They are beautiful and eminently functional, with generous drainage holes, a porous composition, and a shape that guarantees that a root ball can be slipped out for repotting when the time comes."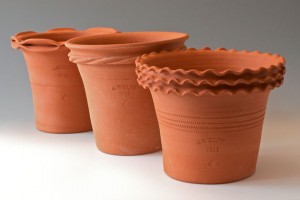 As a young man, Wolff traveled to Jugtown Pottery in North Carolina, and to England and Wales to learn from the old-time potters who were disappearing. He established his own workshop in northwestern Connecticut, where he continues today. Known for his ability to throw large amounts of clay quickly, and for the extraordinary beauty and integrity of his pieces, his pots have been featured in numerous publications, on television, in botanical gardens, and in the collections of serious gardeners.
Staubach's book about the master potter follows two others she's written: Clay (2005) and Connecticut, Driving through History (2001). Copies of her latest book may be pre-ordered through the UConn Co-op website.
In addition to Wolff's exhibit, the Libraries will also host "Greenhouse Effects," an abstract study of greenhouses by veteran photographer Marjorie Gillette Wolfe, a New Haven native who now lives in Cheshire; and "Off the Page: Altered Books, Narrative Sculpture, and Scrolls," by mixed media artist Maxine Payne of Concord, Mass. These two exhibits will end on June 21.
To learn more, go to: http://lib.uconn.edu/about/exhibits/future/.