Researchers at the University of Connecticut Health Center are making significant contributions to the treatment of mental illness in prisoners, with their efforts earning international recognition and continued federal grant funding.
With current national interest in mental health and corrections in light of recent tragedies, Dr. Robert L. Trestman, professor of medicine, psychiatry and nursing and executive director of Correctional Managed Health Care at the Health Center, explains some of the initiatives that are changing lives and making a difference to inmates and society in general.
Regrettably, prisons have been called the mental health facilities of the 21st Century, Trestman points out. Schizophrenia, bipolar disorder, post-traumatic stress disorder, depression, severe personality disorders, traumatic brain injury and addictive disorders are overrepresented in the prison population.
The need to address mental illness in prisoners is becoming increasingly urgent. Today, one in every 100 adults is incarcerated at some point. A 2003 study revealed that in the United States, 53 percent of arrested men and 39 percent of arrested women return to prison after release.
Trestman says CMHC's overall goal is to provide high-quality health care to people who become incarcerated in Connecticut. In that context, the CMHC staff works to effectively treat those with mental illness, providing them, where appropriate, with the skills needed to more effectively manage their impulses and emotions.
This is anticipated to help reduce the risk of reincarceration and give former inmates a better chance at a crime-free life, which in turn could make society safer and help reduce corrections costs. "Many severely mentally ill individuals spend a significant portion of their lives incarcerated," he says. "We see an opportunity to make a huge difference in their lives."
Teaching Coping Skills
One such initiative is START NOW, a program for inmates prior to their release that teaches them coping skills to deal with behavioral disorders and associated problems. The 32-session program, taught by trained mental health professionals, covers basic foundational skills, managing emotions, interpersonal skills and future-focused skills. Written at a 5th grade level and available in English and Spanish, the program incorporates motivational interviewing and gender-specific design to hold participants' interest and make an impact.
"The aim of START NOW is to teach emotion regulation and impulse control to people who historically have little of either," Trestman says. "It's an important tool in terms of treatment. Learning how to relate to others is something that should be taught to children who are in 6th or 7th grade but often is missing in this population. START NOW teaches people how to be assertive but not aggressive and focuses on self-control."
START NOW grew out of joint research by the Health Center and the Connecticut Department of Corrections that was funded through a grant from the National Institute of Justice (NIJ). Designed to be practical and cost effective, the program is used in select Department of Mental Health and Addictions programs that serve a justice-involved population as well as those in prisons.
Trestman says the team that developed the program worked with a neuropsychologist to make it appropriate for use with people who may have a history of traumatic brain injury. "An estimated 35 to 60 percent of people who are incarcerated have been shown to have a traumatic brain injury, even if only minor," he says. "Through surveys, participants tell us they can relate to the program and that it has real value. We've heard many stories of patients responding positively to it."
While few interventions have helped recently released prisoners avoid reincarceration, START NOW has been shown in a preliminary study to make a difference. The program is used around the U.S. and in Sweden, and is being considered in Switzerland as well.
Managing Bipolar Disorder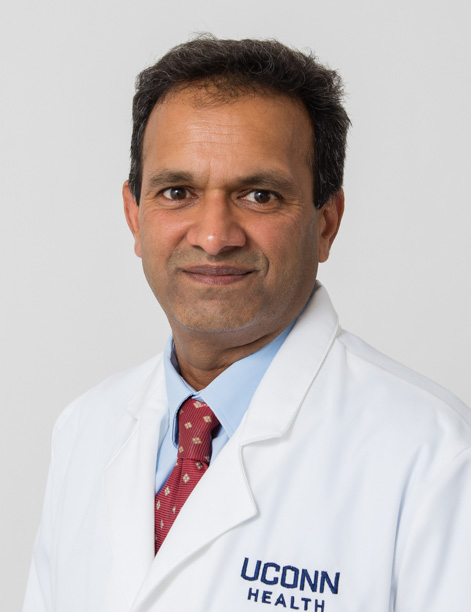 Another initiative involves the research of Dr. Jayesh Kamath, assistant professor of psychiatry and immunology at the UConn Health Center, who coauthored a recently published paper on managing bipolar disorder in Connecticut prisons. Kamath's team developed an algorithm to determine the best medication management for bipolar disorder, a mental illness in which people experience severe mood swings that range from depression to mania, sometimes accompanied by psychosis.
"Many psychotropic medications have fairly serious consequences, so we want to be sure patients are getting the right medications," Kamath says. "These patients commit crimes many times in manic episodes when they are not themselves. Having said that, they still are crimes. If they don't receive appropriate treatments, they will commit another crime when they are released and will be right back. From both a human perspective and a financial perspective, it doesn't make sense."
A related effort is to address co-occurring substance abuse in prisoners with mental illness. Substance abuse is common in inmates with mental health issues, particularly bipolar disorder. "When they are incarcerated with limited access to drugs, we find that many of their symptoms resolve," Trestman says. "When their drug abuse is eliminated, we can focus on clarifying their general mental health issues so that when they are discharged, they can have better continuity of care."
National Spotlight
Another initiative by Trestman and Julian Ford, professor of psychiatry at the Health Center, was the development of one of only two validated screening tools used in jails to identify mental illness. Supported by grants from the NIJ and the National Institute of Mental Health (NIMH), the UConn team created an evidence-based assessment tool. The tool is now used in prisons in Singapore and Australia as well as in the U.S.
The strength and expertise of UConn researchers in this area has put the Health Center in the national spotlight. Trestman has been asked by the Oxford University Press to produce the first textbook of Correctional Psychiatry. With professors from the Universities of Colorado and Massachusetts, he has lined up national and international authors for 75 chapters, and work on the textbook will begin this year.
Trestman and Kamath say they and their colleagues are driven in their studies by humanitarian reasons as well as societal benefits. "It's very difficult to do any kind of research in corrections because of appropriate concerns that inmates might be forced to participate in studies," Kamath points out. "But we are committed to ethical research here, and we are one of the few institutions doing active research in this area. We are really at the forefront in the United States."
---
Follow the UConn Health Center on Facebook, Twitter and YouTube.