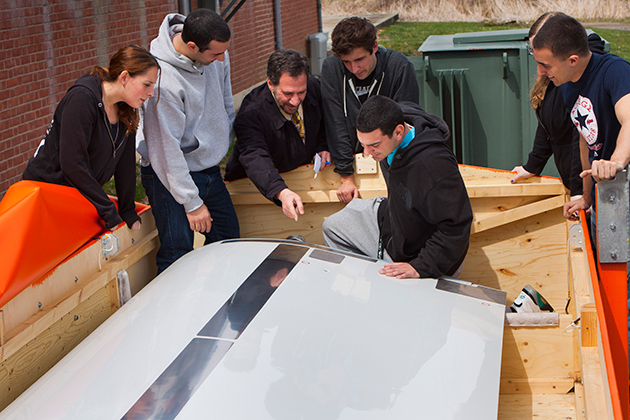 Aircraft manufacturer Airbus has donated an aircraft flap assembly worth more than $774,000 to the University of Connecticut's School of Engineering for use in its research laboratories and training classes.
Aircraft flaps are hinged surfaces mounted on the trailing edges of the wings of a fixed-wing aircraft to reduce the speed at which an aircraft can be safely flown and to increase the angle of descent for landing. Flaps shorten takeoff and landing distances by lowering the aircraft's stall speed and increasing drag.
"I want to thank Airbus for their generous contribution to UConn," said Gov. Dannel P. Malloy. "At a time when we are making tremendous investments in our flagship university to bolster math, science, engineering, and technology training, this equipment provides a unique real-world experience for our students. Connecticut's aerospace industry is an important driver of economic growth. With this Airbus technology, we are poised to train an even more talented, competitive workforce."
Barry Eccleston, president & CEO of Airbus Americas, said: "Airbus is always pleased when we link with academic institutions such as the University of Connecticut. When we donate aircraft parts and components to research programs, we are investing in aviation's future."
UConn will invite faculty and students to submit research ideas that will help determine the best uses of the flap.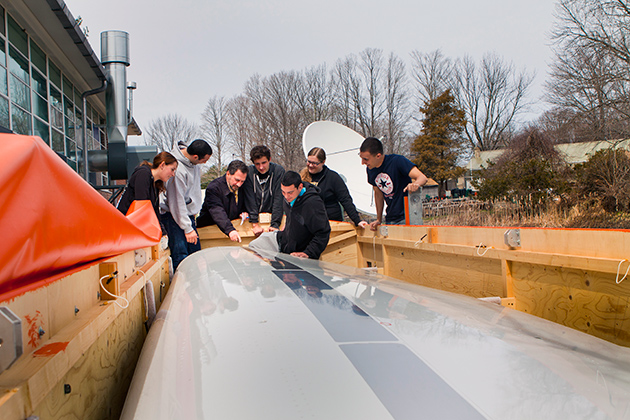 "We are very grateful for Airbus' donation to our research program," said Michael Accorsi, senior associate dean for the School of Engineering. "By hosting an internal contest to see how best to use this important piece of aviation equipment, we hope to stimulate creative research ideas from our faculty and students and potentially provide Airbus with new technologies that can be deployed on their aircraft. I anticipate that we will identify several meritorious projects and hope to conduct these at UConn over the next three or four years. Now that the wing flap is available for faculty and students to examine, we will be asking them to submit formal research plans in the next several weeks."
Some of the initial research areas that have been discussed include non-destructive testing methods for aircraft structures; wireless aircraft sensors with energy harvesting capabilities; and new ice protection systems for aircraft.
Improvements in non-destructive testing will not only enhance aircraft safety but will also help reduce the time and costs associated with aircraft inspection. Designing aircraft sensors that can power themselves from wing vibrations will allow these sensors to be easily distributed across the entire wing. These sensors can then be used to monitor wing performance and identify any unusual behavior. Research in ice protection systems will not only lead to more reliable winter travel, but also could provide more environmentally sound de-icing chemicals.
Many Connecticut individuals and groups helped arrange for the Airbus donation, including the Governor's office; the U.S. Department of Commerce's Commercial Service in Middletown, Conn.; and the office of U.S. Sen. Richard Blumenthal.
"This donated aircraft equipment is a unique educational opportunity for UConn engineering students to obtain hands-on experience, and is further evidence of the expanding positive relationship between the state, local businesses, and Airbus," Blumenthal said.
The left inboard flap assembly donated to UConn is commonly installed on Airbus A330 and A340 long-range passenger jet aircraft. The flap was delivered from an Airbus Spares Center in Ashburn, Va., and arrived at UConn in early April. The flap is currently housed at the Longley Building on the Depot Campus in Storrs.