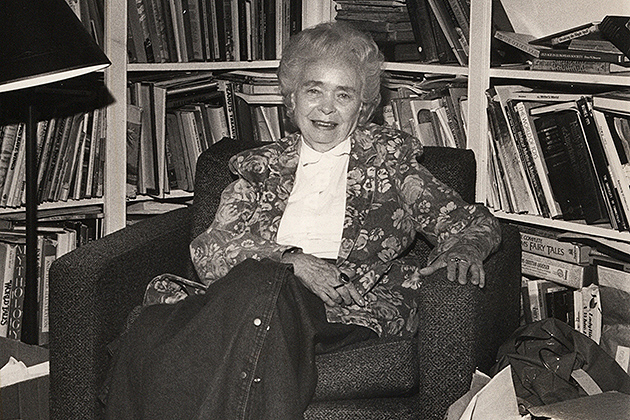 … Not long after, she called me up to invite me to speak to her 'Kiddie Lit' students at the University of Connecticut in Storrs. Now that was an experience! I have never been to a class quite like it. It was no wonder it was the largest and most popular one on campus. It was held in a huge hall that was packed with standing room only. I could see some students gingerly sitting along the window sills in the back. I was greeted by The Kiddie Lit Chorus, made up of several highly enthusiastic students, with an amusing skit of their own devising based on the movie of The Wizard of Oz. They were all dressed in costume. My remarks on Baum and Oz must have seemed rather tepid, after the wild circus act that had preceded them.
The Melted Refrigerator, excerpt from an essay by Michael Patrick Hearn, critic and historian of children's literature and longtime friend of Francelia Butler.
 ***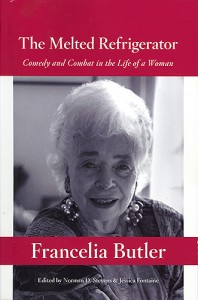 Once upon a time, children's literature was derisively regarded by some as "Kiddie Lit" and consigned to the library science or education curriculum. That was before the 50ish and newly-minted Ph.D. Francelia Butler arrived at UConn in 1965 and was relegated to teaching it. And teach it she did, embracing it with unbridled enthusiasm and imagination, bringing guest lecturers to her classes that included falconers, puppeteers, troubadours, and notable figures such as Maurice Sendak, Dr. Benjamin Spock, and the Wicked Witch of the West (the actress Margaret Hamilton), to name a few.
Not only did Butler succeed in making her class one of the most popular courses on campus, but she helped to raise the subject to an accepted academic discipline, establishing the journal Children's Literature, helping create the children's literature division of the Modern Language Association, and serving as a founding director of the Children's Literature Association in 1972.
A full and interesting life
Francelia Butler, The Melted Refrigerator: Comedy and Combat in the Life of a Woman.
Mansfield, Conn., Mansfield Hollow Press, 2013. 241 pages, $24.95.
ISBN: 978-0-615-77818-1 Available from the UConn Co-op, and the Harvard Bookstore.
Butler taught at UConn for 27 years, retired in 1992, and died in 1998, after a full and rich life. She received a BA from Oberlin College in 1934, and worked in Cleveland and Washington, D.C. before landing in Paris in the late 1930s, where she worked first at the Paris Herald (and met her husband Jerry Butler), and then at the American Embassy. Pregnant in the spring of 1940 when the Germans invaded France, she and her husband fled to the United States. When he died in 1949, she returned to college, received an MA from Georgetown University and then a Ph.D. in English from the University of Virginia, and taught briefly at the University of Tennessee, before arriving at UConn.
Her papers, which are in the University Archives at the Thomas J. Dodd Research Center, document her adventures and accomplishments through more than 40 versions of her autobiography The Melted Refrigerator, which was never published in her lifetime.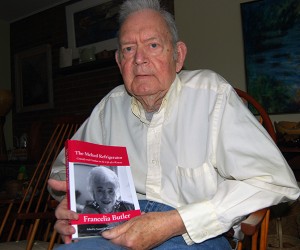 Now, Norman D. Stevens, director emeritus of UConn Libraries, and Jessica Fontaine, a graduate student in children's literature at Hollins University in Virginia, have edited a version of that autobiography, to be released on Sunday, April 28, 2013, the centennial of Butler's birth. On that date, a publication party will celebrate her many contributions to children's literature in a variety of ways from 2 to 4 p.m. at the Dodd Center. Copies of The Melted Refrigerator will be available for purchase at the event, and will also be for sale at the UConn Co-op.
"She was a great storyteller who described her many tribulations, her triumphs, and the precarious and humorous situations in which she somehow often found herself," Stevens writes in his introductory essay to the book. "Knowing it would be impossible for any biographer to write the story of Francelia's life with her same convictions and passions, I decided to edit for publication the most complete version of her own story that is titled The Melted Refrigerator; Comedy and Combat in the Life of a Woman."
The Northeast Children's Literature Collection
First acquainted in their professional capacities, Stevens experienced Butler's resolve first-hand when she sought to restrict access to the Libraries' limited children's literature collection to only herself and her students, instead of allowing them to freely circulate from the general stacks. Later, when a children's literature collection was formally begun, Butler wanted her students to have unlimited access to it in its entirety, including original manuscripts and illustrations. The Libraries thought indirect, supervised access to the materials would be a better approach, Stevens recalls.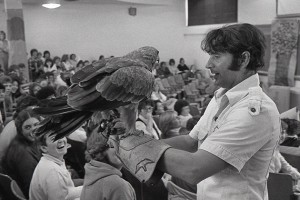 Eventually, what is now the Northeast Children's Literature Collection was incorporated into the Special Collections Department in the Homer Babbidge Library, and in 1995, transferred to the Archives & Special Collections Department's new quarters in the Thomas J. Dodd Research Center.
It is now a nationally recognized national collection that is used regularly by students in the English Department, the School of Fine Arts, and the Neag School of Education.
The high regard in which Butler was held was not confined to her students. Professor of English Sam Pickering, who knew Butler for two decades, says of her: "Francelia Butler was wondrously bright, wondrously infuriating, and wondrously generous. She was a dear friend and startling teacher. She was a happy, appealing character – a sort that sadly has become an endangered species in the academic world."
Stevens first met Butler in the early 1960s and in the years that followed, came to appreciate her many talents. "She was a resourceful and innovative person who always managed to march to the beat of a different drummer. She was a good friend," Stevens says. "She was, above all, a truly accomplished and polished storyteller."
Promoting peaceful resolution of conflict
Butler recognized the power of language beyond storytelling, and in 1990 launched the International Peace Games Festival to promote the peaceful resolution of conflict by having students design games in which the players worked together to achieve a common goal. Ill, and without any way of assuring the continuance of this program, she transferred it to the students of Brooks House at Harvard University. Under the leadership of one of those students, Eric Dawson, the program has flourished, and as Peace First has become a major non-profit organization. It is perhaps Butler's most important and lasting contribution.
Stevens points to the following story in the book relating to the Peace Games that illustrates Butler's ability to capitalize on opportunities.
While a Fulbright scholar at Jaggelonian University in Krakow, Poland in 1967-1968, when Poland was still under Soviet domination, Butler was invited to a dinner to discuss the resurgence of anti-Semitism. "A man clad in magnificent white robes with gold trim entered. I asked who he was and was told he was Cardinal Wojtyla. … I was thrilled at the idea of sitting next to a Cardinal. I recalled that I had a natural stone cross in my purse … [and] told the Cardinal about the cross and its legend [which linked Native Americans to the death of Christ]. … When I presented it to him, he kissed it, mumbled a few words in Latin, and put it inside his vestments."
Subsequently, she explains that when a friend of hers in Poland who had an audience with the Pope asked him if he remembered the cross and the American lady who had given it to him, "[he] replied that he remembered the incident well and still had the cross." Never one to miss a trick, Francelia used that contact to secure a Papal blessing for each of the three UConn Peace Games."