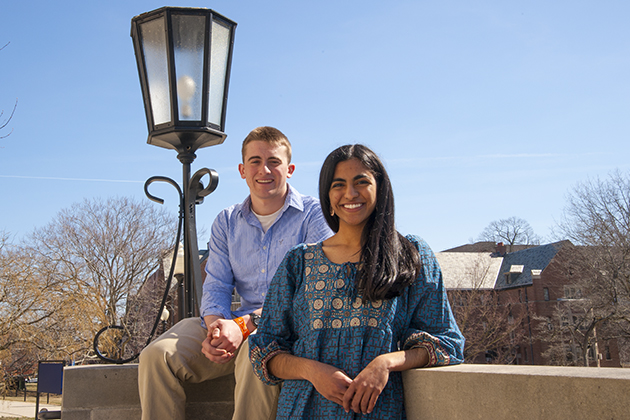 Ragini Phansalkar '14 (CLAS & ENG), a dual-degree student majoring in computer science and biology, has won a 2013 national Barry M. Goldwater Scholarship for Excellence in Education. Nicholas Gallo '14 (CLAS), a junior majoring in physiology and neurobiology with minors in mathematics and molecular and cell biology, has earned an honorable mention for the prize.
The scholarships, honoring Sen. Barry Goldwater, are designed to foster and encourage outstanding students to pursue careers in the fields of mathematics, the natural sciences, and engineering. The scholarships cover the cost of tuition, fees, books, and room and board up to $7,500 per year.
Phansalkar, an Honors student from Stamford, Conn., was recognized as an honorable mention in the 2012 Goldwater Scholarship competition. She says her love of interdisciplinary work drives her.
"There is such a large region of overlap between engineering, biology, and clinical science," she says. "I hope that by training in all of these fields I will be able to make a more effective contribution to improving peoples' lives."
Phansalkar, who is also a University Scholar, spent the summer of 2012 as an intern at the Pasteur Institute in Paris, where she helped develop software for biological image processing that would be used to improve kidney biopsies. At UConn, she devotes her time to two laboratories, working with Daniel Schwartz of Physiology and Neurobiology and Barbara Mellone of Molecular and Cell Biology.
Since May 2011, Phansalkar has also served as a project chair for the UConn chapter of Engineers Without Borders, coordinating the renovation of a primary school in Hyderabad, India.
Phansalkar plans to enter a combined program to earn an MD and a Ph.D. in bioengineering. Her goal is to work clinically as an oncologist and develop technologies that can aid in the diagnosis and treatment of cancers.
"I am honored to have been chosen for this award," she says. "I think it is really great that such a recognition exists to encourage students who are interested in research as a career."
Honors student Nicholas Gallo, of Windham, N.H., is majoring in physiology and neurobiology with minors in mathematics and molecular and cell biology. He aspires to earn a Ph.D. in neurobiology, focusing on neurological disease.
Gallo, also a University Scholar, spent a summer interning in the Cellular Culture and Process Development division at Pfizer Biopharmaceuticals, and is currently studying in the lab of Joanne Conover of Physiology and Neurobiology.
"I decided to study biology and math simultaneously due to my growing interest in the human brain and mathematical reasoning," he says. "I feel that these two fields of study are becoming intimately linked in professional research."
Gallo has been active with Relay for Life since high school and, as an avid cycler, has participated three times in the Granite State Quest, a 100-mile bike ride to raise funds for cancer research.
An honorable mention for the Goldwater Scholarship could mean a great deal for his career, says Gallo.
"Acknowledgment at the national scale provides me with additional motivation to pursue a research career," he says. "I feel that this award is also a reflection on the incredible research environment at the University of Connecticut, which is deserving of national recognition."