From thousands of individual donors, $65,000 has been raised for UConn student clubs and activities through the University's first crowd-funded philanthropy competition, Ignite.
Since Feb. 1, 20 student organizations have competed for a grand prize of $10,000, donated by alumnus David Barton '61 to the group that generated the highest number of donors who are either current UConn students or young alumni (Classes of 2003 to 2012).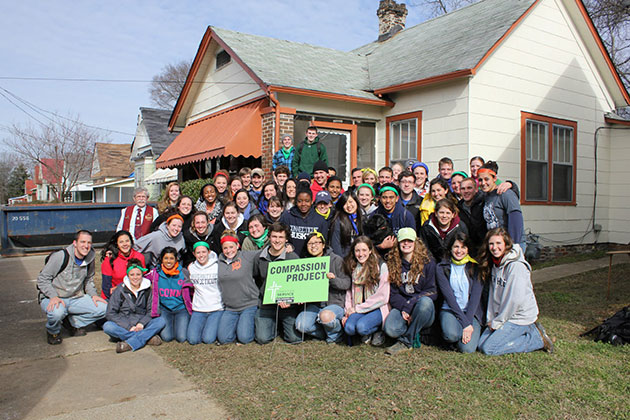 The winning team, Community Outreach Alternative Breaks, received support from more than 350 contest-eligible donors, who donated more than $2,700 to the program. The funds raised will be used to support and enhance the initiatives of Community Outreach and Community Service-Learning programs like alternative spring breaks and immersion activities.
President Susan Herbst congratulated all the teams and announced the winners on Wednesday, May 8 at the Student Union Theater.
"Your work has paved the way for future support of student programming, and the results speak for themselves," she said. "You are representing the scope and depth of a top university like UConn so very well."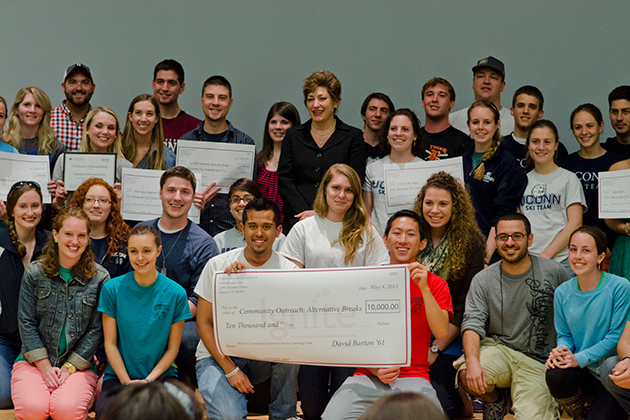 Six runner-up organizations will receive $2,500 each from Barton, as well as any funds donated to them through the competition. They are:
Husky Sport, 312 donors, $4,401.20 donated
BRIDGE, 224 donors, $2,998.81 donated
UConn Ski Team, 212 donors, $1,603.00 donated
UConn Marching Band: Ignite the Pride, 190 donors, $1,838.00 donated
Pharmacy Student Leaders, 170 donors, $1,840.70 donated
Eurotech, 165 donors, $1,446.34 donated
"There is a perception that students and younger alumni don't think about philanthropy in their daily lives, but we've shown that when asked to support what matters to them, they are exceedingly generous," says John K. Martin, president of the UConn Foundation, which sponsored the competition.
Martin says that approximately 1,500 current UConn students and 700 young alumni participated in Ignite, and the vast majority of them had never before made a gift to support the University. There were also about 500 gifts to the competing teams from parents, friends, and other alumni. Many donors gave to multiple teams, and some even gave multiple times to the same team.
Community Outreach had the most gifts from current UConn students, while Husky Sport dominated the other teams in support from its young alumni.
Barton, who has donated to spur on student giving at UConn for each of the last three years, says he is awestruck by the response.
"When I attended UConn, the notion of students giving back financially was unheard of. We weren't asked, and to a degree, the programs and services that were offered to us suffered because of it," he says. "Today's students can clearly see that philanthropy to UConn makes a difference, helps the programs that they care most about, and improves their UConn experience. I couldn't be happier with the results."