UConn alumna Talia Thiesfield '11 (SFA) is an actress and vocalist who has performed on stages across the country and appeared in numerous films and commercials, alongside musicians and Broadway performers, and on such TV shows as "Jimmy Kimmel Live." In this special to UConn Today, she talks with UConn alum and writer Bessy Reyna '70 MA, '82 JD about her background, her start in theater, and her work on the stage, which recently included a role in musical mystery "LMNOP" at the Goodspeed Opera House in Chester, Conn.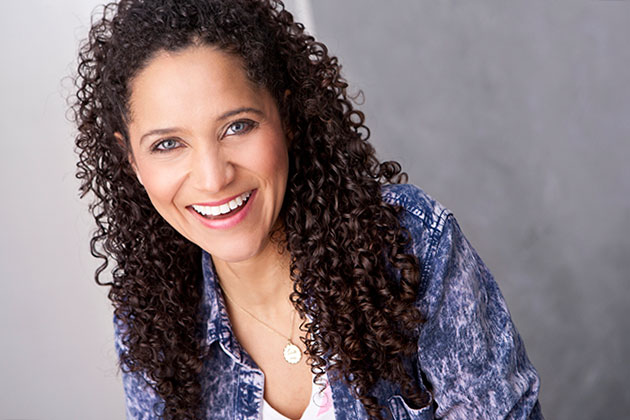 BR: Where are your parents from? Did they speak Spanish at home?
TT: My parents are both first-generation Caribbean New Yorkers. My father's side is from Haiti, and my mother's side is Puerto Rican. Though Spanish wasn't spoken regularly in my home, my grandparents and other family members would often speak in Spanish, so I can understand fluently. As far as speaking goes … well … I'm much more fluent in Spanglish.
BR: Do you identify yourself as Latina/Hispanic?
TT: Claro! I'm a very proud puertorriqueña!
BR: Where did you grow up?
TT: I was born in Connecticut, though growing up I told people I was from New York City so people would think I was cool. Now that I'm older and have lived in both New York and Los Angeles, I truly appreciate my Connecticut roots. I appreciate the "country" life more, and I miss things when I'm gone for too long, like trees and stars.
BR: When did you become interested in the theater?
TT: I come from an artistic family. My father is a photographer, and both my parents made sure to expose me to a great deal of music, art, and theater as a child. I remember attending the Hartford Ballet and seeing exhibits at the Wadsworth Atheneum [in Hartford] at an early age. Also, every Sunday my parents would ONLY play either jazz or classical music. My father had box sets of all the classic composers – Bach, Beethoven, Chopin, Tchaikovsky … So it was only natural that I had a love of the arts early on. My interest in theater specifically began when I was about 10 years old and watched Audrey Hepburn in the movie version of "My Fair Lady." I was singing and doing the accent for weeks, driving my mother nuts. She eventually enrolled me in a theater camp.
BR: What was your first play? What are the memories you have of that experience?
TT: Aye, this is one of my mom's favorite stories! I went to a theater camp at the University of Hartford when I was 10 years old, and we did a production of "The Wiz." I desperately wanted to play the part of the lion. I wanted to paint my face and wear the costume, and roar and growl at everyone. I always liked being a character. So, I auditioned. When they announced the roles the next day, I learned I had been cast as Dorothy – the lead. I was so devastated! I went home and cried for hours. Well, after the first day of rehearsals, let's just say I got used to being the star pretty quickly! I continued performing with that same group for about five years, and I credit the program director, Tobi Silver, with being the first to encourage my interest and skill for what would be my future career.
BR: Do you have a favorite playwright or play?
TT: I am a bit of a Shakespeare buff. I think I read my first Shakespeare play at the age of 8. I also love the plays "Seven Guitars" by August Wilson and "By The Way, Meet Vera Stark" by Lynn Nottage. I enjoy slice-of-life plays – shows that give you a peek inside someone else's world. The musical "In the Heights" also holds a special place in my heart. Not only is it a heartfelt peek inside the life of Latinos living in New York City, but the whole show really has a heartbeat like a conga! I mean, the sabor just really gets into your system. No matter who you are or where you're from, you fall in love with the characters, their culture, their pride and tenacity.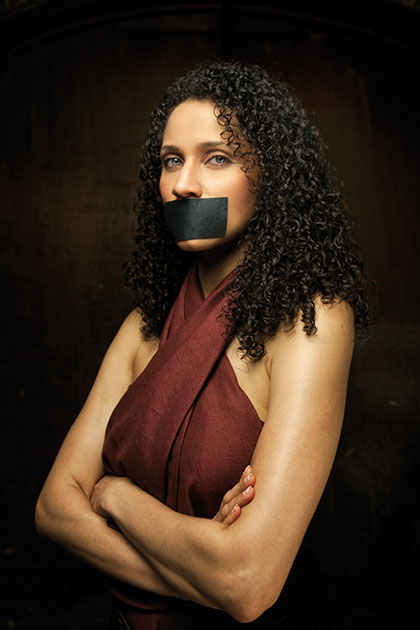 BR: You have participated in plays in different places in the U.S.; do you have a favorite theater where you have performed?
TT: I've had the good fortune to work in different theaters around the country, and I've found that it is the most unassuming places that are the most enjoyable. In all honesty, I am absolutely loving working for the Goodspeed right now. The location in Chester is just stunning, the people are kind and so supportive, and the staff really cares about their team and their actors. I also have very fond memories of the times I've worked in the Berkshires [at the Berkshire Theatre Festival and the Colonial Theater]. It's always an added bonus to be doing what you love in a beautiful setting.
BR: Aside from the theater, have you also worked in movies and TV? Do you prefer one type of acting to the other?
TT: I've done film, TV, voiceovers, theater, and live concert performances, and each one has both benefits and disadvantages. The one thing I truly love about doing theater is the opportunity to work on building something from scratch over the course of a longer period of time. Film and television work on a much faster schedule and often don't require all actors to work with each other. There are some movies where one actor may never even meet another actor if they don't share a scene together. The director of the show I'm working on now here at the Goodspeed – Joe Calarco – said it best on the first day of rehearsal: In the theater, we get to make "insta-families." And it's true! I've made lifelong friends while working in the theater and on stage productions. There's a certain satisfaction in the theater that I think is harder to achieve in other mediums.
BR: Your next project?
TT: I have an audition for another show coming up this week, so we will see! I am also in the process of remounting and redeveloping a show I produced and performed in New York last April called "Funky Divas," which features music made famous by R&B girl groups of the '90s.
BR: What do you do for fun?
TT: I love television. I'm a bit of a TV junkie, so I catch up on my favorite shows during my free time. I also love trying new food, spending time at the beach, reading, and exploring New York City when I have time. And seeing shows, of course! I have some amazingly talented friends who are doing brilliant work on Broadway. I highly recommend taking the trip to see some of the shows that are running right now. One night at the theater can be life-changing.