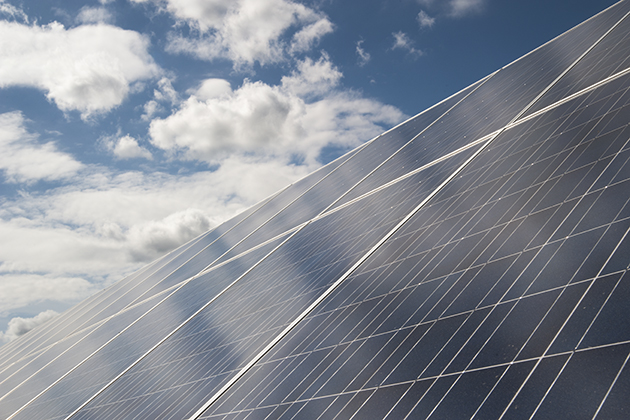 The University has received $2.14 million in state funding to create an independent microgrid energy system at its Depot Campus in Storrs.
UConn's microgrid will be supported by an existing 400kW fuel cell and a demonstration-scale 6.6 kW photovoltaic solar panel array located adjacent to the Center for Clean Energy Engineering. The microgrid is expected to be operational by June 2014.
"This project will enhance UConn's preparedness and ability to serve the community in storm-related emergencies," said UConn President Susan Herbst. "It will also help UConn serve as a resource for others on how to create resilient, reliable, and environmentally sustainable microgrids. We're grateful for the state's support and look forward to sharing what we learn through this innovative project."
UConn's microgrid was one of nine projects receiving state funding totaling $18 million. The expenditure – recommended by Gov. Dannel P. Malloy and approved by the General Assembly last year – will create the nation's first statewide microgrid pilot program. The Connecticut Department of Energy & Environmental Protection or DEEP will oversee the program.
"Microgrids play a major role in our efforts to modernize and harden our infrastructure to withstand severe weather," Malloy said. "These projects will help protect residents and vital public services even when the power goes out, and in doing so allow us to provide critical services during times of emergency."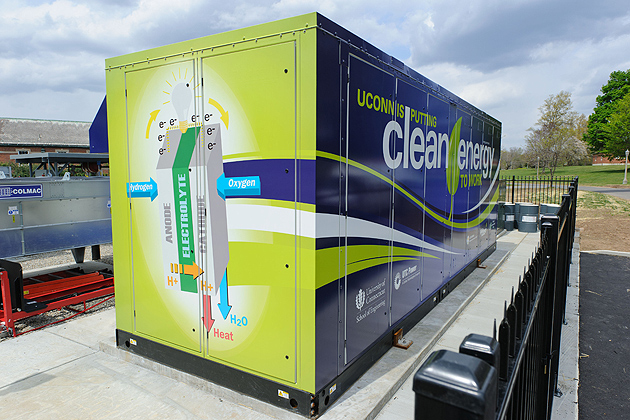 Rich Miller, principal investigator for the project and UConn's director of environmental policy, notes that over the past three years, Connecticut has experienced two 100-year storms, one 50-year storm, and a record-setting blizzard, each of which has resulted in extended grid power outages.
"With growing evidence that our climate is already changing, UConn's new microgrid at the Depot Campus will be a major step forward in implementing the Adaptation Section of our Climate Action Plan," says Miller. "This will be a state-of-the-art, clean energy microgrid that will not only benefit our neighbors but also help the University provide leadership and technical assistance to communities, schools, institutions, and businesses, as they adapt to and prepare for things like rising sea levels and more frequent and severe storms."
UConn's commitment to environmental sustainability is reflected in the University's new $25 million water reclamation facility, its new energy-efficient buildings, and its state-of-the-art agricultural waste composting facility.
Recognized as a world-class academic research facility, UConn's Center for Clean Energy Engineering provides resources for several teams of UConn faculty and students conducting microgrid and smart grid-related research. Leaders of these teams include electrical and computer engineering faculty members Peter Luh, professor and director of UConn's Manufacturing Systems Laboratory; Peng Zhang, assistant professor and director of the Power and Energy Systems Laboratory; and Ali Bazzi, assistant professor and director of the University's Advanced Power Electronics and Electric Drives Laboratory.
"UConn is poised to develop, test, validate, and implement an advanced electricity infrastructure," says Prabhakar Singh, director of UConn's Center for Clean Energy Engineering.  "This project also serves to strengthen the governor's comprehensive energy policy."
Providing power during emergencies
Once in place, the microgrid system will allow the University to provide reliable uninterrupted power to a cluster of Depot Campus buildings during prolonged electric grid power outages.
"This new microgrid will automatically control the electrical main breakers and the fuel cell, to allow significant portions of the campus' heat and power to be on when it's needed most," said Ronald Gaudet, UConn's director of utility services and energy management. "This system will run indefinitely, using only below-ground natural gas."
Critical facilities at the Depot Campus that will be supported by the microgrid include the Kennedy Building, the Center for Clean Energy Engineering (C2E2), electric vehicle (EV) charging stations, the Cottages of Wytrol Place, and staging areas set aside for temporary emergency operations and restoration efforts.
The Kennedy Building supports the UConn's Fire Marshal's office, emergency response rooms, and emergency communications. The Center for Clean Energy Engineering will provide a conference room for secondary command and control support services. Area emergency teams and first responders will have access to designated staging areas that will have power and lighting provided by the microgrid.
In the event of an emergency, the Cottages at the Depot Campus (including Hebron, Tolland, Vernon, Willington, and Windham facilities) will provide specialized services to the public. The Cottages will function as warming centers, providing access to a kitchen, restrooms, and charging stations for electronic devices, Miller said.
Mansfield town manager Matthew Hart said the town was delighted that the state selected UConn's microgrid project from the pool of applicants competing for funding.
"The Depot Campus microgrid will enhance the University and the Town of Mansfield's capacity to provide reliable power during times of electricity grid outages and to support restoration efforts and the provision of essential public services to UConn, the residents of Mansfield, and the surrounding area," said Hart.
UConn will develop its microgrid in conjunction with the U.S. Department of Energy's National Renewable Energy Laboratory, ClearEdge Power (formerly UTC Power), and Schneider Electric.
---