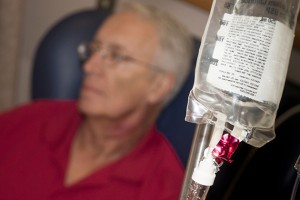 A shortage of an oncology drug can have an enormous impact on cancer patients who rely on a specific regimen of medication.
A recent survey by the national Hematology/Oncology Pharmacy Association (HOPA) found that oncology drug shortages have delayed patients' chemotherapy; increased the risk of medication errors; set back clinical trials; and raised the cost of health care, as hospital and treatment center staff spend hundreds of hours annually searching for alternative drugs and managing inventories.
In an attempt to address the problem, members of HOPA's Health Policy Committee – including UConn assistant clinical professor of pharmacy practice Lisa Holle – have been meeting with federal lawmakers and national health care representatives over the past year to raise awareness about the issue and to discuss ways future shortages can be averted.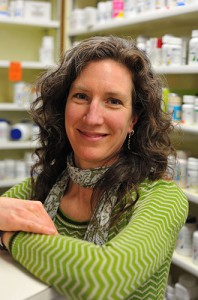 "We recognize that drug shortages will occur periodically, and that is something beyond legislative control," says Holle, a board-certified oncology pharmacist and past president of HOPA. "Ingredients will become scarce, or there may be an issue with a particular manufacturer. One thing we're advocating for is ensuring the timely notification of all health professionals, so we can plan for ways to mitigate the shortage of a particular drug."
HOPA represents about 2,000 oncology pharmacists across the country. During her tenure as president of the Association from March 2012 to March 2013, Holle and her colleagues analyzed data from the first national drug shortage survey, focusing exclusively on oncology drugs. More than 240 pharmacy professionals across the country participated in the survey, which was designed to gauge the impact of oncology drug shortages on clinical practice, patient safety, clinical trials, and health care costs.
Here are the significant findings:
93 percent of the responding pharmacists reported delays in chemotherapy or changes in a patient's treatment regimen due to drug shortages.
85 percent reported increased costs created by the additional labor required to monitor drug supplies and manage shortages.
44 percent reported that drug shortages affected clinical trials of new drugs, mainly described as delays in patient enrollment or not enrolling patients at all.
16 percent reported adverse patient outcomes, including delays in treatment possibly contributing to disease progression, increased toxicity, and increased cardiac events possibly connected to switching treatment drugs.
16 percent reported "near miss" errors that were believed to be related to drug shortages. "Near-miss" incidents are those that are discovered and corrected by practitioners before reaching a patient, and include omission of a treatment drug, incorrect dosage conversions or concentrations involving replacement drugs, or delays in therapy.
An analysis of available data found that most shortages occur in the supply chain of generic injectable drugs with quality issues at the manufacturing level listed as the most common cause of shortages (43 percent), according to information gathered by the U.S. Food and Drug Administration. When supplies run out, health care institutions sometimes feel compelled or pressured to purchase medication on what is known as the "gray market," where prices for products can exceed 100 percent of their fair market value. Those costs raise the cost of care passed on to patients.
Delays were most frequently reported in the treatment of patients with ovarian cancer (52 percent), colorectal cancer (51 percent), breast cancer (49 percent) and acute myeloid leukemia (35 percent). The most difficult drugs to obtain, as reported by the survey, were: liposomal doxorubicin, fluorouracil, leuocovorin and paclitaxel.
The study's findings appear in the April 1, 2013 issue of the American Journal of Health-System Pharmacy. Joining Holle in the study were researchers from the St. Jude Children's Research Hospital, the Memorial Sloan Kettering Cancer Center, The Ohio State University, and a number of other research and higher education institutions.
In a statement released with the published findings, HOPA said it "feels strongly that individuals with cancer should not shoulder the burden of drug shortages in addition to the stresses of cancer and cancer treatment, and is committed to advocating methods to avoid and manage future drug shortages."
Managing an oncology drug shortage presents a host of problems for practitioners. Delaying therapy or extending time intervals in which a drug is administered to conserve medication can be particularly problematic for a cancer patient, the researchers said. And switching from one cancer drug to a comparable substitute brings its own set of risks.
"The biggest issue for patients with cancer is that there are certain treatment regimens that are shown to be the best for these patients in terms of their outcomes and survival," says Holle, who works closely with cancer patients at the Neag Comprehensive Cancer Center at the UConn Health Center. "When there is a shortage of a particular drug, there isn't always a good alternative that is equally effective or has the same side-effect profile. So the replacement drug might be more toxic to the patient, which could impact their quality of life and overall treatment response."
Ali McBride, the study's lead author and a clinical coordinator at the University of Arizona Cancer Center, provided this example:
"Oncology drug shortages can lead to devastating effects, as there is little interchangeability between oncology drug therapies," McBride said when the findings were released. "The loss of one drug, as seen with cytarabine [for treatment of acute myeloid leukemia], can prevent the effective use of a myriad of chemotherapeutic regimens for leukemia. In other cases, oncology drug shortages may affect numerous disease states, as seen with leuocovorin or liposomal doxorubicin. The clinical impact of these shortages has led to numerous adverse clinical outcomes."
Recognizing a need to act, Congress last year passed the Food and Drug Administration Safety and Innovation Act, which includes provisions addressing critical drug shortages. The Act requires drug manufacturers to notify the FDA at least six months (or as soon as possible) before a drug is discontinued or there is an interruption in the production of potentially lifesaving drugs. The FDA is responsible for alerting health care providers when such instances arise. Expedited FDA reviews and inspections to help manufacturing plants stay up and running are also included in the new law.
While HOPA supports the steps taken by Congress last year, it acknowledges that economic incentives may ultimately be necessary to help generic drug manufacturers compete with their larger pharmaceutical counterparts. Additionally, changes in reimbursement rates may be needed to allow for adequate reimbursement for the use of brand name drug therapies or alternative therapies when an existing generic drug is in short supply.
For now, Holle and her colleagues at HOPA continue to monitor the situation while working to educate lawmakers and others about the important role oncology pharmacists play in the health care system.
"I enjoy being involved in health policy advocacy initiatives," Holle says. "I find it fascinating, and it's a nice way to give back to the profession and, more importantly, our patients."
At the Neag Comprehensive Cancer Center, Holle works with Dr. Jessica Clement, a medical oncologist. As part of a health care team that also includes a nurse practitioner, clinic nurse, social worker and administrative aides, Holle joins Clement in her clinic and follows up with patients who are self-administering their oral cancer treatments to make sure they are taking the medication correctly and to monitor for any negative side effects or drug interactions.