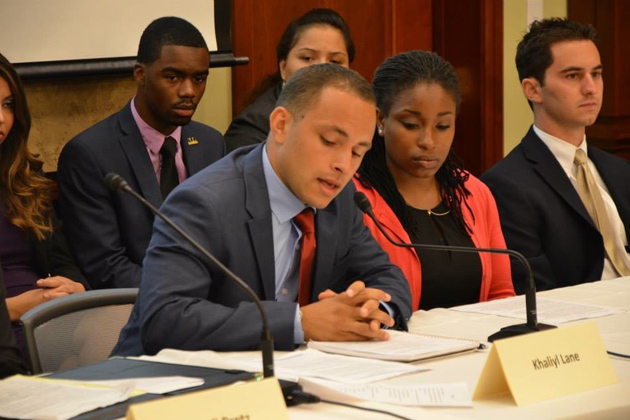 If you asked Khaliyl Lane '10 (CLAS), '13 MSW, 10 years ago whether he could imagine himself working in the halls of power at the U.S. Capitol or sitting at a desk inside the United Nations, he would surely have laughed it off as an outrageous suggestion.
Lane's early teen years were tough. At 14, his family crumbled, his mother and father gave up their parental rights, and Lane and his younger brother were placed in Connecticut state foster care. His future was at a crossroads. College and a professional career were just about the last thing on his mind. He needed a home.
Thankfully for him, Barbara Knoegel Allison, the mother of a close childhood friend, who was recently divorced and going through her own struggles, heard about Lane's plight and volunteered to take him in.
In many ways, Allison saved Lane's life. Together, Lane, Allison, and her own two boys began a journey at that moment that transformed them all.
In the nation's capital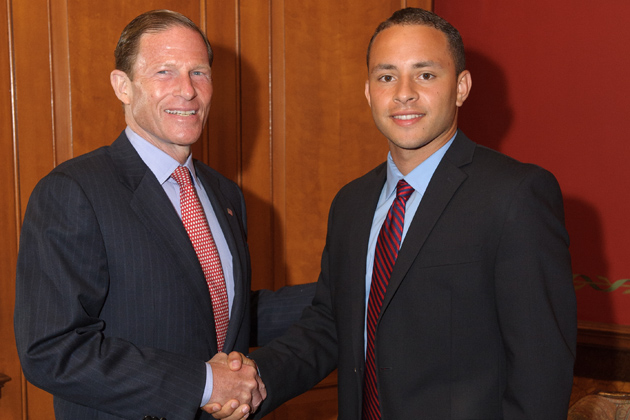 Today, Lane, now 25, serves as a special assistant to U.S. Sen. Richard Blumenthal. A 2013 graduate of the UConn School of Social Work, Lane spent the past summer working as an intern in Blumenthal's office as part of a highly competitive program open to former foster care youth. In late July, he was hired full-time. Once an intern, Lane now oversees the office's internship program.
"I really enjoy being in D.C. and having an opportunity to be part of the legislative process," says Lane. "I enjoy seeing first-hand how my research and hard work pays off."
During his internship, Lane helped handle constituents' requests, assisting individuals with social security disability claims, and helping a Connecticut family get their electric bills lowered so they could keep their home. He also presented a formal policy report on foster care and child welfare issues for the senator.
"From his first day here, Khaliyl was a hard-worker and demonstrated wisdom beyond his years," says Blumenthal. "I'm proud to count Khaliyl as a member of my staff and I know he'll serve the people of Connecticut and the nation well."
Lane says he appreciates the opportunity and is learning a lot.
"Sen. Blumenthal and his staff really care about the people they represent," Lane says. "We try to give a voice to people whose voices need to be heard. We keep marginalized and under-represented individuals at the forefront in all of the decisions that we make."
Lane credits his UConn experience with helping him prepare for his professional career. His School of Social Work field advisor, John Bonelli, was especially helpful, Lane says.
"My whole experience at UConn – the sports, the academics, the conversations I had with my professors – really shaped me professionally and as a person," says Lane. "The staff and faculty in the School of Social Work especially, they encouraged me and were there for me at every turn."
Bonelli remembers Lane well.
"Khaliyl Lane is a very intelligent, committed and dynamic individual," Bonelli says. "His open personality, confidence, and ability to relate with people from diverse backgrounds make him an excellent communicator, leader, and community organizer. His personal history, commitment to social work values, sense of humor, and disciplined advocacy will make him a very successful agent for social change."
But it was clearly Lane's foster mother, Barbara Knoegel Allison, who had the most dramatic impact on his life.
Responsibility and structure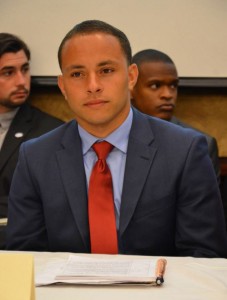 At 14, coming into Allison's Marlborough, Conn. home was a culture shock to Lane, who wasn't used to the strict rules, new responsibilities, and daily structure. Allison wouldn't even let Lane in the door unless he first agreed that he was going to keep his grades up and go on to college. She was more than willing to help him, but her expectations were clear.
"Barbara is the main reason I'm talking to you today," Lane says. "She's an amazing person. She encouraged me to play sports, to keep a high GPA, to treat people with respect. I was able to turn my life around at an early age. She kept me from heading down the wrong path. My younger brother wasn't so lucky. He had some issues that only got worse in foster care. He's been missing now for close to four years."
With Allison's support, Lane graduated from RHAM High School with honors and enrolled at UConn, where the state Department of Children and Families paid for his tuition through its Independent Living Program. The program is open to Connecticut foster children who are full-time students pursuing a secondary education.
In 2007, Lane played cornerback as a walk-on member of UConn's Big East Champion football team while majoring in communication sciences with a minor in sociology. He earned his bachelor's degree in 2010.
"No one is more proud of Khaliyl right now than I am," says Allison. "He proved himself in the worst of circumstances. He is an individual of strong character; a young man of perseverance, resilience, and consistency. The last thing Khaliyl ever wanted to do is disappoint me because he saw all that I was doing trying to help him. The day he called me to tell me he had been hired to work in Senator Blumenthal's office, I had tears in my eyes."
After he obtained his bachelor's degree, Lane spent about a year working in marketing for ESPN Radio before enrolling in the master's degree program at the UConn School of Social Work. While happy at ESPN Radio, Lane says he wanted a job where he could provide a tangible service and help people.
"I have a unique skill set due to my experiences in life. I would be doing a disservice to myself and others if I didn't use that experience to help those in need," says Lane. "Now is the time for me to use all these skills I've learned and put them to good use."
A global citizen
Lane, who traveled to Italy and Ireland as part of UConn's study abroad program in his senior year, considers himself a global citizen. During his first year in the School of Social Work, he secured an internship at the United Nations through the International Association of Social Workers. He eventually earned his master's in international social work, specializing in community organization and international policy.
"Working at the UN gave me invaluable experience," says Lane, who worked with the UN's Economic and Social Council focusing on global issues confronted by nongovernmental organizations or NGOs. "While I was there, I worked on issues involving human trafficking, ending child marriage, poverty eradication, things I feel really passionate about."
Looking back, Lane says he is grateful to the individuals who have shaped his life, and he is looking forward to whatever the next chapter brings.
"I want to create programs for at-risk youth that will help them go on to viable careers and expose them to different outcomes and different sides of life," says Lane. It is a future he has discovered and is eager to share.
"It's crazy how life works out sometimes. But I truly believe that as long as you work hard and stay positive, positive things will come your way."