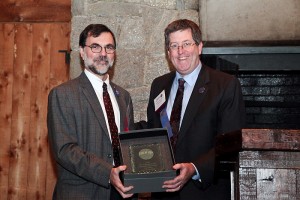 The highest honor the Connecticut State Medical Society (CSMS) can confer upon a member, the Paul K. Maloney, Jr., MD Distinguished Service Award was established to honor the life and work of Dr. Maloney, an eminent physician known for his exemplary service, active engagement, and dedication to the community.
The 2013 Maloney Award winner is Dr. Bruce Gould, professor and associate dean for primary care at the UConn School of Medicine. The award was presented to Dr. Gould by CSMS President John Foley at the 221st Annual Meeting of the Connecticut State Medical Society.
Gould is well-known as a passionate advocate for public health, primary care and preventive care. In addition to his work as director of the Connecticut Area Health Education Center (AHEC) Program, he serves as medical director of Hartford's Department of Health and Human Services, and medical director of the Burgdorf Health Center, a community clinic for the underserved in Hartford's North End.
Gould also is the founder of and adviser to the Mobile Free Migrant Farm Workers Clinic, which has served Connecticut's migrant farm worker population since 1998.
He helped establish UConn's Urban Service Track, an innovative interdisciplinary program for UConn med students to learn about the needs and challenges of the most vulnerable patient populations.
Gould also worked to develop the Youth Health Services Corps, part of a national recruitment program to engage high school students in health care for the underserved, and encourage them to enter health careers.
CSMS donates $1,000 to the charity of the Maloney Award recipient's choice. Gould has designated The Florence and Sheldon Gould Community Health Improvement Endowment Fund, part of the UConn Foundation.
---
Follow the UConn Health Center on Facebook, Twitter and YouTube.