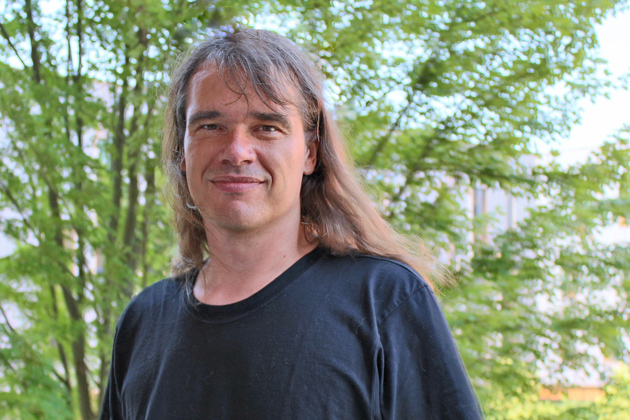 Ralf Schiffler, associate professor of mathematics in the College of Liberal Arts and Sciences, has received a $400,000 award from the National Science Foundation Faculty Early Career Development Program in support of his theoretical mathematics research on cluster algebras, combinatorics, and representation theory.
The five-year CAREER award will enable cross-institutional research and educational opportunities for UConn scholars in the rapidly growing mathematical field of cluster algebras, says Schiffler.
"It will give me a chance to focus on more long-term research projects and involve more people than usual," he says.
The CAREER Program offers the NSF's most prestigious awards in support of junior faculty members who demonstrate the ability to integrate excellence in teaching and research.
"Ralf is a pioneer and leader in this interesting and modern field, which is very uncommon for his age – 10 years since his Ph.D.," says Evarist Giné, professor and head of the Department of Mathematics.
Schiffler's award is co-funded by the NSF's Combinatorics and the Algebra and Number Theory programs, and will help him address fundamental problems related to cluster algebras.
Cluster algebras encompass several mathematical fields, including algebra, geometry, and combinatorics – a branch of mathematics in which researchers use a set of generators to define larger field of rational functions.
More broadly, cluster algebras can be used as abstract frameworks to study other theoretical concepts in mathematics and physics. Schiffler's work will facilitate both conceptual understanding and explicit computation of cluster algebras.
Schiffler, who was promoted to associate professor in August, has written some of the most frequently cited articles in the field of cluster algebras. Most recently, he has collaborated on projects with researchers at Northeastern University and Brandeis University in Massachusetts, Wayne State University in Michigan, the University of California at Berkeley, Universidad Nacional del Sur in Argentina, and Université de Sherbrooke in Québec.
He says communication and exchange between researchers at other institutions is "very important for sparking new ideas," especially in such a young discipline.
His CAREER award will help him continue to develop an international network of experts at institutions in Canada, Argentina, and the United States who will work on problems related to cluster algebras.
In addition to running the cluster algebra seminar and planning new graduate courses, Schiffler will develop a two-week intensive graduate seminar that will take place at UConn in the fourth year of his award. The purpose of the program is to attract approximately 15 top graduate students from inside and outside the University for a period of intense study and collaboration.
Additionally, Schiffler will use NSF funds to facilitate two-week educational exchanges for advanced graduate students and postdoctoral fellows working under his guidance. These exchanges will be invaluable for the professional development of these young researchers, he says.
"The goal is for them to be able to travel and experience different research environments, give talks and local seminars, exchange with people there, and build a network for the students and the institutions involved."
Other CLAS faculty who have won recent CAREER awards include Yao Lin, assistant professor of chemistry; Alexia Smith, assistant professor of anthropology; and Anji Seth, associate professor of geography.