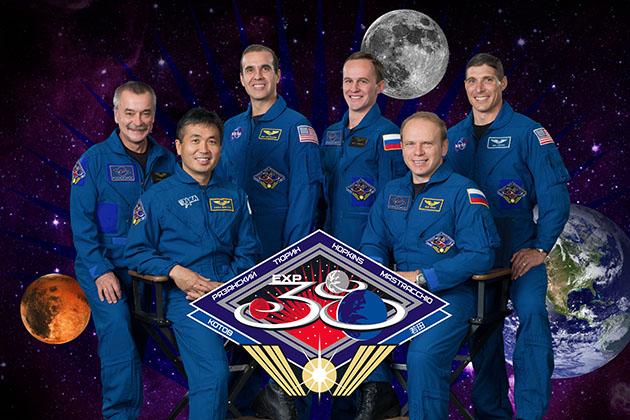 NASA astronaut and UConn alumnus Rick Mastracchio '82 (ENG) is making his fourth trip to the International Space Station in a few weeks. While the destination may be a familiar one, this mission marks the first time Mastracchio is flying aboard a Russian Soyuz spacecraft to get there.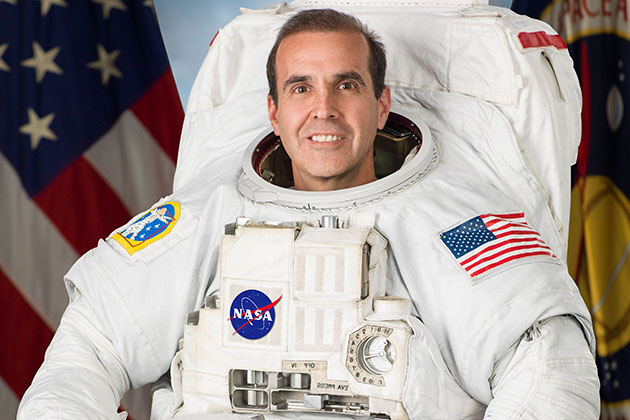 Mastracchio will serve as a flight engineer for space station Expedition 38, which launches from the Baikonur Cosmodrome in Kazakhstan on Nov. 6. Unlike past trips, in which Mastracchio flew into orbit aboard one of the U.S. space shuttles and stayed in space for a just a few weeks, Expedition 38 is a prolonged space flight during which Mastracchio and the other astronauts will remain aboard the International Space Station from November to May 2014.
It's a familiar homecoming for one of UConn's most popular alums. Mastracchio helped prepare the International Space Station for its first human inhabitants when he first ventured into space in September 2000. Each time he returned (2007, 2010), he said the station seemed to get both bigger and more crowded. Once a small, cramped orbital docking station, the International Space Station is now a full-fledged flying laboratory the length and width of an American football field, including the end zones. It has the same living area as a five-bedroom house, two bathrooms, a gymnasium, and a 360-degree bay window. It weighs almost one million pounds or the equivalent of 320 automobiles.
"Every time I go to the International Space Station, it seems to get bigger and bigger and has more and more people," Mastracchio said during a press conference this week at the Johnson Space Center in Houston. "This time, I look forward to living there and actually using the space station to do some of the work that was intended to be done there."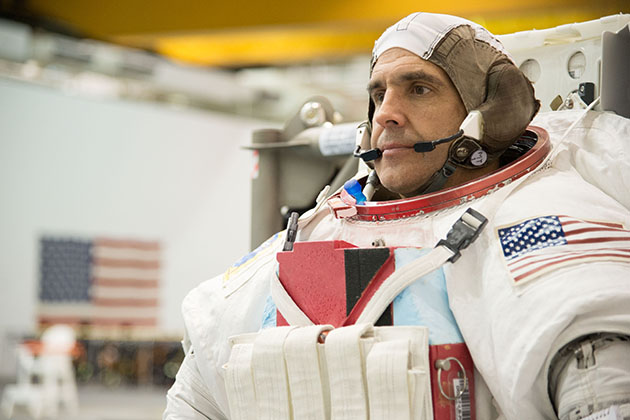 As a mission flight engineer, Mastracchio's primary role will be helping to guide the Soyuz spacecraft into space and back home at the end of the mission. While onboard the station, he will assist with various research projects, including one involving the burning and suppression of solids in microgravity to see how different materials combust in space and how such combustion can be prevented. Fire, obviously, is something astronauts hope to avoid in space. Expedition 38 also will be launching four satellites and conducting research into how zero gravity impacts the growth of protein crystals.
A specialist in operating the station's 55-foot robotic arm, Mastracchio will be called upon to "capture" any visiting spacecraft. Arriving spacecraft no longer directly dock at the station but pull up alongside it, where they are "grabbed" by the station's robotic arm and gently pulled into a holding place – a feat that takes a lot of skill when you're flying at 17,500 mph about 240 miles above Earth.
A proud UConn alum and graduate of the UConn School of Engineering, Mastracchio credits his UConn experience with helping prepare him for his future endeavors in space.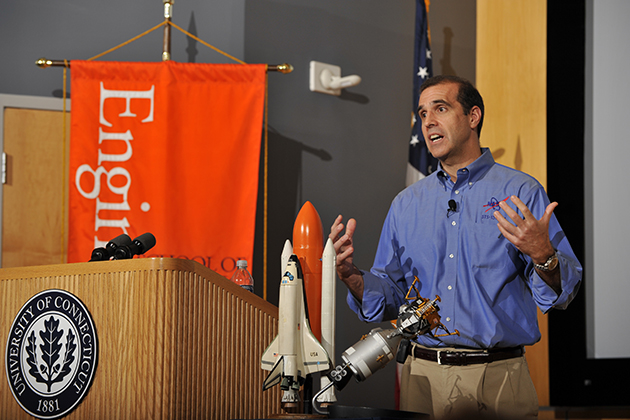 "UConn had a lot to do with me getting where I am today," Mastracchio said in a recent phone interview from Houston. "Very simply, the professors and classes I took at UConn taught me how to be an engineer. They worked me pretty hard there, I have to admit it; but I think I developed a lot of good skills at the University of Connecticut. I learned how to solve problems and overcome difficult tasks. It was not just the education but the training I received at the University of Connecticut in trying to become an engineer that helped me quite a bit early on in my career, and it all kind of built upon that."
A native of Waterbury, Conn., Mastracchio graduated from UConn in 1982 with a bachelor of science degree in electrical engineering and computer science. He went on to earn a master's degree in electrical engineering from Rensselaer Polytechnic Institute in 1987, and a master's degree in physical science from the University of Houston-Clear Lake in 1991. Mastracchio worked for Hamilton Standard in Connecticut during his graduate years, before joining the Rockwell Shuttle Operations Co. at the Johnson Space Center in Houston in 1987. He first applied to be an astronaut in 1987, and kept re-applying each year for the next nine years. He was finally selected by NASA in 1996.
When asked what advice he would give others who wish to follow in his footsteps, Mastracchio said: "Find something you really enjoy and become really good at it. Obtain a master's degree or a doctorate in that field, and then throw your name in a hat. It took me nine years to become an astronaut. But even if you don't become an astronaut, you will still have a wonderful career to fall back on."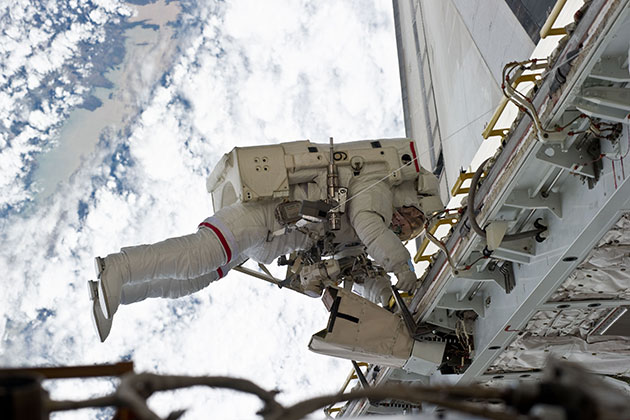 A veteran of six spacewalks totaling more than 38 hours in space, Mastracchio says he'll be bringing a UConn baseball cap with him on his latest mission. On a prior mission, he brought a UConn banner on to the space shuttle and selected the UConn Husky fight song "Hail, Hail, UConn" as one of his pieces of "wake-up" music to be played by mission control. The space-bound banner was later returned to Storrs and remains on display in the Lodewick Visitors Center.
This time, there will be another unique item tagging along with the Expedition 38 crew – the Olympic torch. As part of the symbolic torch relay prior to the 2014 Winter Olympic Games in the Russian city of Sochi, Russian cosmonauts will carry the torch and simulated flame during a spacewalk outside the International Space Station during the mission. The torch will then be returned to Earth in time to continue the relay to Sochi before the games' opening ceremonies on Feb. 7.
Mastracchio is very active on social media. You can follow his pre-flight training preparations – including a fascinating array of behind-the-scenes photos and video clips – through his Twitter account @AstroRM.
NASA is also offering followers a chance to become "virtual crewmembers" of Expedition 38 by participating in a monthly trivia contest through Mastracchio's Twitter account. Each month, Mastracchio will ask a trivia question about his training for followers to answer. Questions will range from science research and on-orbit medical operations to spacewalk procedures and robotics. The first person to reply with the correct answer wins. Participants should use the hashtag #ISSFE7 after their reply. Winners will have their photos uplinked to the International Space Station, where Mastracchio will take a photograph of the picture with the Earth in the background. A complete list of the contest rules can be found here.
Read more about the mission at www.nasa.gov/station, and watch the mission at www.nasa.gov/ntv.
Mastracchio is the second UConn alumnus to travel into space. Franklin Chang-Diaz, a 1973 UConn graduate, is a veteran astronaut with six successful flights to his credit. Chang-Diaz retired from NASA in 2005.