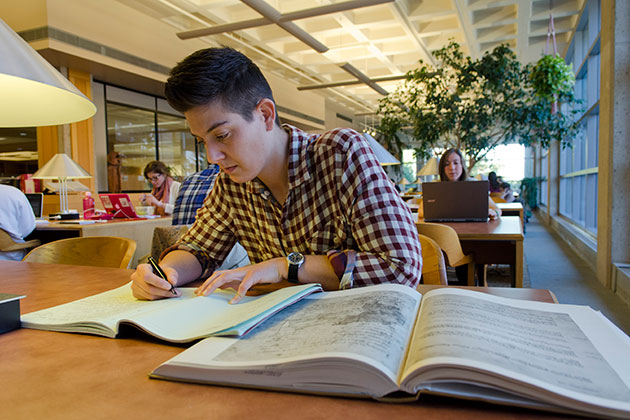 When graduate student Miller Oberman heard that he had won Poetry magazine's John Frederick Nims Memorial Prize for Translation – whose past winners include Pulitzer Prize-winners and National Book Award-winners – for his translation of an Old English rune poem, he was incredulous.
"At first I though it was some sort of mistake," says Oberman, a third-year Ph.D student in the Department of English. "But it also solidified something for me. Some people have asked, 'Why are you doing this? You study contemporary poetry.' This language is one ancestor of our language, and it can still speak to us."
Oberman, a contemporary poet, won the national award for his translation of the 8th-century "Old English Rune Poem" by an unknown writer. He is the first student to win the award in the 13-year history of the prize.
His original manuscript of contemporary poetry was also a finalist in the National Poetry Series.
Oberman says the theme of invention draws a strong connection between Old English and contemporary poetry.
"When people were just starting to write things down in English for the first time, they just didn't have a word for things all the time, so they would have to make it up," says Oberman. "So there's constant invention, and that is really what contemporary poetry is all about, finding new ways of saying things that are exciting."
In his translation notes, Oberman says that one unique aspect of "Old English Rune Poem" is the poet's clear attempt to preserve the runic aspect of pagan culture. He says Old English poems, written roughly between the 5th and the 11th century, are one of the only links to the Germanic paganism that existed in England before Christianity.
"When Britain became Christian, it was right around the same time that people were starting to write things down in English," says Oberman. "So we know almost nothing about the pagan history of Britain, which is why I think the runes are important to know about."
I think people like reading because it's a way of time travel. You can go stand in Eliot's or Gertrude Stein's world. But when you translate, you add to that world.
Oberman explains that, unlike traditional medieval scholars, he is interested in translating Old English poems while maintaining the original poetic form.
"Some medievalists are translating this as close [as possible] to the original meaning, which is why they will translate a poem as prose," he says. "Poems are more than the literal meanings of their words – they are made of sound, form, and rhythm. I try to bring the skills of a scholar and a poet to my translations."
Apart from his work in translation, Oberman also teaches freshman English in Storrs.
"I let my students know that no matter what, they are going to have to write and express themselves," he says, "because you are going to have to express yourself if you want a job or even a date."
Associate professor of English Penelope Pelizzon says Oberman's exceptional character and talent as a poet have contributed to his success in the classroom.
"I believe Miller will be one of the next generation's significant poetic voices," says Pelizzon. "This is a person whose intelligence and artistry is matched by humor, self-effacing wit, and generosity as an artist and teacher."
Oberman hopes that more people will become interested in translation as a way of giving new meaning to poetry.
"I think people like reading because it's a way of time travel. You can go stand in Eliot's or Gertrude Stein's world," he says. "But when you translate, you add to that world."