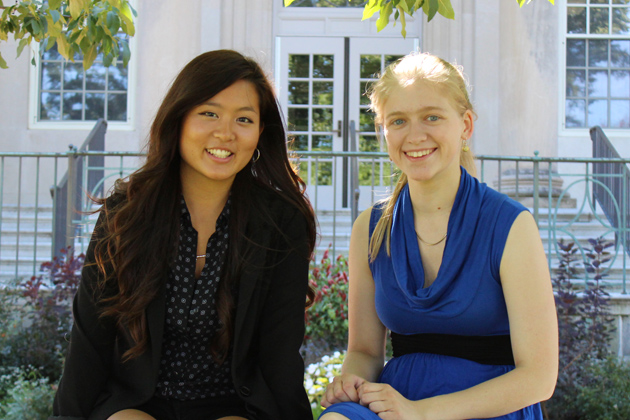 You've heard it many times: the economy is tough, the job market is even tougher, and the number of good, available jobs just doesn't match up with the number of qualified college graduates.
But many former students in UConn's extensive alumni network of more than 225,000 alumni are giving current students invaluable opportunities to get relevant work experience on their resume before venturing out into the real world – all while building a professional relationship with a fellow Husky.
This summer, Molly Rockett, a junior political science major, and Sharon Hwang, a senior human rights and international relations double major, each participated in internships spearheaded by UConn alumni in the nation's capital, Washington, D.C.
The business side of politics
Rockett was an intern with Washington Analysis, a private sector company that produces research on the effects of federal policies and regulations on corporate investments. The company's executive vice president is a 1966 graduate of UConn.
Ira Loss '66 (CLAS) says he was impressed with Rockett's boundless energy
"Molly is energy personified," he says. "She was always asking, 'Is there anything else I can do?'"
From her very first day, Rockett says Loss encouraged her to participate as an equal member of staff.
"Ira was incredible. He oversaw the entire program and he very deliberately made sure that it was an enrichment program for all of the interns," says Rockett. "He made sure to include us in all these conversations about how the firm worked, and meetings about what was going on for the day. He really brought us in to the loop and that's exactly what I was looking for."
Rockett says she was excited to expand her political portfolio. Having worked in the offices of U.S. Rep. Joseph Courtney and U.S. Sen. Richard Blumenthal, she had experience in the government campaigning side of politics, but was looking for something more.
"I had never been exposed to the economic and business side of politics," she says. "I wanted a challenge that would really push my boundaries."
Rockett was responsible for gathering information about recent energy research and policy. She says that by the end of the internship she was conversational in energy sector lingo, and could attend committee meetings at the Capitol and follow what they were saying.
"I learned how to navigate the industrial and highly competitive political landscape of D.C.," she says.
Says Loss, Rockett has "success written all over her."
Practical experience in human rights
Less than a mile away from Washington Analysis, Hwang participated in an internship program at the Freedom House, the United State's oldest bipartisan human rights organization dedicated to the spread of democracy through advocacy and research.
Jeffrey Smith '04 (CLAS), '07 MA, a political science graduate, started the Freedom House Internship Program with the UConn Human Rights Institute because he wanted UConn students interested in human rights to gain practical experience in the field.
"I hope that interns take advantage of the opportunity to spend time in an organization that is stocked with some of the world's foremost experts on democracy promotion, as well as longtime activists who have literally put their lives on the line to fight for something bigger than themselves," says Smith. "I hope interns leave inspired and even more impassioned about human rights than they were when they first arrived in DC."
Hwang worked in the Emergency Assistance Program, a branch of the Freedom House that assists human rights advocates whose efforts have been suddenly halted due to unexpected and often tragic circumstances.
"Sometimes, a family member was killed for their role in a human rights organization and the rest of the family would be left without any income," says Hwang. "So a humanitarian grant would cover school fees, food expenses, or money to flee the country."
The shocking news that the Freedom House received on a daily basis was an emotional experience for Hwang, and she admired the resilience of the staff in consistently promoting human rights around the world.
"I took so much out this experience because the employees are so dedicated and passionate about human rights issues," she says. "In dealing with such difficult stories every day, the natural thing to do is just to desensitize; but my co-workers were truly empathetic toward these situations."
Building a network
Both Hwang and Rockett enjoyed positive experiences with their co-workers at their respective internships.
"I was very shy at first, but I broke out of my shell with my co-workers," says Hwang. "They gave me advice on what kind of graduate programs were in D.C., and they were so willing to share their advice with me."
Rockett says she has acquired a "team of allies" among the staff at Washington Analysis.
"The networking that Washington Analysis opened me up to was just phenomenal," she says. "It was unbelievable how willing and interested they were in developing my personal career."
Loss says his company has been accepting interns for the past 30 years and values the ideas that they contribute to Washington Analysis.
"I know [the interns] are going to learn a lot about the intersection of public policy and finance," he says. "But my feeling is that they teach us a lot too; they're our connection to tomorrow."