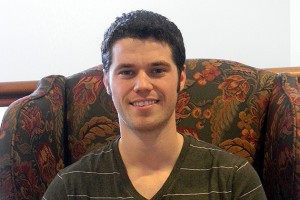 For Bryan Hallinan, it was the perfect time to receive the first Close to Home scholarship established by UConn faculty and staff.
He learned of his award in September, after spending a very rewarding semester in Australia.
"It couldn't have come at a better time," he says, adding that a scholarship supported by UConn faculty and staff is particularly meaningful to him.
"I am truly grateful for support that enables me to develop my career," says Hallinan, a first-generation college student, who tries not to worry about the debt he has accumulated getting his UConn degree. The Rhode Island native is looking for jobs in forensic engineering, hoping to take advantage of the research he has undertaken through his work-study experience as an undergraduate.
"Knowing that some UConn faculty and staff had gone above and beyond their daily jobs to donate to a scholarship fund helps you realize how deeply they value education and helping students," he says.
The Close to Home Campaign began in 2006 as a way for UConn's faculty and staff to make a gift to the University. During the last fiscal year, 1,926 faculty and staff members donated more than $6 million to the campaign.
"Every gift makes a difference, and our goal is to make it easy to give to UConn," says Close to Home Campaign co-chair Jennifer Person. Faculty and staff can use payroll deduction to make donations of just $1 per pay period or as much as they can afford, and they can designate the support for any one of more than 300 different programs or funds. An endowed fund can be established by faculty or staff with a pledge of $10,000 made over five years.
"Our goal is to make it easy for any faculty or staff member to support any area of UConn that is meaningful to them," says Person.
The 2013-2014 Close to Home campaign began this month.