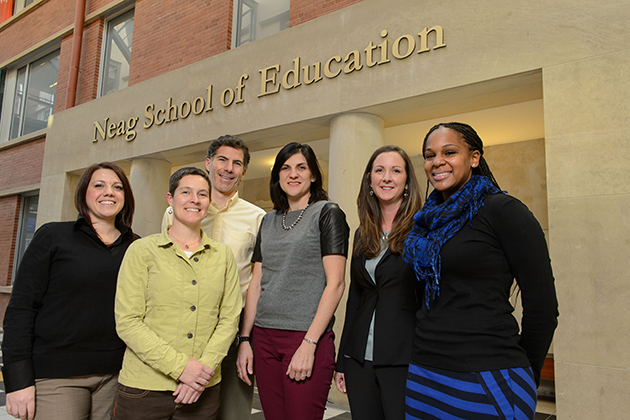 The enormous challenge of closing the gap between successful, high-performing students and the often multi-challenged, low-performing ones won't be overcome by one, large sweeping change, but by many small, effective, and strategic ones, according to Professor George Sugai.
"We're excited and determined to discover the smallest changes that can have the greatest and most durable results," says Sugai, director of the Neag School of Education's Center for Behavioral Education & Research. He coordinates the newly formed research group charged with identifying achievable, evidence-based strategies and practices that schools can use to help underachieving students succeed.
Our focus won't necessarily be to discover new practices …. Our focus will be on how best practices can best be implemented.
The group comprises six faculty members working together to conduct research that will specify best practices, and inform professional development, technical assistance, and consultation. The six are all new faculty who've come to UConn as part of the University's ambitious hiring plan, which has brought a total of 18 new professors to date to the Neag School to both teach and work in teams, or "clusters," to perform the research needed to solve problems critical to the future of education.
With a focus on research and evaluation, this team has named itself the "Collaborative on Strategic Education Reform," and has initiated efforts, for example, related to cultural equity, school climate, teacher and administrator evaluations, professional development and accountability, English language learners and teacher quality, and teaching incentives and personnel preparation.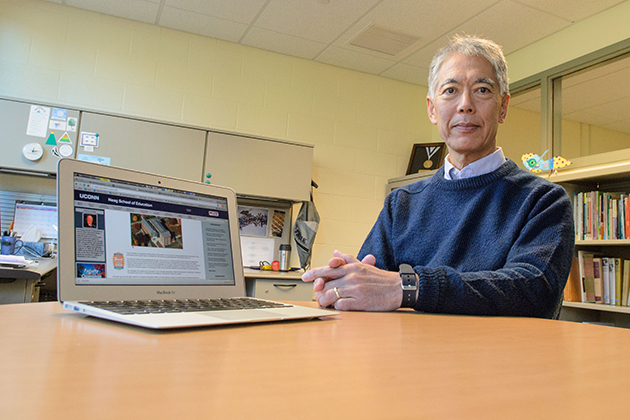 "In Connecticut and throughout the nation, finding ways to help low-achieving students catch up to their peers has been a persistent and resistant problem for many decades," says Sugai, a professor of special education and the Carole J. Neag Endowed Chair in Behavior Disorders. "What's unique and exciting is that UConn has invested in some of the United States' best and brightest young educational researchers, who will attack this problem in a collaborative manner but from multiple perspectives.
"Our focus won't necessarily be to discover new practices," he adds, "because I think most experts already agree on what changes need to happen for improved learning to occur. Our focus will be on how best practices can best be implemented – how we cannot just get practices to teachers, but ensure educators have the systems and supports they need to accurately and consistently implement them."
Representing three departments – Curriculum and Instruction, Educational Psychology, and Educational Leadership – and meeting weekly since late summer, the Neag faculty come from a wide range of backgrounds and bring research experience and applied expertise in school success and student achievement. In addition to Sugai, they include:
Tamika La Salle, assistant professor of school psychology, whose previous research efforts on the effects of culture and school climate were at least partly inspired by her own school years: "I was a military brat, which means I moved around a lot and had to adjust to several different school settings throughout grade school. Having a positive school climate, and making connections based on both cultural differences and similarities, really made a difference in the experiences I had in school," says LaSalle, a former educational consultant in Mississippi and Pennsylvania. "I want to affect research and practice aimed at making schools culturally responsive environments that seek to promote positive social, behavioral, and academic outcomes for all students."
Shaun Dougherty, assistant professor of educational leadership and policy, who's currently conducting an in-depth follow-up study on how quick, personalized communications with parents and students can lead to greater classroom achievement. "It's a proactive approach that requires a slightly larger investment of up-front time by the teacher, but that pays off in the long run," says Dougherty, a former fellow at the Harvard Graduate School of Education Center for Education Policy Research. His focus and interests include analyzing how data systems can be used to create best practices and policies.
Jennifer Freeman is an assistant professor of special education who, as a former consultant and elementary and middle school teacher, has fought for students to have equal opportunities and access to a meaningful education. "I often ran into situations where we had a pretty good idea what interventions or practices might help a student, but school or state barriers affected how well they could be implemented. To ensure all students really do have equal access and opportunities in schools, we need to better understand how to support school systems to develop strategic reform plans that build on what schools do well and remove the barriers that prevent teachers from being able to help all students reach their full potential."
Jennie Weiner, assistant professor of educational leadership, most recently served as an adjunct at Boston University School of Education and doctoral mentor at Prescott College. "So much of the rhetoric around educational reform focuses on finding a source of blame for current outcomes – blaming students, blaming families, blaming teachers. However, research tells us that rather than there being a few 'bad apples,' the real source of underperformance comes from systematic issues of inequity, particularly as they relate to teachers' knowledge, skills, and abilities to provide the best learning opportunities for all kids," says Weiner, who was previously a senior research associate for the Milken Family Foundation's Teacher Advancement Program. "Taking an interdisciplinary and strategic approach to research will allow us to support a new and more effective way of engaging in reform that helps exploit current – though often latent –strengths to maximize both educators' and students' potential."
Bianca Montrosse-Moorhead, assistant professor of educational psychology, was previously an assistant professor of educational research at Western Carolina University. Her work has included advancing educators' understanding of the impact of K-12 policies, practices, and programs in chronically under-performing and under-served schools. "My passion, drive, and desire to be a part of this work comes from a deeply held belief in educational equity, a concept rooted in both the idea of fairness and the right for everyone to have access to a free and appropriate public education," says Montrosse-Moorhead. "My excitement about the work of this group is that we are drawing on our individual strengths, as well as the strengths of those that we are and will collaborate with, to really figure out how we can best meet the educational needs of all kids."
Hannah Dostal, assistant professor of literacy, brings extensive leadership experience as a professor, writing intervention coordinator, and special education consultant. Her background includes serving as an instructional consultant for the American School for the Deaf and teacher at the Tennessee School for the Deaf. "As a former teacher, I am intimately aware of the power and possibility of quality instruction, as well as the layers of barriers that face traditionally underperforming populations," Dostal says. "As a researcher, my commitment to equity is grounded in my belief in every child's potential to develop powerful literacies and a desire to understand and remove barriers to the full expression of that potential."
Sugai, who came to UConn from the University of Oregon in 2005, says he is excited to work with these "curious, motivated" professionals, all of whom are passionate about making a difference for students in Connecticut and throughout the nation.
"How can we provide powerful, strategic practices that schools and districts can use to create durable change?" he asks, adding that one of the group's immediate projects is to create a one- to five-year action plan that maps the studies they conduct, the grants they'll pursue, and how they'll then present research findings. Their current course is to complete at least three studies this first year.
"Sooner, rather than later," Sugai says, we want to be able to tell schools 'Here are some of the most effective and relevant things you can do, and here are how they can best be implemented.' Our research will be designed to document, demonstrate, and disseminate what works, so students will benefit, exemplar policies will be developed, and school functioning will be more effective and efficient. We are excited about the possibilities and potential of this work."