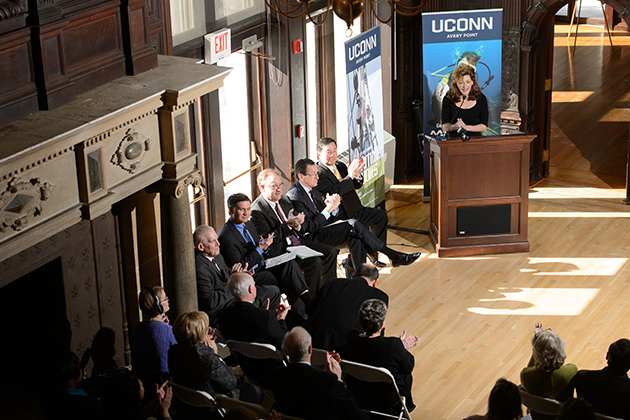 The creation of an Institute for Community Resiliency and Climate Adaptation was announced today at UConn's Avery Point Campus in Groton. The Institute is a collaboration between the University, the state Department of Energy and Environmental Protection (DEEP), and the National Oceanic and Atmospheric Administration (NOAA).
The Institute is designed to increase the resilience and sustainability of vulnerable communities and individuals along Connecticut's coast and inland waterways as they are affected by the growing impact of climate change on the environment. By bringing together experts in a wide range of academic disciplines and by developing cutting-edge research to solve practical problems, the UConn/DEEP/NOAA partnership will facilitate development of strategic plans for protecting the state's coastal region.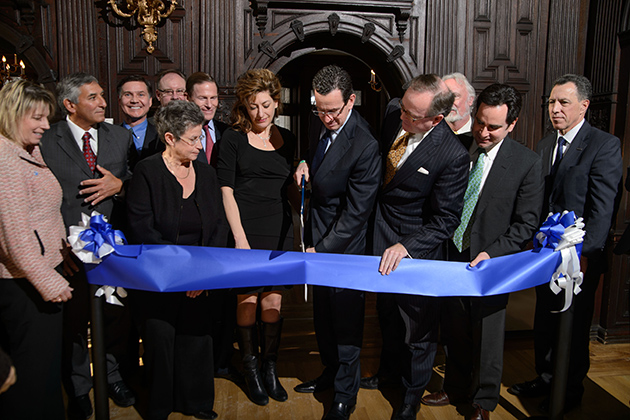 UConn President Susan Herbst, Gov. Dannel P. Malloy, U.S. Sen. Richard Blumenthal, and the Commissioner of DEEP Daniel Esty were among those speaking about the collaboration and the role the Institute will play in contributing to the environmental integrity of the state.
The Institute for Community Resiliency and Climate Adaptation represents a major step toward what was envisioned nearly two years ago when Herbst not only reaffirmed UConn's commitment to its Climate Action Plan, which contains numerous greenhouse gas reduction measures, but also approved the addition of an Adaptation Section to its plan.
In collaboration with local, regional, and national partners, the Institute will strive to:
Improve scientific understanding of the changing climate and its local and regional impacts on coastal and inland floodplain communities;
Develop and deploy natural science, engineering, legal, financial, and policy best practices for climate resilience;
Undertake or oversee pilot projects designed to improve resilience and sustainability along Connecticut's coast and inland waterways;
Create a climate-literate public that understands its vulnerabilities to a changing climate and uses that knowledge to make scientifically informed, environmentally sound decisions;
Foster resilient and sustainable communities – particularly along the Connecticut coastline and inland waterways – that can adapt to the impacts and hazards of climate change;
Enhance the resilience of critical infrastructure (e.g. power, water, communications); and
Reduce loss of life and property, ecological damage, and social disruption from storms.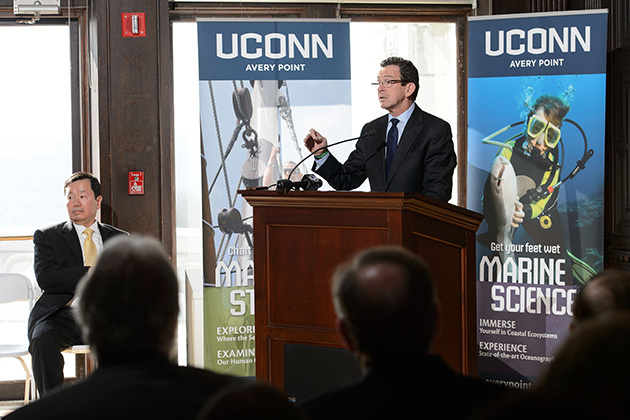 In his comments, Malloy said that increasingly severe weather events such as Hurricane Sandy have a major impact on the lives of people in the state and on the state's economy. He cited cooperation between local, state, and federal government entities both in facing the wrath of these storms and in the creation of the Institute.
Malloy said, "This Institute at Avery Point will be a world-class, leading-edge center that harnesses the research and outreach capabilities of UConn and the practical regulatory expertise of Connecticut's Department of Energy and Environmental Protection. Our vision for this center is for people to roll up their sleeves [and] to have direct and ongoing contact with property owners and community leaders, to make sure that we have the tools and knowledge and financing that they need to make the necessary steps … We are coming together to tackle tough problems and make real differences in our residents' lives."
For his part, Blumenthal said that although initial goals for the Institute may sound abstract and academic in nature, its goals are really very basic and fundamental. "It returns us to our roots," he said. "Doing better, planning smarter, building better structures, is part of Connecticut's DNA. It's what we do with Yankee ingenuity, and that is what this Institute will accomplish."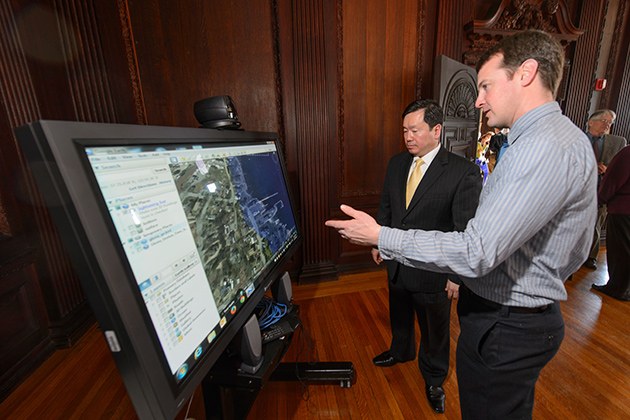 Additional remarks were made by Curt Spalding, regional administrator for the U.S. Environmental Protection Agency; Zdenka Willis, representing NOAA; U.S. Rep. Joe Courtney; and other state and local officials.
Initial funding for the Institute, in the amount of $2.5 million, comes from a plea agreement approved by the U.S. Attorney's Office in a suit the State brought against Conopco Inc. [dba Unilever Home & Personal Care USA], for clean water violations related to wastewater treatment. Additional funding includes $610,000 from the Connecticut Sea Grant Coastal Storm Awareness program and federal funding of $425,000 from a grant to enhance coastal resilience in Connecticut, among others.