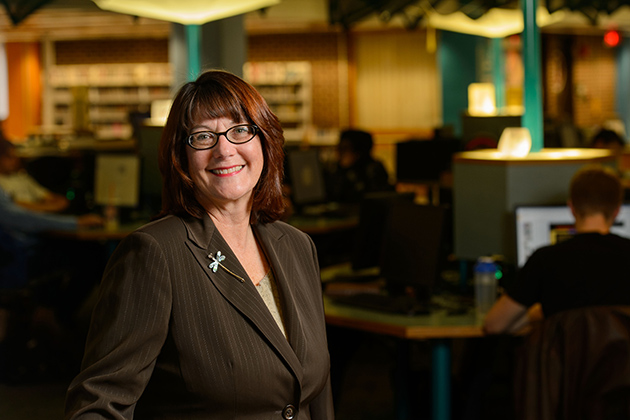 Martha Bedard joined UConn as vice provost of University Libraries in October. A Massachusetts native, she graduated from Fitchburg State College with a bachelor's degree in English and earned a library degree from Simmons Graduate School of Library and Information Science. She says her career trajectory began when she moved from public libraries to a position at Harvard's Medical School Library, where she discovered she loved working with patrons in a very specialized setting. That realization led her to the directorship of a small hospital library and later to a larger academic medical library, both in Massachusetts.
Growing weary of New England's winters, she headed south to warmer climes and to several leadership positions at the University of North Carolina-Chapel Hill, and later at Texas A&M University. In Texas, she was selected for a fellowship in the Association of Research Libraries' first Leadership Program, an extensive two-year initiative that exposed her to the workings of several large research libraries. She was appointed as dean of university libraries at the University of New Mexico in 2007, a position she held until she came to UConn.
After a 20-year absence, she says she is pleased to be returning home to New England. She has been able to spend time catching up with family in the Bay State, and is quickly becoming reacquainted with New England winters.
While she's been busy meeting campus leaders and familiarizing herself with constituent needs, she took a few minutes to reflect on her route to Storrs and the workings of libraries today.
How did you get into libraries? Growing up, were you an avid reader?
When I was a kid, the bookmobile came to my rural neighborhood every other week and you were allowed to borrow five books. I can remember being in grammar school, I'd walk about a mile to it, take my five books, my best friend would take her five books, and we'd switch halfway through the week. When I was 15, I got a work permit (you needed to be 16 to work) and my first job at the public library, so I've been actively working in libraries for more than four decades. They're in my blood somehow.
Are you still a reader?
I am a devoted mystery reader. At the University of New Mexico, we acquired Tony Hillerman's personal papers. He was one of my favorite authors. After he died, I spent a lot of time with his oldest daughter and his wife, who provided insights into his life and work as well as support to develop a portal that serves as a comprehensive resource for information about him. I felt I knew the culture and landscapes that make up New Mexico well before ever interviewing there by reading Tony's novels.
You've spent considerable time working in academic libraries. They've clearly maintained your interest. What's on the horizon for them and for UConn?
It is a really exciting time for libraries. In all the years I've worked in libraries it has never, ever been boring. I remember the first time I barcoded a book, well before everything we bought had a barcode, and I added records to the first online catalog which replaced the print card catalog. Librarians were active on the Internet pre-graphical interface, pre-web.
It's often said, libraries aren't so much about the building, but about the content that resides in them and how we deliver that content. I am proud of my profession. Librarians are often at the forefront of innovative ways to serve our users and are called upon to deliver information in all format types – electronic, print, and increasingly important, raw data. For example, recently passed federal legislation requires that all the output from federally funded research be made publicly accessible, not just the final article but the data itself. The UConn Libraries are quickly working to answer that call, with the launching of the Connecticut Digital Archive (CTDA): www.ctdigitalarchive.org. The CTDA is a collaboration of the UConn Libraries and the Connecticut State Library, which will allow us to work with faculty to preserve their research data as well as allow us to provide a much broader service to the state's citizens. The Digital Archive will also preserve and make available digital assets related to Connecticut, created by Connecticut-based libraries, archives, galleries, and museums. It will allow the digital preservation of the history of Connecticut through documents that are unique.
We are also working, as are many other academic libraries across the country, to transition from large print journal collections to electronic journals, while retaining certain print materials, especially those that are unique and don't translate well into an electronic format. Those materials, many of which are held in our Archives & Special Collections, are vital to maintain. Such materials will help to define the library of the future. Our library will not just be a place that looks like every other research library housing the same collections, but will be known by what has been acquired, collected, preserved, and made available that nobody else has.
Libraries are known for providing quiet space for individual study. Not too long ago, Homer Babbidge Library was reconfigured to allow for increased group study. What other changes are we likely to see?
There is still a strong need for that intense, quiet space to study. Students don't have it in their dorms or in the Student Union. We probably need more quiet study space today, not less, but we also need to figure out how to get more collaborative space or what I call 'culturally sensitive, technology-enhanced' collaborative learning space. As we reformat the content of the library and free up space, it is still with the intent of meeting the needs of the constituents who have traditionally met each other in the stacks serendipitously. Now, they're going to meet each other more deliberately in highly functional, interdisciplinary collaborative spaces.
How do the regional campus libraries fit into your sense of the future?
The regionals play an important role in serving their communities and the students in their communities. Thankfully, there is a strong group of directors at those campuses who are aligned closely with us and who make sure they have all the same electronic resources. A student who is enrolled at Avery Point has the same level of materials as if they were enrolled at the Storrs campus. In principle, the access has to be equitable even though their needs are different.
What's on your immediate agenda?
I'm very excited to engage with our current donors and learn more about why the library is a special place for them. I also hope to reach out to a new generation of library users and tell our story.
Since we are assessing our materials and their usage, I'm working to reframe the conversation to one where we talk more about stewardship, content reformatting, and preservation. Although the usage may be low for a book in the middle of a densely populated campus like this, we're anticipating that the need still exists, not that it's going to be met elsewhere. When we make an investment in preserving something, whether it be here or a different facility off campus, we have to believe that the need for it still exists.
How about your personal agenda? You mentioned you've already prepared yourself for winter by buying new boots. What else are you doing to settle in and make yourself at home?
I bought a snow blower and I know how to use it! I now own a home in the area and am getting to know the neighborhood. I am looking forward to finding new areas for hiking and exploring the cultural arts around me. I have also been pleased to be able to spend time with my family in Massachusetts. There are five lively generations in my immediate family and I have more ability to enjoy them now that I live close by.