Jonathan XIV is a little guy with a bright future as UConn's newest mascot. After a careful search for just the right pup by a student committee charged with the task, he arrived on campus during winter break as a nearly nine-week-old puppy. Lucky for him, he'll be living with his big brother, Jonathan XIII, and getting his basic training from an experienced hand (ummm – make that – paw).
The new Jonathan was one of seven puppies in a litter of five males and two females born on Oct. 5, 2013. The puppy's outgoing personality immediately made him a standout, and the fact that his markings resemble UConn's new husky logo helped in making him a unanimous choice for the part. He is the first puppy that his proud parents, Rusty and Aurora, have sent off to college.
A purebred Siberian Husky, Jon is joining a long line of husky mascots dating back to 1935. The original mascot was chosen as a result of a student poll. The name Jonathan was selected because, according to legend, during the American Revolution, none other than George Washington is said to have referred to Connecticut's then-governor Jonathan Trumbull as 'Brother Jonathan.'
A complete history of UConn's husky can be found in the UConn Yesteryear Archives at History of Jonathan – Part 1 and History of Jonathan – Part 2
According to the breed's official American Kennel Club standard, the Siberian Husky is a medium-sized working dog that is quick and light on its feet and graceful in action, thus enabling these dogs to travel long distances at an effortless trot. Siberians have moderately compact bodies, erect ears, and a brush tail that reflects their Northern heritage.
Described as being friendly and gentle, the breed is also alert and outgoing. It is intelligent and tractable, with an eager disposition that makes it an agreeable companion and willing worker – not to mention a fine choice as a school mascot. It should be noted, though, that these dogs are not made to just stand around and look regal.
Although his student handlers will train Jonathan XIV to willingly pose for pictures with his legions of fans, Siberian Huskies need exercise and they are most happy when on the move. Whether it's skijoring in winter (a sport in which a dog pulls a person on skis), hiking in the woods during the summer, or playing Frisbee in the backyard with Jonathan XIII, UConn's newest canine ambassador will need to be kept busy at home when he is not fulfilling his official duties. The 10 members of the mascot committee have promised they're up to the task of being Jon's playmates and best friends!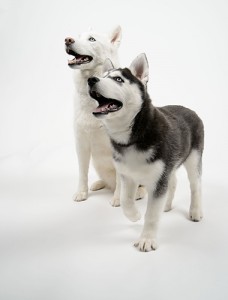 An obvious difference between 'XIII' and 'XIV' is their color. While many people think of Jonathan as being white, the first UConn mascot was a black-and-white dog born in 1934. Another difference that is becoming increasingly obvious is the 'little guy's' size. He is going to be a big boy (think center in basketball or defensive lineman in football), and it won't be long before he is towering above his older brother.
As Jonathan XIV grows through his puppyhood (and yes, puppies do experience the equivalent of the 'terrible twos'), he will gradually be introduced to his 'public' at various activities on and off campus.
When not appearing at UConn events and gatherings, Jon is cared for by students with the guidance of a nearby family that is providing his 'forever home' – complete with positive training and lots of treats. He will be 'mentored' by Jonathan XIII, who is entering a well-deserved retirement, having served as the University's mascot since his debut in March 2008.
Although not making an official speech (unless 'woof' counts), it's clear that 'XIII' has served the University well for the past six years and his retirement is well-earned. He will spend his time enjoying long car rides, visiting with his friends at local dog parks, and occasionally stopping at his favorite place – UConn's Dairy Bar.
Welcome, Jonathan XIV! We look forward to watching you grow into your new role as UConn's fourteenth Husky mascot.