The percentage of U.S. physicians who are women grew from 12 percent in 1980 to 30 percent in 2009, according to the U.S. Census Bureau. Yet women continue to be underrepresented in the field of surgery. American Medical Association statistics show women currently constitute only 19 percent of all surgeons. A group of students at the UConn School of Medicine have come together to try to close that gap. The Women in Surgery Interest Group (WISIG), now in its third year, is working to raise awareness among all students—women and men—about careers in surgery and especially to help break down the barriers that have traditionally discouraged women from becoming surgeons.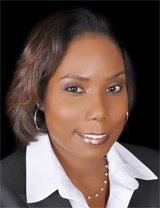 The idea for the group originated with UConn Health surgeon Dr. Linda Barry. She didn't need the statistics; she had seen firsthand the imbalance between men and women in the specialty. "I was the only woman in my medical school class of 13 who went into general surgery," Barry says. "And as a resident, I was the only woman in my year."
Years later, she was concerned that she was the only woman faculty member in UConn's Department of Surgery. So Barry began talking with interested students about forming a formal interest group. In early 2011, she and a group of students traveled to the University of South Florida to attend the National Women in Surgery Career Symposium, an annual event Barry had co-founded. The experience proved inspiring.
"We met amazing women surgeons, and heard about life and balance and being women in surgery," says Olayemi Ajayi, then a first-year student. "It opened up our eyes and showed us it was possible and gave us something to work toward."
Soon, the Women in Surgery Interest Group was born, complete with a mission statement and a set of guiding principles. The group aims to encourage student research activities; recruit students to pursue surgery; educate each other, colleagues and the community; encourage mentoring and networking; and give students exposure to surgery as a profession.
Activities organized
The group has held a number of programs. This past fall, the group invited women surgeons from surrounding hospitals to a gathering in the Health Center's Keller lobby. More than a dozen area surgeons attended and spent the evening circulating among the audience, which included about 50 UConn School of Medicine students. In October, the group held a "lunch and learn" with UConn Health's Chief of General Surgery Dr. Brian Shames focusing on how students can prepare themselves to be strong candidates for surgical residency programs.
Under the leadership of third-year students Angela Yuan and Stephanie Davis, the group is planning additional events, including a workshop on suturing techniques. Why learn suturing? "When you get into clinical rotations in your third or fourth year, you can do much more in the E.D. or the O.R. if you have those skills," says Ajayi. She says students will get much more out of their surgical rotations and be "an asset to their team" if they're already proficient in suturing skills.
Dispelling myths
A number of factors have contributed to women's underrepresentation in surgical fields, but times are changing.
"There's been the perception that it's difficult to have a family, it's very hard work for very long hours and it's not a supportive environment for women," Barry says. "That may have been true in the past but those things are quickly eroding."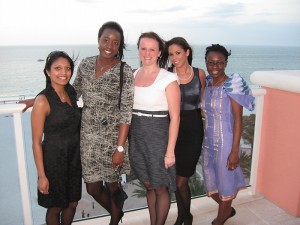 One of the WISIG's aims is to give medical students the opportunity to meet women surgeons who have both careers and fulfilling lives outside of their work. Barry notes that, unless students meet and talk with such women, they may not see beyond the stereotypes to the reality.
"We'd love to bust all the myths about the surgical field," Ajayi says. "It's an amazing field. The women surgeons we've met have been extremely happy. We can do as much as men and still do the things we want to do."
Barry notes that women are more likely to specialize in obstetrics and gynecology than in surgery, but that they may be basing their choices on misconceptions. Surgery, she says, is as manageable as any other field.
"I would argue that delivering babies at 5 a.m., with all the possible complications that can occur, isn't easy, but women do it," she notes.
The message Ajayi says she wants to send to other women is, "If you love surgery, go for it. You'll make everything else work."
The appeal of surgery
Christine Castater is a fourth-year student who is a core member of the WISIG. She's something of a nontraditional student, having started medical school at age 35. She says she had several preconceived ideas about surgery and surgeons, so she hadn't considered the field. It wasn't until she did her surgical rotation in her third year that she realized surgery was right for her.
"I'm an artist. I like working with my hands, and I like to see tangible results from the things I do," Castater says. "I felt that surgery was a better fit for me because I'd be able to do things to actually fix people instead of just managing patients' diseases over time."
Once she decided on surgery, she sought out Dr. Barry for advice and became active with the WISIG, so she could help younger students.
"Looking back, I think if I'd had exposure to real information about surgery or if I'd had women mentors in surgery, it might have been on my radar screen sooner than my third year," Castater says.
Olayemi Ajayi's interest in surgery began when, as an undergraduate at UMass Boston, she worked one summer at a missionary hospital in Nigeria. When she came to UConn, she was already planning to specialize in surgery, so she was eager to help get the WISIG up and running.
"I love being hands-on," Ajayi says. "I love to physically do something to help patients. I want them to take care of themselves, but when they have injuries or diseases, as a surgeon you can intervene and do something about it."
Creating leaders
Women also lag men when it comes to holding leadership positions in academic programs. According to the Association of Women Surgeons, only six Departments of Surgery have female chairs, and women account for only 8 percent of full professors of surgery. One of the WISIG's aims is to prepare women surgeons to move into these leadership positions.  This is especially important in order to make careers in surgery more compatible with the balanced lives women want to lead, says Barry.
"Not every woman wants to have a child, but you do want a life outside of the O.R.," she says. "If the people who make the decisions are all our male colleagues, if [women leaders are] not at the table when they're talking about policies regarding maternity leave or compensation," she says, the obstacles that have discouraged women from entering the profession may remain. She's quick to point out that a more balanced approach would also benefit men, who today increasingly want to spend more time with their families.
In the meantime, Barry is encouraging students to take the lead in the interest group. She would like to see it grow to include a mentoring program that would begin with pre-med students, with an eye to creating a pipeline of surgeons.
"There are so many possibilities," Barry says of the interest group. "It's still in its infancy."
---
Follow the UConn Health Center on Facebook, Twitter and YouTube.