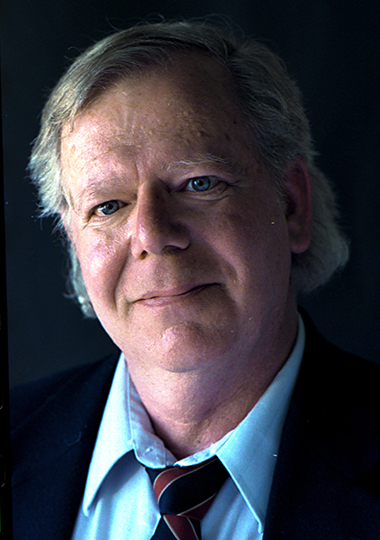 John J. Breen, a respected and popular professor of journalism at the University of Connecticut for more than three decades, died on Feb. 19 in Moodus, Conn. He was 71 years old.
"John was a brilliant teacher, wonderful writer, and a trusted friend," says UConn journalism professor Marcel DuFresne, who was Breen's colleague for more than 15 years. "He introduced several generations of UConn students, majors and non-majors, to the history and power of journalism with wit, humor, and the highest professionalism."
DuFresne recalls attending a dinner in his honor upon his retirement from UConn.
"As I heard former students pay public and private tribute to John, I understood how deep and wide his influence has been," says DuFresne. "I was fortunate to have learned much about teaching and life from him. Over his long tenure, he helped build both the journalism department and the University. Much of the deep goodwill enjoyed by the journalism department today among graduates is thanks to John Breen."
Breen joined the faculty at UConn as a 26-year-old assistant professor in 1968 and was later named an associate professor. He retired in 2004.
"John Breen was the reason why I went to UConn," says Amanda Falcone '05 (CLAS), who went on to work as a journalist after her graduation, including as a reporter for the Hartford Courant. "I went to visit the journalism department after a campus tour, and Professor Breen was in his office. After talking to him, I knew that I was going to be a Husky.
"His dedication to journalism and to his students was immediately apparent," says Falcone, "and I've always appreciated how much he valued the print product. In today's technology-driven world, that is rare. John Breen taught me about history, and he taught me the basics of news writing. He was an 'old-school journalist,' and I am proud to say that I learned from one of the best."
Born in Chicago, Ill. in 1942, Breen received his BA from the University of Illinois at Champaign-Urbana in 1964, as well as his master's degree from Illinois in 1965. He went on to become a reporter for the Champaign-Urbana Daily Courier and the Knickerbocker News in Albany, N.Y.
He and fellow UConn journalism professor Evan Hill authored a textbook, Reporting and Writing the News, which for years was a standard resource in undergraduate journalism classes.
In 1998, he was a member of the Connecticut Newspaper Project advisory committee, which worked to preserve the state's long history of journalism by digitizing newspapers from the colonial era to the present. He was also a longtime faculty advisor to UConn's student newspaper, The Daily Campus.
Breen was chairman of the Lebanon, Conn. board of education in the 1970s; and from 1993 to 2004, he was a columnist for the Journal Inquirer newspaper of Manchester.
"John Breen was the epitome of chill when I knew him back in the 1970s, both as a professor in the UConn journalism department and later, as a colleague when I taught newswriting," says Daryl Perch, who was also a longtime editorial writer for the Courant. "His laid-back attitude masked the truth: he was a stickler, just like his colleague and department head, the legendary Evan Hill. Facts were facts and you'd better get them straight when writing and reporting.
"What separated John Breen from the hard-boiled newsmen of renown – think Perry White and Lou Grant – was his endearing sense of humor," adds Perch. "He could turn the stress of a deadline into an adventure just by recounting amusing anecdotes from his own newsroom experiences. He made fun of himself and made each assignment seem less like pressure. One student who rated him online remarked: 'Get him to tell you about the time he disguised himself as a janitor.' I wish I had. John Breen was a good teacher, highly regarded by his students as one of the best on campus."
Perch also recalls his endearing eccentricities, such as occasionally driving a car from the 1930s or 40s to work and wearing a Fedora hat – "the type you could imagine having a 'Press' card sticking out of the band."
Perch says Breen was slow to embrace the computer, instead typing his own stories, columns, and manuscripts on a vintage manual typewriter. She says she once wrote a feature story about his typewriter for a journalism department newsletter.
"I wish I could remember the brand. Royal? Underwood? Smith Corona?" she said. "As John Breen taught us so well, those details are important."
Breen was predeceased by his wife Jean, who died in 1983. He is survived by his sons, Daniel of Ithaca, N.Y. and Thomas of Manchester, Conn. – both UConn graduates – as well as his daughter-in-law, Jenny, and two grandchildren.
Calling hours will be held on Monday, Feb. 24 from 5 to 8 p.m. at Watkins Funeral Home at 142 East Center Street in Manchester, Conn.