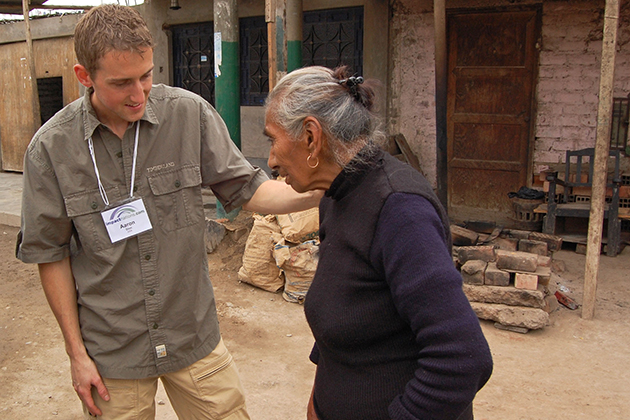 By the time Aaron Dion enrolled as a junior at UConn this past fall, he had already traveled to eight different countries across South America and Europe, and had spent a year living in Chile.
A transfer student from Manchester Community College, he originally decided to come to UConn because of the wide range of study abroad opportunities. But after speaking with assistant professor-in-residence Anne Gebelein, the assistant director of El Instituto, he realized that UConn's Latin American Studies major would also provide him with the tools he needs for his future.
Dion says UConn's Latin American studies program is helping him reach his goal of earning a master's degree in public policy. He hopes to move to South America permanently, to work in local government there and continue to have a positive impact on the people.
Dion's love of overseas travel began in high school. His first trip to Chile was in 2007 with his church youth group. He returned to the country from January 2009 to January 2010, and stayed with a Chilean family in the city of Concepción. He was able to put his seven years of professional carpentry experience to good use, helping with building projects in the city, as well as within a community of native Chileans, known as the Mapuche.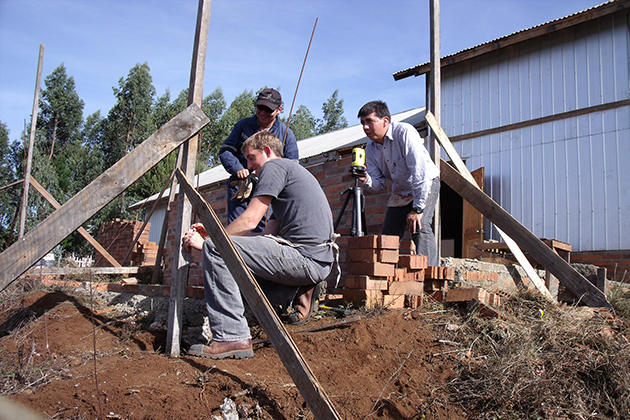 From constructing an extension on a church to organizing a soccer tournament for 150 youths, Dion strived to make a positive difference throughout his stay.
"The Mapuche are one of the last aboriginal groups in Chile, but they live on the fringe of society," says Dion. "In a house I stayed in during the winter, there was no heat or insulation and hardly enough blankets."
Although he has never taken a Spanish class, Dion says he picked up the language from leading Bible study groups and interacting with the local Chileans.
"It was very difficult at first," says Dion, "but the challenge really accelerated my learning."
After his experiences in Chile, Dion studied at Manchester Community College for two years before transferring to UConn.
One of Dion's favorite classes so far was the Migrant Workers of Connecticut course, taught by Gebelein and offered by El Instituto: Institute of Latina/o, Caribbean, and Latin American Studies.
"It was a lot of practical work, which I love," says Dion. "We got to go to a tobacco farm and strip tobacco with the workers, just to see exactly what they do."
In addition to learning about immigration patterns and the challenges that many migrant workers face, Dion fulfilled the course's service component by volunteering as a teacher with the Migrant Farmworker English program. Established in 2011 by UCon graduate students Ruth Hernandez (sociology) and Jennifer Cook (anthropology), and co-sponsored by the Area Health Education Center and the Quinnipiac Physician's Assistant Program, the program has served more than 200 migrant farmworkers in Connecticut. Over the course of the semester, Dion and the other teachers developed close relationships with their migrant farmworker students.
"The project went well," says Gebelein, "thanks to Aaron's organizational skills, patience, dedication, and respect for his classmates and the workers, who were grateful to be one step closer to fluency in their new country."
While most UConn students returned home for winter break, Dion headed back to South America, this time to the chime of wedding bells. Dion and his fiancée, whom he met while living in Chile, tied the knot a few days after his plane landed in Argentina on Christmas Day.
"It was truly an international event," says Dion, "as people from Brazil, Chile, the United States, and Argentina worked for weeks to prepare all the details for the wedding."
Next year, Dion is looking forward to a UConn study abroad program at the Universidad de Mendoza, Argentina, where he will finish up his Latin American studies major.
"I am really looking forward to studying in Argentina next year, because of the opportunities and connections that will be opened to me there," says Dion. "My [academic] work at UConn will help me to gain credibility as I pursue work in Mendoza."