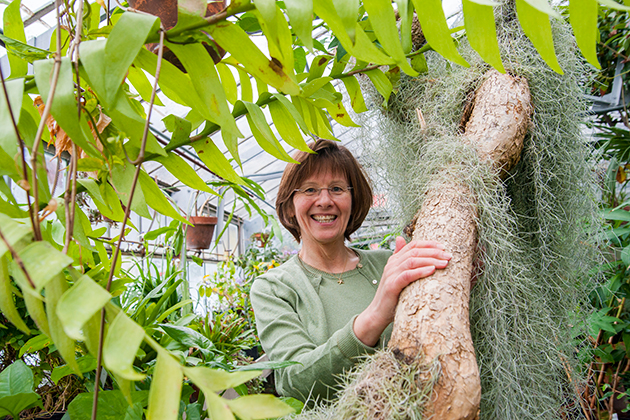 Renowned plant biologist Pamela Diggle, whose dedication to research is matched by her commitment to public outreach, has joined the Department of Ecology and Evolutionary Biology in the College of Liberal Arts and Sciences this semester.
Diggle's research seeks to understand how plant development affects evolution, while her outreach work to bring plant biology to the public has made her a strong supporter of fundamental botanical knowledge.
"When you study animals, there's a certain familiarity there, because of course we're animals," she observes. "But even though plants are all around us, they can be invisible to our eyes – until we start really looking."
Diggle, who is serving as the department's associate head, comes to UConn from the University of Colorado.
Planting botanical seeds
After attending college at the University of California at Santa Barbara, she spent several years doing outreach at a state park in the desert near San Diego, Calif. Contrary to what many perceive, she says, deserts can be full of plant diversity.
"It was especially wonderful to work there in the spring, when everything explodes with flowers," she says.
Diggle says she has carried with her the emphasis on public education she learned in those years leading nature walks and teaching people about basic botany. As the current president of the Botanical Society of America, she has worked at a national level to increase student involvement in botany by spearheading new scholarships and putting on workshops about research techniques.
"I'm committed to educating people about plants," she says. "Plants are critical in every aspect of our lives."
At UConn, Diggle is currently developing a general education plant biology course, which among other influences draws on her popular lecture called "The Botany of Thanksgiving Dinner."
"Everyone is interested in growing and cooking food," she says. "So you can teach about what plant parts we eat, and that will teach people about plant structure. For example, why do we use certain types of potatoes to bake, and others to mash?" The answer, she says, lies in the microscopic structure of their cells.
Evo-devo
For her own research, Diggle studies how the early stages of life can affect the way plants are structured, which in turn affects how they evolve. Called "evo-devo" by scientists in the field, the idea places emphasis on development as a major driver of evolutionary diversity.
"The difference between a dandelion and a buttercup is development," Diggle points out.
Most plants are hermaphroditic, producing both male and female flower parts. But several groups of plants have evolved the ability to produce plants of distinct sexes, or "boy" plants and "girl" plants. Diggle and her colleagues study how these plants may alter their development – in some cases, changing their sex – in response to their environment.
"Having male or female parts gives plants the ability to fine-tune their reproductive output," says Diggle. "Plants are very good at adjusting their physiology based on their environment. They respond almost continually, because they can't choose their environment like animals can."
Much of Diggle's research involves greenhouse experiments, where she varies different plants' environment to see how they respond. Her main study plants are in the genus Solanum, a group of tropical plants related to tomatoes. Diggle says she looks forward to working with fellow Solanum biologist Greg Anderson, who is Board of Trustees Distinguished Professor Emeritus of ecology and evolutionary biology.
After a stint as a researcher at UConn while on sabbatical in 2006, Diggle always had a high opinion of UConn's ecology and evolutionary biology department.
"It's a fabulous place," she says. "I'm excited about how terrific my colleagues are here. We have several small discussion groups where people get together to discuss their work, and I've learned so much already."
Diggle plans to continue work on a National Science Foundation "microMORPH" training grant, on which she and her colleagues have been funded at $500,000 over five years to help support new curriculums in developmental biology. In 2015, she will become Editor-in-Chief of the American Journal of Botany, one of the flagship journals in the field.
She also hopes to continue working with CLAS's other two biology departments, the departments of molecular and cell biology and physiology and neurobiology, to improve the undergraduate and graduate curriculum.
But for the time being, she's looking forward to the spring, so she can start learning more about East-coast plants, especially trees.
Says Diggle, "With plants, there are surprises all the time."