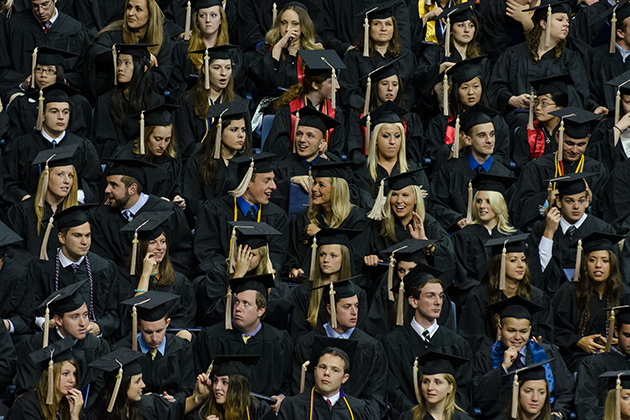 There are numerous facts and figures and all sorts of accomplishments, but Gary Lewicki, vice president of enrollment management, sums it up best when he says the Class of '14 is "of championship caliber."
"Not only was their support integral to three national athletic championships in their senior year – field hockey and men's and women's basketball — but all their efforts in and out of the classroom have been equally impressive," Lewicki says. "This class has helped the University attain and solidify its lofty status among U.S. News & World Report's Top 20 public universities, and their four-year graduation rate will undoubtedly place us in the top five to 10 among our peer institutions on this important outcome."
Lewicki also points to the 'social consciousness' of the Class of '14, as reflected in UConn's selection as the globe's greenest college (1st out of 215 institutions internationally) in the GreenMetric World Rankings during their time here, as well as being named the Sierra Club's Number One Cool School in the nation last August.
Time flies
Four undergraduate years go by in what seems like the blink of an eye. In the time since they entered as freshmen, the Class of '14 has seen:
The opening of the Veterans Oasis in 2012;
The launch of UConn Reads, with its inaugural book selection: Nicholas D. Kristof and Sheryl WuDunn's Half the Sky: Turning Oppression into Opportunity for Women Worldwide;
The first international alternative break program – a trip to Los Jasmines, Costa Rica in January 2013, where students helped build a health center;
Opening of the new dining hall in McMahon, complete with an international culinary theme;
The construction of two new classroom buildings – Oak Hall and Laurel Hall – both of which are Leadership in Energy & Environmental Design (LEED) certified. The renovation of Arjona and the addition of the Charles 'Skip' Lowe Atrium in the Bousfield psychology building annex are also examples of 'green' construction that has taken place in the past four years.
The growth of student organizations from 450 to 650, including the addition of Everybody Arts, 3-D Printing, UConn Parkour, and the Nerf Club (thus demonstrating that at UConn, there is truly something for everyone!), and the staging of the first UConn TEDx talks.
The reinvention of Spring Weekend;
The off-campus growth of Storrs Center.
This class is socially conscious and members have participated in a variety of alternative spring break trips. Among those involving the Class of '14 have been visits to Georgia, Mississippi, and Alabama, where students were involved in projects serving the homeless, renovating houses, engaging in environmental restoration, and learning about the roots of the Civil Rights Movement.
Members of the class have also met the governor and heard him discuss leadership in times of crisis (natural disasters, financial downturn, transportation accidents, the Newtown tragedy); explored the future of genomic research with Dr. Edison Liu of The Jackson Laboratory; and talked with actor and activist Michael J. Fox about navigating life with Parkinson's disease.
This semester alone they have heard former Secretary of State Hillary Clinton speak at the Edmund Fusco Contemporary Issues Forum and welcomed famed evolutionary biologist Richard Dawkins to campus.
Well-educated and well-traveled
The Honors Program boasts more than 350 Honors Scholars in the Class of '14 – the largest cohort ever … as well as 23 University Scholars, representing the pinnacle of academic performance at UConn.
Among the topics the University Scholars are covering in their penultimate projects are:
Martyrdom and Religious Violence in Reformation-era English Literature; Adaptive Immune Response to Neo-Antigens Generated In Vivo by Spontaneous Mutations; Function of a Dyslexia Associated Gene in Human Neurons; Green Screen: Creating Software to Improve Campus Water and Energy Use; and Literature of Generation X: The Performance of Masculinities.
Graduating seniors have reached significant academic milestones. There are 'too many to mention all by name' but a few of them include:
Ragini Phansalkar '14 (CLAS & ENG), a dual-degree student majoring in computer science and biology, won a 2013 national Barry M. Goldwater Scholarship for Excellence in Education. Nicholas Gallo '14 (CLAS), with a dual major in physiology and neurobiology and minors in mathematics and molecular and cell biology, earned an honorable mention for the prize.
Rebecca D'Angelo '14 (CLAS) is one of only 15 students nationally to earn this year's Gilder Lehrman History Scholar Award sponsored by the Institute of American History. The award recognizes outstanding graduating college seniors who have demonstrated academic and extracurricular excellence in American history or American studies as well as a commitment to public service and community involvement. She also is a recipient of a National Collegiate Honors Council Portz Interdisciplinary Research Fellowship.
Carl D'Oleo-Lundgren '14 (CLAS) won a 2013 Thomas R. Pickering Undergraduate Foreign Affairs Fellowship from the Woodrow Wilson National Fellowship Foundation and he is also the winner of a Benjamin A. Gilman International Scholarship for study abroad. D'Oleo-Lundgren has spent his senior year studying in Jordan in preparation for a career in the Foreign Service.
John Giardina '14 (CLAS) and Rose Cersonsky '14 (ENG) were Truman and Marshall Award finalists, respectively.
Hayato Jin Kawai '14 (SFA) won a student scholarship from the Society of Illustrators in New York in recognition of outstanding work; he is the first UConn student to earn such prominent recognition as an illustrator.
More than a third of the animal science majors in the Class of 2014 will attend veterinary school or enter other graduate programs in the fall, including six students who are entering UConn's Doctor of Physical Therapy program. Among the veterinary schools welcoming UConn graduates will be: University of Pennsylvania, Tufts University, Iowa State University, University of Glasgow, St. George's University, University College Dublin, Michigan State University, Ross University, The Ohio State University, Purdue University, and Virginia-Maryland Regional School of Veterinary Medicine.
A particular point of pride for Kevin Brennan, executive program director of UConn's Study Abroad Programs, is the extent to which students have embraced the opportunity to visit foreign lands and partake in multicultural experiences. He says the most popular study abroad destinations during the past four years have included Italy, the United Kingdom, South Africa, China, Costa Rica, Singapore, Japan, and Guatemala.
"In the past two years," Brennan says, "we have had about 1,000 students per year studying abroad. This means that it is quite likely that the members of the Class of '14 have studied abroad at higher levels than any previous UConn graduating class. What is particularly impressive is that 41 percent of the 2014 graduating cohort from the School of Nursing studied abroad. This compares to 20 percent or so for UConn in general, and is far in excess of nationwide rates for nursing."
Just interesting …
While academic achievement, community service, and environmental stewardship are important, there are other aspects of college life that are equally memorable. UConn's class of 2014:
Impressive statistics in graduate education
UConn recently adopted a wide-ranging new academic vision to shape its efforts to become a national leader in breakthrough research, innovative undergraduate and graduate education, service, and public engagement. Part of that vision is making UConn a destination of choice for graduate students and postdoctoral scholars.
Judging from the accomplishments of those students graduating in 2014 with advanced degrees, our graduate programs are already attracting the best and the brightest.
"We're conferring nearly 12 percent more doctoral degrees this year than last," says Kent Holsinger, vice provost for graduate education and dean of the Graduate School. "This year is the Graduate School's 75th anniversary and this year's class of graduate students marks the beginning of a new era of growth and prominence for graduate education at UConn."
Among the students earning advanced degrees is Jorge Santos'14 Ph.D., who has accepted a tenure-track position in 20th-century multi-ethnic literature at the College of the Holy Cross, specializing in Latin literature.
Santos was a participant in The Graduate School's Multicultural Scholars Program (MSP). Holsinger says the same kind of academic and career support that Santos and all MSP participants have received in the past is now being generalized for all graduate students, as part of the expanded network of support services being offered by the new Graduate Student and Postdoctoral Affairs Division at the Graduate School.
Students from the Law School not only worked hard to earn their degrees, they gave back to the community while doing so. As an example: close to a quarter of the students graduating with a Juris Doctor degree participated in the Law School's Pro Bono Pledge program, which encourages and recognizes law student participation in pro bono activities and community service projects for which no academic credit is earned or compensation received. These students have recorded 4,652 hours to date of service in the legal community, while also completing their academic requirements for the JD.
While U.S. dental schools eliminated formal rankings several years ago, there is strong evidence to suggest that the UConn School of Dental Medicine is among the top schools in the country. This year, every graduate in the Class of 2014 was matched in a highly competitive residency program, a remarkable achievement given that the number of residency positions in the U.S. is less than half the total number of dental graduates each year. This reflects on the reputation and power of the school's curriculum and its emphasis on science and service.
In the School of Medicine, 84 percent of the class matched to their top-ranked residency programs, in 18 different states stretching from Maine to Texas and from Florida to California; 40 percent will remain in Connecticut where they will become our state's next generation of physicians and medical researchers. In addition to those doing residencies at UConn Health, other prestigious institutions welcoming the new MDs include Mass General, Johns Hopkins, Children's Hospital of Philadelphia (a record 3 students matched there), Beth Israel Deaconess, UCSF, and UCLA.
The class logged a total of 7,174 hours of service during their time at UConn Health. Eight percent of the class received special commendation for service, 15 percent of the class received special commendation for scholarly activities, and 20 percent of the class received special commendation for leadership activities in the institution and the wider community.