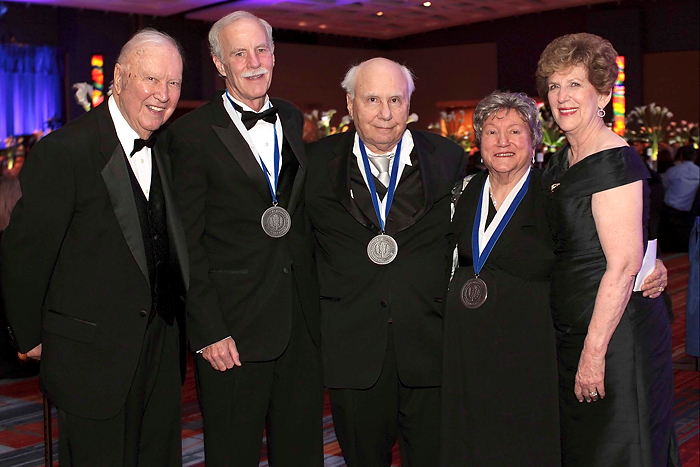 Nearly 900 supporters celebrated UConn Health at the fifth annual White Coat Gala at the Connecticut Convention Center on April 12. The event brought donors, alumni, and students together with faculty and University dignitaries—President Susan Herbst, Provost Mun Choi, deans from across the University and athletic director Warde Manuel—to support UConn Health and the University's health science programs. Proceeds benefited UConn Health's expansion initiatives through Bioscience Connecticut.
Photo Gallery
Gala Video
UConn Health is at the forefront in personalized medicine and endeavors to be a leader in bioscience research and innovation. Through Bioscience Connecticut, UConn Health is building new patient care facilities, renovating state-of-the-art research laboratories, expanding academic facilities, and creating new programs with community partners to improve patient care.
"UConn Health is leading the way into the next frontier. With the state's investment in Bioscience Connecticut, we are becoming a national model for medicine that is personalized for each patient. Through our partnerships with Jackson Lab, the pharmaceutical industry and private foundations, we are bringing leading researchers together for groundbreaking discovery," said Herbst.
Carole and Ray Neag '56 (CLAS) presented the Carole and Ray Neag Medal of Honor to three recipients selected for their outstanding contributions to UConn Health and the field of medicine.
Richard and Jane Lublin are dedicated partners in the fight against cancer through their generous support of cutting-edge research at the Neag Comprehensive Cancer Center. The Lublins are also founding title sponsors of the White Coat Gala for the last five years.
President of the UConn Health Center Auxiliary Irene Engel has dedicated nearly 50 years to UConn Health through her professional service, volunteerism and philanthropy.
Cigna supports the Neag Comprehensive Cancer Center through the Jim Calhoun Cancer Challenge Ride and Walk, and funds graduate fellowships to research people's health care decisions. UConn's partnership with Cigna has also created the Cigna Innovation Lab and the Digital Media Center at the Storrs campus.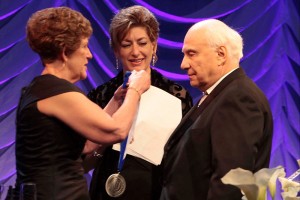 Following the awards ceremony, Herbst called Dr. Pramod Srivastava, director of the Neag Comprehensive Cancer Center, to the stage to make a surprise announcement. Srivastava thanked the Neags for making the single largest gift toward research in UConn Health's history earlier this month. The Neags' commitment will fund research that will benefit patients at UConn Health and around the world. Srivastava is launching a clinical trial later this year using patients' own DNA to create personalized treatments for ovarian cancer.
"Carole and Ray, you know what it takes to build hope," said Herbst, and recognized the Neags' visionary leadership. "Our groundbreaking clinical trials in cancer immunology and personalized medicine have the potential to revolutionize cancer treatment. We are so grateful for your incredible support of our bioscience research and advancements."
The audience also heard from special guest speaker Abigail O'Brien, a 37-year-old breast cancer survivor and mother of three young children. O'Brien shared her poignant personal story of working with the caring physicians, nurses and staff at UConn Health throughout her treatment. Now in recovery, O'Brien was inspired to join the UConn Foundation as a fundraiser to raise support for the faculty and institution that saved her life.
The White Coat Gala was supported by founding title sponsors Richard and Jane Lublin, lead corporate sponsor Cigna, presenting sponsors Stanley Black & Decker and Webster Bank, and many other dedicated sponsors. Media sponsorship was provided by the Hartford Courant and FoxCT.
---
Follow UConn Health on Facebook, Twitter and YouTube.