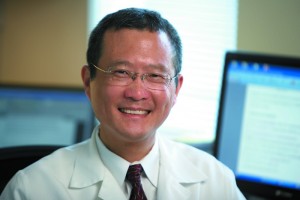 New research from UConn Health uncovers a mechanism that may protect men and women from heart failure, a chronic condition that can occur after a heart attack.
Published in the current issue of Circulation, the study discovers a specific ion channel in the heart that protects against heart failure. "The ion channel is also a receptor protein called the purinergic P2X4 receptor, which is present on the surface of a heart muscle cell. This receptor uses nitric oxide to achieve its beneficial effect," said Dr. Bruce T. Liang, the lead author and director of UConn Health's Pat and Jim Calhoun Cardiology Center.
"Nitric oxide has long been known to prevent heart failure. What's unique here is that this receptor channel directly associates with the enzyme that makes nitric oxide with a localized increase at strategic sites within the muscle cell," he said.
"This may have implications for developing a novel approach for patients with heart failure caused by poor contraction of the blood through the heart's chambers," added Liang. Collaborators in the research were Dr. Kimberly Dodge-Kafka, also of the Calhoun Center, and Dr. Kenneth A Jacobson of National Institutes of Health.
"Preventing a condition like heart failure is always a much better option for patients," said Liang, who is widely published in scholarly journals and has a particular interest in preventive cardiology.
What is heart failure?
By its simplest definition, heart failure means the heart isn't pumping blood as well as it should to the rest of the body. As a result, symptoms include shortness of breath, swelling and fatigue.
Heart failure usually develops over time and often coincides with other conditions such as coronary artery disease, diabetes and high blood pressure. More than half of patients with heart failure have had a heart attack or coronary artery disease. For others, the condition can be linked with a virus, family history, thyroid imbalance or even substance abuse.
Today, an estimated five million Americans are living with heart failure and another 550,000 will be diagnosed this year, according to the National Institutes of Health. Nationally, it is the most common reason for hospitalization for people over age 65.
Along with ongoing research, UConn Health is known for its work to help men and women live full and healthy lives with heart failure. For the past several years, UConn Health's Pat and Jim Calhoun Cardiology Center has been recognized by the American Heart Association for its comprehensive care for patients with heart failure.
The abstract to the article in Circulation is available at http://bit.ly/1403BTLCirc.
---
Follow UConn Health on Facebook, Twitter and YouTube.