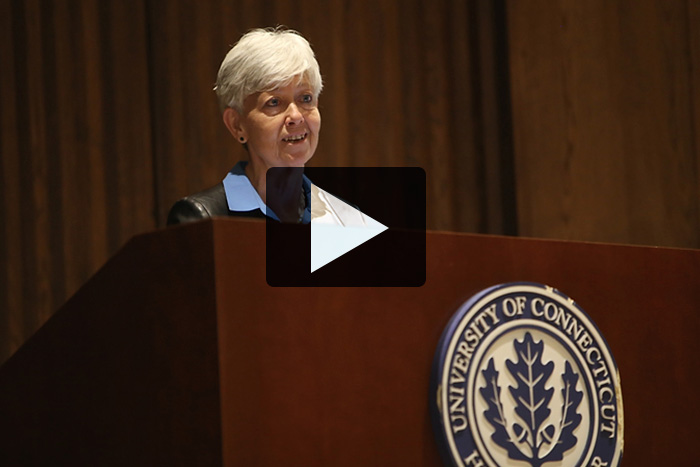 Despite recent declines in spending power, a prominent women's health expert and administrator with the National Institutes of Health (NIH), is voicing strong support for research funding as well as new approaches to help broaden the career paths of young scientists.
"The leadership of the NIH takes this very seriously," said Dr. Joan McGowan, during the annual symposium of the UConn School of Medicine's chapter of the Group on Women in Medicine and Science held earlier this month. An acclaimed osteoporosis expert researcher, McGowan is the director of the Division of Musculoskeletal Diseases with the National Institute of Arthritis and Musculoskeletal and Skin Diseases. She has worked extensively with several UConn Health faculty through the years.
"We care deeply about funding flexibility to help facilitate the careers of young scientists," McGowan said, noting that overall NIH research funding has been contracting in recent years.
McGowan and others within the NIH advocate finding a way to give the research community "some feeling of stability." She also called upon academic and scientific communities to give young scientists the tools to pursue a more expansive array of career options. "We need to recognize the value of a scientific education," she said.
The School of Medicine's Group on Women in Medicine and Science launched in 2012 under the leadership of Dr. Marja Hurley, professor of medicine, associate dean and director of the Health Careers Opportunity Programs. The chapter is part of a national movement, initiated by the American Association of Medical Colleges, to promote mentoring and professional development for women physicians and researchers.
As chair, Hurley assembled a steering committee representing a range of voices in academic medicine – from full professors to mid-level and junior faculty, as well as administrative leaders. Over the last two years, the chapter has hosted dozens of mentoring events and shared resources with women faculty.
"Part of our charge is to not only give women new tools for professional growth, but also to celebrate the successes of some of the extraordinary leaders within UConn Health," Hurley said.
During the annual symposium, the chapter honored six highly accomplished women faculty:
---
Follow UConn Health on Facebook, Twitter and YouTube.