This article was first published in the Spring 2014 print edition of UConn Magazine. To access more stories and videos like this, visit s.uconn.edu/spring 14 or download UConn Magazine's free app for tablet devices.
It was 1933 when UConn students so insightfully designated the husky as the symbol of strength, grit, and resolve that has come to define the true spirit of the University. In this special feature, UConn Magazine invited 11 proud UConn alumni to speak out about what defines them, from their darkest struggles to their greatest triumphs. And no matter how different their backgrounds, their hardships, or the mistakes they may have made along the way, that same enduring strength and indomitable spirit remains, living on at the heart of every Husky.
On the morning of 9/11, Capt. Alfredo Fuentes '08 MPS, a 26-year veteran of the New York City Fire Department, was one of the first responders on the scene during the attack on the World Trade Center.
When the North Tower collapsed at 10:28 a.m., he became one of many trapped under the rubble.
It would take hours before he was rescued – and years to recover, after enduring numerous massive injuries to his lungs, ribs, and skull.
Though his disabilities ultimately forced him to retire from the job he loved, Fuentes wasn't about to let physical challenges stand in his way. Instead, he was determined to find a new career that would allow him to continue giving back to his country.
"I was devastated when I couldn't continue being a firefighter," says Fuentes. "It's something that I am always going to miss. But I had to find some way to get back on that horse."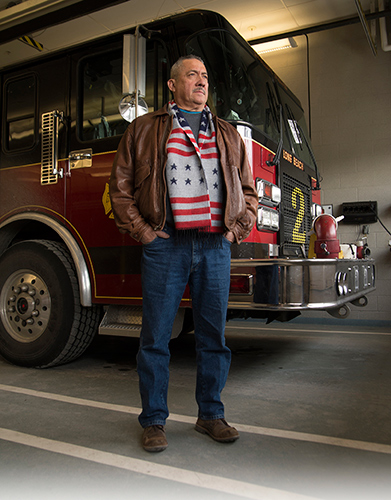 In 2004, he founded The Patriot Group, a nonprofit organization devoted to making the lives of emergency responders – and citizens – safer, by training and consulting with underfunded municipalities on updated technology and information gathering systems. Since The Patriot Group's inception, its volunteers have traversed the globe from Ireland to Thailand, doing everything from speaking about rescue operations to helping communities rebuild after devastating natural disasters.
Wanting to expand his education and potential work prospects, Fuentes enrolled in UConn's Master of Professional Studies Homeland Security Leadership degree program in 2006. The cohort-based program gives students from different professional backgrounds the opportunity to share their insights and experiences with one another. For Fuentes, being in a cohort surrounded by people from private organizations, military backgrounds, and law enforcement was an opportunity too valuable to pass up. "The program gave me a higher perspective, and it also allowed me to network," says Fuentes, adding that he still consults with some of his former UConn professors.
We all need to give back and to make the world a better place. –Alfredo Fuentes '08 MPS
It's no surprise that Fuentes chose such a program. Helping others has been a trademark of his. In addition to his nearly three decades with the FDNY, he has worked with the Federal Emergency Management Agency as a part of search and rescue teams following such events as the Oklahoma City bombing in 1995 and the Humberto Vidal explosion in Puerto Rico in 1996. In recent years, he has also offered his expertise as a consultant for organizations across the country – from the Oak Ridge National Laboratory in Tennessee to the Knights of Columbus – on a spectrum of security and emergency response-related projects.
"We all need to give back and to make the world a better place," he says. "It's not all about making money at the end of the day. We're all in this together."
It's been more than a decade since Fuentes had to leave the profession he loved so dearly. But rather than giving up, he has found a way to keep giving. It's a virtue he hopes his story is able to instill in others.
"I hope people … learn that you should never give up," says Fuentes, who has also published a book about his experiences called American by Choice (Fire Dreams Publishing, 2004). "There's always something big that you can do. You are always able to reinvent yourself. I was in my 50s when I got my master's degree."
Hear audio clips from UConn Magazine's one-on-one interview with Fuentes:
Fuentes describes how strangers helped him through his recovery.
Why he joined the FDNY.
On being a UConn student in his 50s.
On what he is most thankful for now.