This article was first published in the Spring 2014 print edition of UConn Magazine. To access more stories and videos like these, visit s.uconn.edu/spring 14 or download UConn Magazine's free app for tablet devices.
It was 1933 when UConn students so insightfully designated the husky as the symbol of strength, grit, and resolve that has come to define the true spirit of the University. In this special feature, UConn Magazine invited 11 proud UConn alumni to speak out about what defines them, from their darkest struggles to their greatest triumphs. And no matter how different their backgrounds, their hardships, or the mistakes they may have made along the way, that same enduring strength and indomitable spirit remains, living on at the heart of every Husky.
"When you're told you have this chronic illness that could lead to death, you think, 'OK, I've got to get more out of life,'" Dominique (Soucy) Matteson '03 (CLAS) says.
Matteson was back at work the day after she was diagnosed with chronic myelogenous leukemia. "What am I going to do? I can't sit and cry about it," she says.
Unable to find a bone marrow transplant match in the spring of 2005, the then-23-year-old Matteson tried Gleevec, a medication aimed at preventing the growth of cancer cells. "They call it the miracle pill," she says. "It forces your body into remission."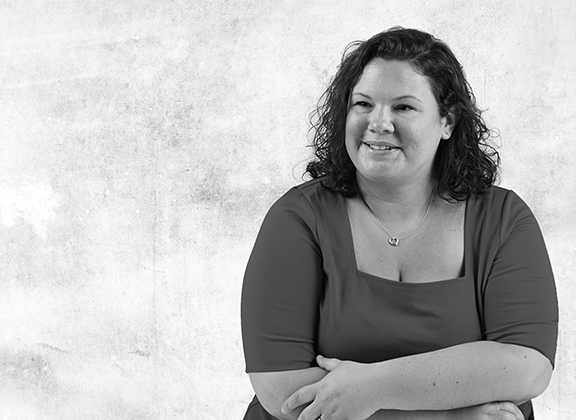 Two years later, the drug had not worked as expected. "Fifty percent of my cells were showing cancer," Matteson says. "Finding out it came back scared me more than finding out in the first place … That was probably my lowest point. It was really hard."
But raised "to make the best out of whatever situation," Matteson switched to Tasigna, becoming a "guinea pig" for the newly approved drug.
Within a year, she was in remission. To celebrate, Matteson contacted the Leukemia and Lymphoma Society (LLS) in 2010 and volunteered to talk with newly diagnosed patients. "I wish I'd had a peer to talk to," she says. "I was a young woman with this disease … which is usually diagnosed in middle-aged, white males."
Share your story … It doesn't matter how small it may be to you, it can have an influence on people's lives. —Dominique (Soucy) Matteson '03 (CLAS)
Learning about LLS fundraising programs, including Light the Night Walks, which help raise awareness of blood cancers as well as funding for research, Matteson immediately formed her own team for an upcoming Hartford Light the Night event in South Windsor, Conn. When LLS needed people to serve on their planning committee, Matteson signed on. She also directed traffic for LLS marathon runners, spoke before the 1,000 participants at the Light the Night Walk, and has organized teams of fundraisers for the event for the past four years.
She now speaks at fundraising events across the state and has met with cyclists training for LLS-sponsored rides, inspiring them for their 100-mile races. Last fall, she chaired her local chapter's corporate leadership committee, raising more than $100,000 for the 2013 Hartford Light the Night Walk. Her own team of walkers has raised upwards of $14,000 over four years.
When it comes to fundraising for LLS, Matteson, who works as an assistant director of annual giving at Yale University, is in her zone. "I stand here because of you. I stand here every day because of you … The money raised by funding helped with the research for the medicine I'm now on," she tells audiences.
Away from the podium, Matteson confides, "I firmly believe I owe the Leukemia and Lymphoma Society my life because of all the research that went into the medicine that saved my life."
She is also grateful to her alma mater. "I realize I wouldn't be where I am today if it wasn't for my education. I'm really proud of my education at UConn. I was exposed to so much more than I ever was growing up," says Matteson, who is the first and only member of her family to have completed college.
When diagnosed with cancer, "The first thing you do is question why," she says. But rather than focus on the "why," she said "OK, this happened. What are you going to do about it?"
Cancer, she asserts, made her a stronger person. "Ever since I was a kid, I always wanted to go to college, [and] I always wanted to make a difference in someone's life," Matteson says. "Cancer has given me amazing opportunities" to make that difference.
Reluctant at first to speak publicly, Matteson now tells others: "Share your story … It doesn't matter how small it may be to you, it can have an influence on people's lives."
Hear audio clips from UConn Magazine's one-on-one interview with Matteson:
Listen to Matteson on what she has learned.
What Matteson tells others who have been newly diagnosed.