This article was first published in the Spring 2014 print edition of UConn Magazine. To access more stories like this, visit s.uconn.edu/spring 14 or download UConn Magazine's free app for tablet devices.
It was 1933 when UConn students so insightfully designated the husky as the symbol of strength, grit, and resolve that has come to define the true spirit of the University. In this special feature, UConn Magazine invited 11 proud UConn alumni to speak out about what defines them, from their darkest struggles to their greatest triumphs. And no matter how different their backgrounds, their hardships, or the mistakes they may have made along the way, that same enduring strength and indomitable spirit remains, living on at the heart of every Husky.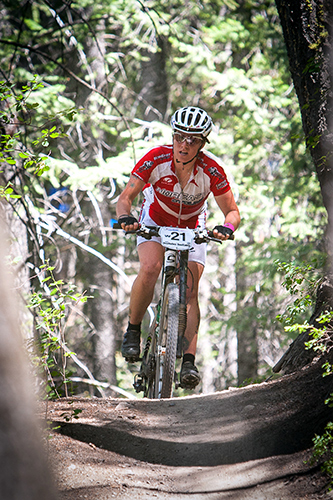 It doesn't matter if it is a frigid, 11-below-zero winter morning or the 50th mile of a grueling summertime mountain biking marathon at an unforgiving altitude of 9,000-plus feet. Either way, you will find Jena Greaser '10 (CLAS) on a bicycle, putting the pedal to the metal.
"I've had races where your hands are so cold you can't feel them," Greaser says. "Or you've fallen 10 times, or your chain has come off your bike and it's jammed and you don't think you're going to make it to the end, but you just keep going, and you're cursing and it's the worst race ever, and then you get to the end and you say, 'I want to do that again.'"
At 28 years old, Greaser has clearly worked hard to earn her reputation as an elite cyclist. This past summer, she claimed the USA Cycling Marathon Mountain Bike National Championship title for her age category. And if her dozens of other bike racing titles are any indication, it is a sport she lives for, every day of the year. But her ride to success was not always smooth.
Greaser had long been a talented athlete, competing throughout her youth in numerous sports, including soccer, track, and ski racing, even attending a ski academy in Maine in her early teens. At 18, she entered her very first triathlon and won – not just for her age group, but for women overall.
Yet lurking behind her competitive spirit was a gradually worsening eating disorder.
"I'm an athlete and I'm strong, but there was a difference between me and the popular girls at school … I was a tomboy," she says. "That was the beginning of it."
By ninth grade, her fixation on athletic performance was consuming her thoughts. "I had to be perfect. I couldn't let anything else get in the way," she says. "I started internalizing that and pulling away – not socializing with friends and working out all the time."
Healing through therapy and the support of her family, Greaser thought she was through the worst of it, only to relapse during her first year at Smith College, where she had planned to compete in cross-country, skiing, and lacrosse. "I felt this weird pressure to prove myself all over again," she says. "I thought I had to train harder than anybody to make an impression, to be accepted … I started to use food as a way to control that."
I started to understand the bike as a way to happiness. —Jena Greaser '10 (CLAS)
This time, Greaser took an extended break, leaving Smith and working to recover fully through an inpatient program, while reflecting on what she wanted out of life. She arrived at UConn in 2007, eager for a fresh start. "At UConn, I just wanted to be me." she says. "No titles, no strings attached."
There, she discovered UConn's Cycling Club, entering – and winning – collegiate races from day one. Excited for the approaching spring bike season, she bought her first high-end road bike, only to end up on crutches for four months after sustaining multiple injuries during a ski competition. "All I kept thinking that whole time was, 'I want to ride my bike,'" she says.
When she finally returned to biking, however, her passion for the sport moved far beyond physical fitness. "It became a vehicle for healing, and not just sport or the adrenalin side of me," Greaser says. "I started to understand the bike as a way to happiness."
Crediting UConn's Cycling Club with propelling her into the sport for good, Greaser continues to compete in mountain biking competitions, road bike races, and a hybrid form of bike racing called cyclocross. Living in Ketchum, Idaho, surrounded by hundreds of miles of biking terrain, Greaser recently landed sponsorships through Scott Sports and athletics organization Play Hard Give Back, which will help fund her racing endeavors – all while she attends graduate school and works a number of jobs, including as a ski instructor, mountain bike coach, and outdoor educator.
Despite her tough road to recovery, she has no regrets. "The eating disorder was kind of my way of coping through my adolescence. But as difficult, scary, and frustrating as it was, I feel blessed that I went through it, because it made me who I am now," she says. "Just be who you are and be happy, and if you're happy doing what you're doing, then you're doing it right. Cycling has been that transformation for me. It's helped me to value a holistic approach to what it means to truly live healthfully."