This article was first published in the Spring 2014 print edition of UConn Magazine. To access more stories like this, visit s.uconn.edu/spring 14 or download UConn Magazine's free app for tablet devices.
It was 1933 when UConn students so insightfully designated the husky as the symbol of strength, grit, and resolve that has come to define the true spirit of the University. In this special feature, UConn Magazine invited 11 proud UConn alumni to speak out about what defines them, from their darkest struggles to their greatest triumphs. And no matter how different their backgrounds, their hardships, or the mistakes they may have made along the way, that same enduring strength and indomitable spirit remains, living on at the heart of every Husky.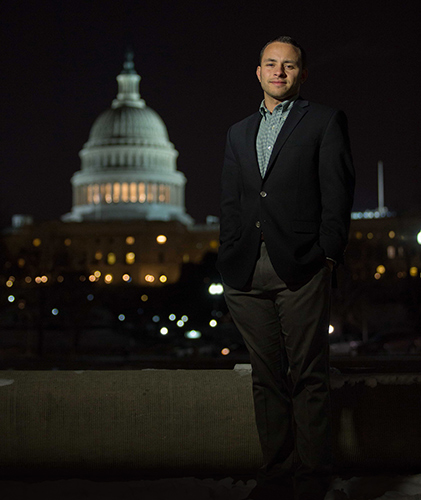 Abandoned by his mother at the age of 14, Khaliyl Lane '10 (CLAS), '13 MSW became a ward of the state, with nowhere to call home.
Fortunately for Lane, Barbara Allison, the mother of one of his close childhood friends, welcomed him into her home, eventually becoming his foster parent. Allison knew Lane had potential and was impressed by his innate intelligence, his poise, and his grit. But she took him into her home on one condition – he had to obey the family rules. He had to stay in school, be respectful, and do what was expected of him. Lane embraced order from his world of chaos.
"Barbara is the main reason I'm talking to you today," says Lane. "She's an amazing person. She encouraged me to play sports, to keep a high GPA, to treat people with respect. I was able to turn my life around at an early age. She kept me from heading down the wrong path."
With Allison's support, Lane graduated from high school with honors and enrolled at UConn. In 2007, he played cornerback as a walk-on member of UConn's Big East Champion football team, while majoring in communication sciences with a minor in sociology. He earned his bachelor's degree in 2010.
Time and again, Allison says, Lane's inner strength carried him through.
"No one is more proud of Khaliyl right now than I am," says Allison. "He proved himself in the worst of circumstances. He is an individual of strong character; a young man of perseverance, resilience, and consistency. The last thing Khaliyl ever wanted to do was disappoint me, because he saw all that I was doing trying to help him."
You don't have to go it alone. —Khaliyl Lane '10 (CLAS), '13 MSW
If there is a motto Lane lives by it is that when life teaches you a lesson, learn from it. And if there is one piece of advice he would share with others, it is this: The choice to overcome is always your decision to make.
"I believe everything happens for a reason," Lane says. "So if my experiences can help others navigate through tough times, then I am making good on all of the help I've received along the way."
After getting his bachelor's degree, Lane enrolled in the UConn School of Social Work, where he secured an internship at the United Nations, working on such issues as human trafficking and poverty eradication. He would go on to earn a master's degree in international social work, specializing in community organization and international policy.
Lane segued from his job at the U.N. to an internship in the Washington, D.C., office of U.S. Sen. Richard Blumenthal. As part of his internship this past summer, Lane prepared a formal policy report on foster care and child welfare issues for the senator. When the internship ended, Blumenthal hired Lane as a full-time assistant. Lane has recently been promoted to legislative correspondent.
"From his first day here, Khaliyl was a hard worker and demonstrated wisdom beyond his years," says Blumenthal. "I am proud to count Khaliyl as a member of my staff, and I know he'll serve the people of Connecticut and the nation well."
For anyone else who is facing a personal struggle, Lane wants them to know it is OK to look for help. Even the strongest among us sometimes need a helping hand.
"You don't have to go it alone," Lane says. "The ability to trust those that are worthy is an incredibly liberating experience."