This article was first published in the Spring 2014 print edition of UConn Magazine. To access more stories and videos like these, visit s.uconn.edu/spring 14 or download UConn Magazine's free app for tablet devices.
It was 1933 when UConn students so insightfully designated the husky as the symbol of strength, grit, and resolve that has come to define the true spirit of the University. In this special feature, UConn Magazine invited 11 proud UConn alumni to speak out about what defines them, from their darkest struggles to their greatest triumphs. And no matter how different their backgrounds, their hardships, or the mistakes they may have made along the way, that same enduring strength and indomitable spirit remains, living on at the heart of every Husky.
Lucas Massella '13 (CLAS) was 10 years old when doctors told him that his kidneys were failing.
"I physically couldn't get out of bed to go to school. I had no energy at all. I knew something was wrong," recalls Massella, who had always loved spending his free time playing basketball and various other sports with his twin brother and their friends. "I remember asking the doctors, 'What are we going to do?' And they said, 'We don't really know.'"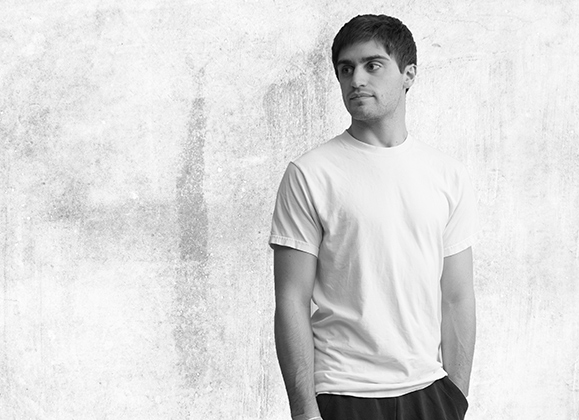 Massella had already spent more than his fair share of time in the hospital. Born with a birth defect called spina bifida, he had endured more than a dozen surgeries throughout his infancy and childhood. Although he had fared well, disproving doctors' expectations that he would likely never walk, he now found himself feeling worse than ever before.
A malfunctioning bladder, doctors discovered, was causing his kidneys to fail. Because a kidney transplant would not resolve the problem, treatment options were few: Massella could either spend the rest of his life on dialysis or try an experimental, unproven surgery offered by Anthony Atala, a new doctor on the team at Boston Children's Hospital.
Despite the risks, Massella's parents opted for the latter. That summer, doctors removed a small piece of his bladder and, over the next two months, used it to grow a new bladder – one made entirely of his own cells. After a 14-hour surgery to implant the new organ, a month spent recovering in the hospital, and another month at home restricted to his bed, the 10-year-old Massella finally began to feel better, itching to return to school and see his friends.
Today, Massella is known as nothing short of a medical miracle, an identity he admits he has come to embrace. "There were times when I was frustrated, thinking, 'Why can't I be like everyone else and not have to deal with this?'" he says. "But now I feel like it's made me who I am."
You've got to use anything you've been through – good or bad – to your advantage, to make yourself the best person you can be. —Lucas Massella '13 (CLAS)
Gradually regaining his health over the next few years, Massella was able to return to playing sports, making it back out onto the basketball court with his friends, going on to join the baseball and wrestling teams from middle school through high school, and even becoming captain of his high school wrestling team.
Eventually, he headed to UConn. A communication major, he studied among classmates who remained largely unaware of his celebrated status in the medical world – until his story began to make headlines following his appearance at a 2011 TEDTalk. There, at the celebrated conference series watched by billions worldwide, he reunited for the first time with the physician who had saved his life 10 years earlier, Dr. Atala.
Now 23, Massella has since been featured on a National Geographic special, served as a keynote speaker for the Regenerative Medicine Foundation, and has been written about in such publications as Wired magazine.
"I'll always have spina bifida, but I'm totally happy with where I am. I'm thankful not only that I'm able to walk, but also play sports. I can now live close to a normal life," says Massella, who today works as a special education paraprofessional and as a coach for his former high school wrestling team.
"No matter what it is that you're going through, you can always do what you can to fight through it," he says. "You've got to use anything you've been through – good or bad – to your advantage, to make yourself the best person you can be."