This article was first published in the Spring 2014 edition of UConn Magazine. To access more stories like this, visit s.uconn.edu/spring 14 or download UConn Magazine's free app for tablet devices.
It was 1933 when UConn students so insightfully designated the husky as the symbol of strength, grit, and resolve that has come to define the true spirit of the University. In this special feature, UConn Magazine invited 11 proud UConn alumni to speak out about what defines them, from their darkest struggles to their greatest triumphs. And no matter how different their backgrounds, their hardships, or the mistakes they may have made along the way, that same enduring strength and indomitable spirit remains, living on at the heart of every Husky.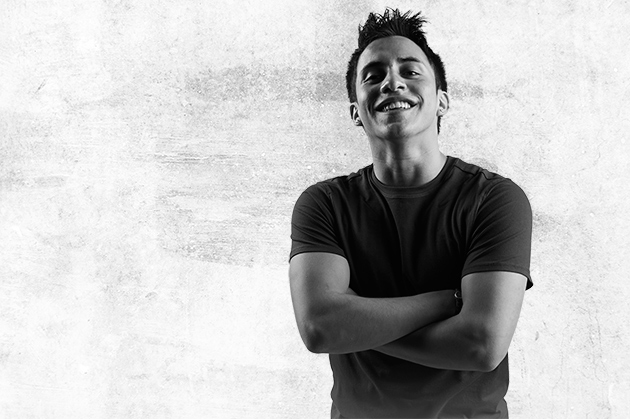 When one American couple began the lengthy process of adopting Mikey Chase '13 (CANR) and his twin brother from an orphanage in the slums of San Pedro Sula, Honduras, doctors could not guarantee the two infants would survive. Having subsisted solely on water sweetened with sugar and a few bananas a week, the boys' teeth had rotted, and severe malnourishment left them weighing just 12 pounds apiece by their first birthday.
Already, Chase and his brother, Greg, had the odds stacked against them.
Despite the doctors' dire predictions, the brothers endured, eventually making it to their new home in Bristol, Conn. Chase, a severe asthmatic, remembers being ill frequently as a child, including a case of appendicitis and three separate bouts of pneumonia before he had turned 10 years old.
"When I was young, I just wanted to get by," Chase says. "I was sick. I felt like such a burden." He found himself shying away from challenges, afraid to stand out, fearful of the unfamiliar. It was his twin, he says, who pushed him through those fears, encouraging him to be strong, to try new things, and to be himself.
"Before we went to bed every night, Greg would tell me stories," Chase says. "In these stories, I was always the main character. I was the star striker [on my favorite soccer team], scoring all the goals and setting all the records. … That's where I used to start getting confidence. He told me, 'You can just be you.' I can't even say how much good that's done for me."
Together, the boys came to excel at school and relish the time they spent playing sports. In fact, even with his asthma, Chase dedicated himself to playing such sports as soccer, baseball, and basketball, as well as running track in high school – and received numerous accolades along the way. "We are defiers of fate," Chase says he and his brother have come to employ as their personal motto.
But what had long been Chase's childhood dream – becoming a soccer star – would remain unattainable due to his asthma.
It didn't matter. He realized that the health challenges he had faced during his youth presented an inspiring career path, one in which he could offer the same kind of support and care to patients that he himself had received as a child.
We are defiers of fate. —Mikey Chase '13 (CANR)
"Going from a country with very little health care to here, where I received great care – I was lucky," he says. "I really believe in supporting children, giving them motivation, and teaching them that whatever they dream within reason is possible – you just have to want it. For me, I wanted to simply live a normal and happy life with dreams I could hold and make a reality. The health care system and my family's support helped me to achieve that. … If I could give that back to people, that's something I want to wake up every single day and go to work for."
With this in mind, he headed to UConn, while his brother attended Fairfield University. An Honors student and scholarship recipient, Chase hit his stride, majoring in allied health sciences and getting involved as a leader in innumerable student activities, including cofounding an annual conference for students interested in pursuing professions in health care. "UConn's been a huge part of my life. So to leave a legacy at UConn makes it that much more rewarding," he says.
Chase, now graduated from UConn and working at Bristol Hospital, plans to seek a career as a physician's assistant, working with an underserved population. He repeatedly returns to the lessons he learned from his twin, who has since come to UConn himself to obtain a law degree.
"One day my brother said to me, 'Courage is what turns dreams into reality.' And that stuck with me," he says. "There are things to be afraid of, and there are things where you have to be courageous and just try. And at the end of the day, if you try your hardest, no one can say you didn't give it your all."