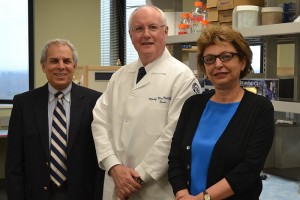 UConn Health's federally-funded grant to train people for careers in Skeletal, Craniofacial and Oral Biology (SCOB) research sponsored its annual capstone symposium last month. Seventeen trainees presented their research findings on topics including how bone, cartilage and teeth develop; genetics; biomechanics/biomaterials; and regeneration of diseased or damaged tissues. Linda Strausbaugh, professor of molecular and cell biology at UConn Storrs presented a keynote lecture on the role of fungi in the oral environment. Three alumni of the UConn Health program described their own experiences and career opportunities for the current trainees.
Photo Gallery
The SCOB training program is in its 18th year and is the largest training grant at the University of Connecticut. It provides training for students pursuing a combined DMD and Ph.D.; Ph.D.; and DMD or Ph.D. graduates seeking advanced research training. The program is within the School of Dental Medicine, widely recognized as one of the strongest in the country. The training program is headed by Dr. Mina Mina; Jon Goldberg is the co-director; William Upholt, a previous director of the program, serves on the steering committee; and staff provides important administrative support.
---
Follow UConn Health on Facebook, Twitter and YouTube.