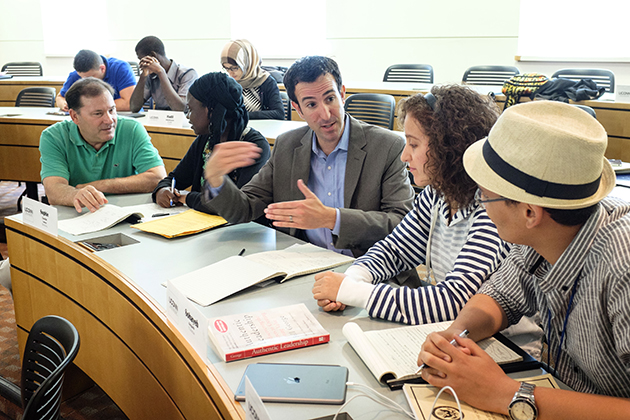 Printing books in Braille for the blind in Algeria, training rural women to sell handicrafts in Tunisia, finding jobs for disabled people in the Ivory Coast, recycling bottles in Senegal: they're pressing issues in Africa with one thing in common. Students developed solutions for them at UConn.
As a group of 40 college student leaders from North and Sub-Saharan Africa end a four-week stay on the Storrs campus designed to teach them startup strategies, it's clear that improving the world is serious business at UConn.
The program is part of an exchange that is sponsored by the U.S. Department of State's Bureau of Educational and Cultural Affairs to promote a better understanding of American history, government, and society abroad and to help develop future leaders.
The program, known as Study of the U.S. Institute for Student Leaders, is hosted by about half a dozen U.S. universities. Each has a different theme, such as religious pluralism, global environment, journalism, and women's leadership.
UConn, through its Global Training and Development Institute, is hosting the student leaders institute in social entrepreneurship for the fifth consecutive year. The students are selected by U.S. Embassy officials in a highly competitive application process.
"If you can take a group of 40 students and make 10 of them productive change agents back home, say preventing the spread of AIDS through a healthy lifestyles program, or teaching a community to recycle waste or adopt a water management program, you've made an impact," says Roy Pietro, director of the Global Training and Development Institute. "UConn is doing some good work that is having a global impact through these projects."
Pietro says social entrepreneurship has become "a big movement" among African college students, thanks to the Internet having lowered the barriers for sharing information and ideas. He defines the concept as involving the use of investment and business skills to make positive social change. "These are a new kind of entrepreneur," he says, "in business to solve problems instead of pursuing profit."
To succeed, however, would-be social entrepreneurs need practical business problem-solving skills to attract investors, carry out projects, and collaborate across the boundaries between public and private institutions.
UConn's social entrepreneurship theme "lends itself to a social change project," says Pietro, noting that over the years the University's program has allocated more than $100,000 of its U.S. State Department funding to support sustainable social change in local communities in developing countries.
This year's itinerary included a mix of workshops, group exercises, home-stays, field visits, and cultural activities, providing a broad range of experiences of UConn campus life and American culture.
The curriculum, taught by UConn faculty from several different departments, included entrepreneurship, small business development, microfinance, strategic marketing, and fundraising, as well as sessions on creativity, diversity, U.S. history, and leadership.
Pietro says it is inspiring to work with the African students, whom he describes as "very savvy, very sharp, and very competitive."
For nearly all of them, this is their first visit to the U.S. "What they want is to see and learn what we are doing in the U.S. with social entrepreneurship," he says. "It's very rewarding, because they are so motivated to go and make change back in their local communities."
This year's participants included 20 students from Tunisia, Algeria, Libya, Morocco, Egypt, and Yemen; and another 20 students from Senegal, Nigeria, Cameron, Mali, Ghana, and Ivory Coast.
During their stay at UConn, the students from North and Sub-Saharan Africa were mixed in two groups that lived and studied together.
Rafika Mokhtari, a 23-year-old Algerian woman, said that meeting other Africans in the program helped her overcome stereotypes. "I see them as closer now," she said.
The students' perceptions of the United States were also greatly altered. Sohayeb Belguith expected American culture to resemble what he saw in the movies. The 23-year-old Tunisian particularly valued his exchanges with "real people" during his volunteer experiences and the weekend homestay in Storrs. "There's much more about American culture than what we see in the cinema," he said.
Sofie Camara from Senegal said she was motivated to take part in the program by a desire to experience American culture first-hand. The 20-year-old, who has a job with an American consulting firm in Dakar, said she appreciated the respect that women receive in the workplace, relative to African countries. "That's a very important difference," she commented.
The African students now embark on a week-long study tour that will combine educational and cultural site visits in New York City, Philadelphia, Gettysburg, Pa., and Washington, D.C. Before returning home, the participants will discuss significant aspects of their learning experience in group presentations, and deliver individual 10-minute presentations on their project ideas and plans.
Study of the U.S. Institute is designed and funded by the Study of the U.S. Branch in the U.S. Department of State's Bureau of Educational and Cultural Affairs. Participants in Study of the U.S. Institute are among over 40,000 individuals participating in U.S. Department of State exchange programs each year.
For more than 60 years, the Bureau of Educational and Cultural Affairs has funded and supported programs that seek to promote mutual understanding and respect between the people of the United States and people of other countries. The Bureau's other programs include the Fulbright Program and the Benjamin A. Gilman International Scholarship Program.