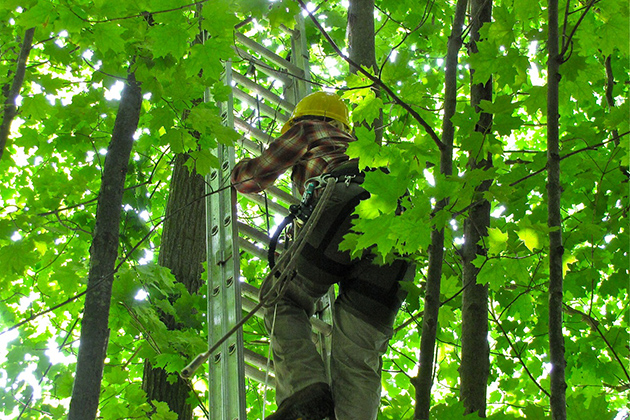 There are few places on earth that have as many people living among so much forest as does Connecticut, a distinction that becomes an issue for home and business owners when storms hit and falling tree limbs knock out power.
To reduce storm-related instances of electrical outages, University of Connecticut (UConn) faculty members recently began rolling out a new education program for the public.
Under the initiative, dubbed Stormwise, experts share forest management principles with communities and individuals.
"We explain to people that trees can be managed so that there is a natural resistance to wind damage," says Tom Worthley, UConn extension educator who specializes in forest sustainability. "If a stand of trees is unhealthy, judicious thinning of unhealthy specimens – understanding the biomechanics and making sure the strongest ones remain – can dramatically reduce the effects of strong wind or a heavy snowfall."
While aesthetics are important in a state that has an official tree – the historic Charter Oak – and where tourists flock to view brilliant fall foliage, numbers are important, too.
With 4,842 square miles, Connecticut ranks above only Rhode Island and Delaware in size. With a population of just over three and a half million people, it is the fourth most densely populated state in the Union.
And with 60 percent of the land covered by trees, it ranks 13th in percentage of forest cover.
Worthley partnered with John Volin, professor and head of the Department of National Resources and the Environment, and Mark Rudnicki, associate professor of forest ecology, on the initiative.
The need for Stormwise became apparent when back-to-back storms pummeled the state in 2011.
That year, Tropical Storm Irene left approximately 800,000 people without electricity in August and a surprise snowstorm affected nearly 900,000 just two months later. In both cases, homeowners were left in the dark for days, many for a week or more. The financial burden from the storms exceeded $750 million.
When Rudnicki presented Stormwise at a public workshop on climate adaptation this past spring, he was met with enthusiasm by officials from various towns along the shoreline that hope to retain their tree-lined byways while at the same time being prepared to withstand rough weather.
In addition, a webinar Rudnicki presented reached officials from 41 Connecticut towns and included participants from five other states. Officials in several of those, including Massachusetts and New Hampshire, contacted the Stormwise team about creating similar programs.
"This is a program that people can relate to," Rudnicki says. "We are all about education and research and helping people understand the mechanics behind good tree management. Essentially, that means putting the right trees in the right places."
In Connecticut, the initiative is combined with predictive modeling efforts conducted by Connecticut Light & Power (CL&P) and UConn's Department of Engineering that are designed to anticipate potential damage from encroaching weather systems.
Currently UConn is monitoring stands of trees at three sites in the state where the effect of wind on various habitats is being measured. The information gathered will ultimately help determine the best combination of trees and the best places to put them, and will help in the prediction of impending storm damage.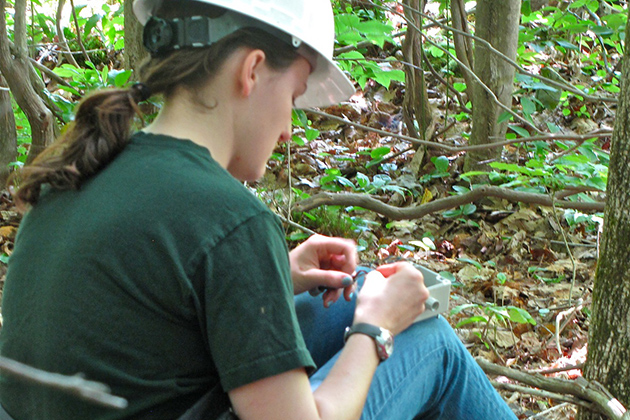 Although power outages will never be 100 percent eliminated, Volin says, Stormwise will be a success if those outages are fewer and farther between, and shorter in duration.
Other agencies and a centers working with the Stormwise team include the Connecticut Agricultural Experiment Station; UConn's Institute for Community Resiliency and Climate Adaptation, housed at the Avery Point campus; and UConn's Center for Land Use Education and Research (CLEAR), located in Haddam.
"In New England, keeping trees healthy and the power on is important to everyone," Volin says, "and we're pleased that UConn is leading the way in that effort."

Link to CLEAR webinar here.