Even best-selling fiction writer Wally Lamb '72 (CLAS), '77 MA admits he never could have envisioned it: The house in which he spent roughly 16 years penning several of his celebrated novels is now part of a movie set for a forthcoming feature-length film based on one of those books.
Lamb's fourth book, the comic novella Wishin' and Hopin' (HarperCollins, 2008), is the first of his works to be adapted for the big screen. Filmed in Connecticut by Rocky Hill-based Synthetic Cinema International, the movie – slated for limited release across the country later this year – was shot in part just minutes from the UConn Storrs campus, in a quiet, residential neighborhood in Willimantic. There, inside the same unassuming, three-story home where the UConn alum had for many years rented space as a writing sanctuary, his characters will now come to life on film.
Among the stars cast are Molly Ringwald, Meat Loaf, and Annabella Sciorra. Lamb himself will also make a cameo appearance in the movie, playing the role of a school janitor.
"I still scratch my head sometimes and say, 'How did all of this happen?'" Lamb says. "I have a pretty good imagination, but I couldn't have imagined a life for myself that has become this cool and this interesting and this challenging."
Leap of faith
Set at Christmastime in 1964, Wishin' and Hopin' tells the story of 10-year-old Felix Funicello, a parochial school student growing up in the fictional town of Three Rivers, Conn. Lamb – who is more well-known for his lengthy, powerful, often heartrending novels – refers to Wishin' and Hopin' as his "comic-relief novel."
"I wanted to try to remind myself that you can walk on the sunny side of the street," he says of writing the book, which followed The Hour I First Believed, a novel based on the 1999 Columbine massacre.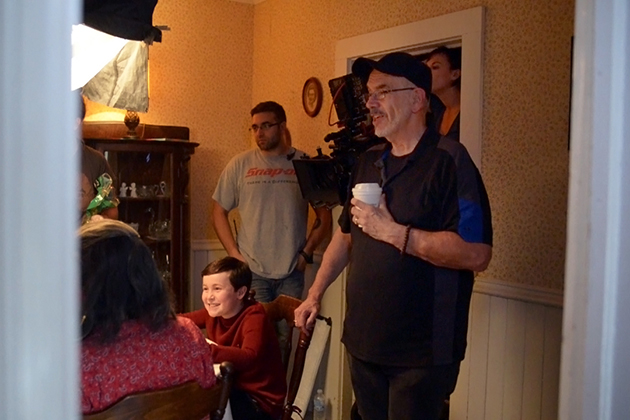 The lighthearted, nostalgic story of young Felix is not only a departure in style for Lamb, but also a marked shift for the production company Synthetic Cinema, which has traditionally developed horror movies. Yet Lamb says it didn't take much convincing to get him onboard with the project. Andrew Gernhard, president of Synthetic, is one of Lamb's former students from Norwich Free Academy, a high school in Norwich, Conn., where Lamb taught for 25 years. Gernhard approached Lamb with the idea for the film.
"I wanted to take a leap of faith with this company, not only because it's a Connecticut company and because I had personal connections with the producer, but also I wanted to see what moviemaking was like," says Lamb, who serves as executive producer for the film. "I wanted to study the process, and they invited me into that process."
Although the movie rights for several of his other novels had been sold previously, none of those deals has yet led to the development of a feature-length film. "Suddenly, this project was a go," Lamb says. "It's been a very fast sort of turnaround, and I have nothing but praise for this company, the crew, and the casting of both the major stars and the kids. It's really been a peak experience for me."
Bringing the story home
Throughout the 23 days of filming, interacting with the young members of the cast was among the highlights for the former high school teacher and university professor.
"I got along famously with the kids," says Lamb, who spent time between scenes entertaining the child actors with his skills as a caricaturist. On the cast's occasional days off, Lamb also took the children and their parents on area field trips – from the UConn Dairy Bar to a Chinese restaurant's karaoke night, where he joined the children in singing "Wishin' and Hopin'," the Dusty Springfield classic after which the book and film are named.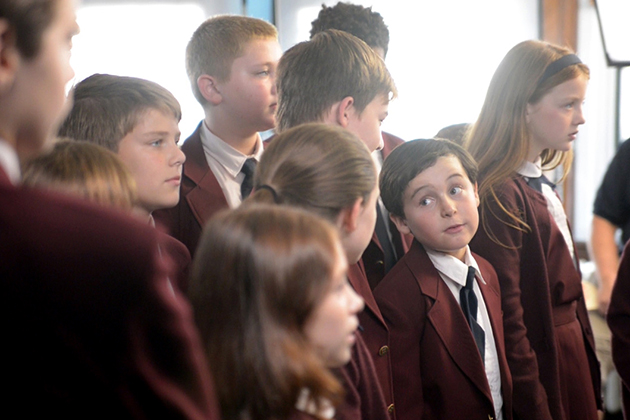 The movie, which wrapped up filming last month, was shot in the Connecticut towns of Willimantic, Jewett City, and Norwich – another source of excitement for Lamb, who was born in Norwich and still lives in Connecticut.
"One of the delightful things for me about this experience was the chance to bring the story back to home port," says Lamb, who had suggested to the film's producers the idea of using the house in Willimantic as one of the movie sets. The interior of the house was subsequently transformed into the Funicello family home, and the office in which Lamb wrote the novel Wishin' and Hopin' became Mr. and Mrs. Funicello's bedroom in the film.
"It was kind of surreal," says Lamb, though he believes the late owner of the home, his friend and former landlady Bernice "Bunny" Bennett, would have approved. "I knew she would have gotten a kick out of using her house," he says.
With the film now in post-production, Lamb is looking forward to its theatrical release this November. He hopes to have one of the movie's premieres scheduled at a nonprofit performing arts theater in Connecticut to help raise funds benefiting charitable organizations in the area.
Meanwhile, he continues to write, with work underway on a prequel to Wishin' and Hopin', titled Vote for Miss Rheingold and slated for release next year through the publisher eBook Extreme. According to Lamb, this latest work promises to offer a multimedia experience for the reader, incorporating narration and some documentary-style elements, as well as some original filming. Whether or not this will lead to another Lamb cameo appearance, however, remains to be seen.