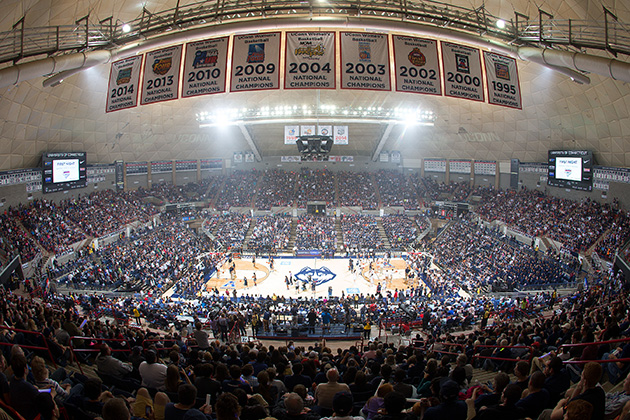 A new energy-efficient lighting system that will soon be installed at Harry A. Gampel Pavilion will drastically reduce energy consumption and costs at the arena, while allowing more flexibility in how the facility is lit.
The University's Board of Trustees recently approved a $546,000 upgrade of Gampel's lighting and lighting control system as part of UConn's efforts to achieve carbon neutrality by 2050, a goal set forth by the American College and University Presidents' Climate Commitment Commitment and UConn's Climate Action Plan.
The project is estimated to cut the arena's energy use by 75 percent and shrink operating and maintenance costs for the lights there by 80 percent, according to a memo from Chief Financial Officer John Biancamano and Provost Mun Choi to the UConn Board of Trustees.
The new high-efficiency Light-Emitting Diode (LED) fixtures will have a much longer lifespan than the old lights – they won't need to be replaced for 10 years – and can be controlled remotely, which will also reduces energy and labor costs, says Rich Miller, director of the Office of Environmental Policy (OEP).
The new lighting system will allow for more adjustments to the level of lighting than was previously possible, helping to reduce costs and energy use. For example, during practices, the floor can be lit while the rest of the arena is dark, Miller says.
In terms of wattage, the Gampel project may be the largest relamping project at the University so far, Miller says. Since UConn's Climate Action Plan was adopted in 2010, UConn has upgraded lighting systems in more than 115 buildings and at the Sherman Family Sports Complex.
Relamping has so far lowered the University's carbon dioxide emissions by 3,900 metric tons per year and saved $660,000 in energy costs, according to the OEP's 2014 Sustainability Progress Report.
The success of the Sherman project, which was completed in summer 2013 and won a Power of Change Award, was a motivator for taking on Gampel, Miller says.
"Athletics knew that the lighting in Gampel was an inefficient system," he says. "They want to bring it up to speed.
"Facilities, Athletics, and Environmental Policy support the project, because it saves energy costs, improves lighting performance, and reduces our carbon footprint," Miller says. "With the example of the Sherman Complex retrofit already behind us, it becomes an easy investment to support."
The Gampel project will be funded through the UConn Renewable Energy Credit Fund, with up to 40 percent eligible for rebates from Connecticut Light and Power, according to the memo from Biancamano and Choi.
In addition to relamping – or replacing current lighting, UConn is in the midst of a four-year retrocommissioning project, which entails modifying existing HVAC systems, equipment, and controls to ensure they are running optimally and efficiently. Retrocommissioning has been completed at 19 on-campus buildings to date, saving UConn $2.2 million a year in energy costs, according to the OEP.
These efforts have lowered UConn's carbon footprint by 17 percent since 2010, according to the OEP report.
The projects at Gampel and Sherman allow UConn to put its sustainability efforts on display for a larger audience, according to Miller.
"These are very visible signs of improvement," Miller says. "When there are 10,000 people here for a basketball game and they see state-of-the-art lighting, we can communicate to a larger audience about the energy savings and the environmental benefits of it.
"Something is bound to resonate with a Husky fan," he says. "whether it's saving money, improving the entertainment value, or reducing our carbon footprint. And with all those championship banners on the walls, there is probably no facility on campus better known or more visible to the outside world than Gampel."