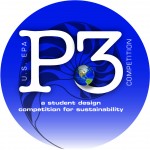 A student team from the University of Connecticut is one of five winners in the Northeast in the Environmental Protection Agency's P3 student design competition for sustainability research. Their achievement carries a monetary award of up to $15,000 to help fund their work, as well as an opportunity to compete for $90,000 during the second phase of the competition.
The goal of UConn's entry, one of 42 selected nationally, is the development of a cost-effective, environmentally friendly flame retardant to be used in fire prevention and containment. In comparison to existing flame retardants, UConn's proposal, "Environmentally Friendly Flame Retardants Based on Inorganic Nanosheets," is designed to have similar or higher performance than products currently in use but with only a minimum release of toxic gases during combustion, and with no leak of toxic chemicals during production, transportation, and use. An additional benefit is that the cost will be similar or lower than that of currently used retardants.
Luyi Sun, associate professor in the Department of Chemical and Biomolecular Engineering, says that current fire retardants have significant environmental and health issues. The product designed by UConn students will be a waterborne, halogen-free coating composed of hundreds of layers of well-aligned inorganic nanosheets that can physically block the heat/oxygen transfer and thus effectively retard flames. Its waterborne nature ensures that no volatile organic compounds will be released during the coating formation process.
The project is an interdisciplinary collaboration between students from the Department of Chemical and Biomolecular Engineering, the Institute of Materials Science, and the Department of Civil and Environmental Engineering.
Team members include Ph.D. candidates Jingjing Liu from Materials Science, and Jingfang Yu, from Chemical and Biomolecular Engineering; seniors Lauren Kovacs, Brittany Bendel, and Arie Havasov who are Chemical and Biomolecular Engineering majors; and junior William Masinda, a Materials Science and Engineering major.
The three P's in the EPA competition's title stand for People, Prosperity, and the Planet. It is a two-phase team contest, where students initially prepare proposals that compete for funding of up to $15,000 to pursue their research. In April, the funded teams bring their projects to Washington, D.C., where they are judged by a panel of experts convened by the American Association for the Advancement of Science at the annual National Sustainable Design Expo. The winning team will receive a grant of $90,000 to take its design to real-world application.