Former UConn men's soccer student-athlete Tony Rizza '87 (BUS) has pledged a total of $8 million to transform the soccer complex and build a brand new state-of-the-art soccer stadium on the Storrs campus.
The new facility will be built on the site of the current Joseph J. Morrone Stadium and will bear the same name. The overall soccer complex, which will include the new stadium as well as the existing training grounds and practice field adjacent to the stadium, will be named the Rizza Family Soccer Complex in recognition of this transformative gift.
This gift is my way of recognizing coaches, faculty, and campus staff who helped me while I was at UConn. –Tony Rizza '87 (BUS)
Rizza's new pledge is for $5 million to match donations for the facility, and two years ago he gave $3 million for the project. Combined, these two gifts make him the single largest donor in the history of the UConn Division of Athletics.
"This gift is my way of recognizing coaches, faculty, and campus staff who helped me while I was at UConn, and it's a small way of saying thank you," says Rizza, who is senior managing director of Columbus Circle Investors Inc., a Stamford investment advisory firm with $16.6 billion in assets and 65 employees
Current UConn men's soccer head coach Ray Reid was the first donor to support Rizza's match with his own gift of $100,000.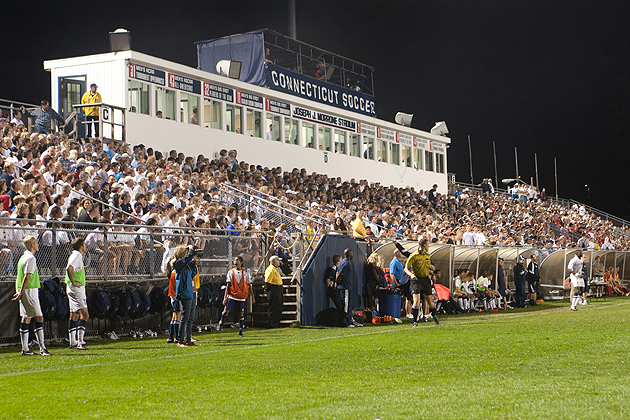 "It was Husky Soccer under Coach Morrone that helped put UConn Athletics in the national spotlight, winning UConn's first NCAA men's championship in any sport in 1981, and Coach Reid continues that great tradition," says University President Susan Herbst. "Since then, UConn soccer has become one of the nation's premier programs, with both the men's and women's teams among the elite programs in the country.
"Morrone Stadium is one of the nation's most enthusiastic college soccer venues, drawing record numbers of vocal fans year after year," adds Herbst. "Tony Rizza's generous gift will help make an already great program at Storrs even better."
Morrone was the head men's soccer coach at UConn from 1969 to 1996, and led the Huskies to an NCAA Championship, three trips to the national semifinals, and a total of 16 appearances in the NCAA tournament.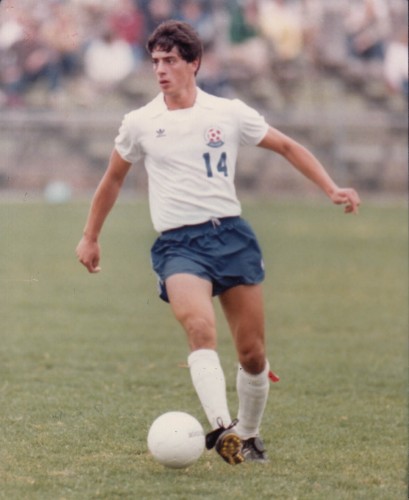 Rizza played for the Huskies from 1983 to 1986, and started 59 games as a back during his career. He played in three NCAA tournaments, and was part of two Big East Conference championship squads. Rizza was the winner of UConn's Eric S. Lund Award as a sophomore, given to the team's most improved player. A native of Newington, Conn., Rizza was an all-state high school performer at Newington High.
"My experience at UConn and, more specifically, with the men's soccer program provided me with important life skills that have helped me succeed in my career," says Rizza. "To be a successful student-athlete at a high level like UConn's, one must be disciplined, dedicated, motivated, and focused on achieving goals. I learned this during my four years playing soccer in Storrs, and I have used it in my professional life every day since the day I graduated.
"I look forward to seeing my gift help UConn build a world-class soccer complex that will keep both the men's and women's soccer programs in their spots among the premier soccer programs in America – a place where players want to play, and UConn students and fans want to come to enjoy the finest collegiate soccer in America."
Reid, who has been the Huskies' head coach since 1997, says: "A gift of this magnitude from a former student-athlete confirms the value of the University and its soccer program to everyone involved with it. I'm confident with Tony's leadership, this new stadium will quickly become a reality and serve as a strong recruiting tool that will keep the soccer teams strong for years to come."
The original Joseph J. Morrone Stadium opened in 1969 and developed from a simple facility with sideline bleachers and a portable press box. Over the years, numerous improvements and upgrades to the facility were made on an individual project basis. While it remains one the most attended college facilities in the country, it has outlived its usefulness compared to other facilities around the country.
The Husky men's and women's soccer teams are perennial powerhouses in the sport, and the teams draw large crowds to Morrone Stadium. The Husky men's soccer team has won three national championships, including the one in 1981 by Morrone and in 2000 under Reid. The UConn women's soccer team, under head coach Len Tsantiris, has appeared in the NCAA tournament in 28 of the past 32 years, with trips to two national championship games and seven national semifinals.