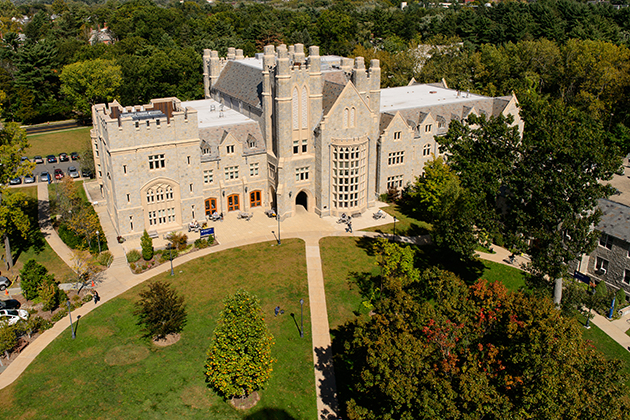 UConn's School of Law has created two new master's degree programs, one in human rights and social justice and the other in energy and environmental law, as part of an ongoing commitment to meet society's changing needs.
The new graduate degrees allow students who already have their first law degree to specialize further in these emerging and exciting fields of law. UConn Law is the only law school in New England to offer such degrees.
At a time when debates over environmental challenges as well as international and domestic civil rights are as significant as they are complex, the new programs will "focus on training the lawyers of tomorrow, cementing our position as a national law school with top-ranked scholars, and contributing to the economic growth of our region and the social health of our communities," says Timothy Fisher, dean of the UConn School of Law.
The new programs are also the latest manifestation of the law school's new academic plan, which identifies international and domestic human rights, and energy and environmental law as two specialties in the coming years "that will likely be in high demand."
With an export economy deeply connected to global markets, Connecticut lawyers increasingly must comprehend the international legal framework within which their clients are engaged. In addition, growing numbers of UConn law graduates practice in areas directly influenced by the business, policy, and legal aspects of energy and environmental law.
The degree programs are designed to help students seeking to specialize and acquire advanced skills to effectively address complex issues in these growing fields of legal practice, Fisher says. They also will help solidify the law school's national reputation on issues at the intersection of human and civil rights and the practice of energy and environmental law.
Expanding the school's offering in human rights and social justice will build on the success of its Certificate in Human Rights, which has graduated 36 students over the past five years, and will create a novel program that integrates international human rights expertise with existing academic strength in the practice of domestic civil rights and social justice.
"In domestic U.S. courts, there has been an upsurge in plaintiffs introducing international human rights standards in cases advocating for improved public education and health care," Fisher says. "Connecticut businesses increasingly need legal guidance on risk management that includes international and domestic human rights issues. Combining classic civil-political rights with economic and social rights would situate UConn Law at the forefront of U.S. law schools in this topical area."
Similarly, UConn is ideally positioned among top research universities to develop an innovative program on energy and environmental law. Connecticut and the Northeast are dynamic laboratories for innovation in environmental protection, renewable energy regulation, climate law, and land-use policy that range across almost every natural and man-made environmental challenge, says Fisher.
UConn Law already has a faculty core of experts on energy and environmental law, and is home to the Center for Energy & Environmental Law (CEEL), for energy and environmental policy research that will serve as a strong foundation for the program. Through CEEL, interdisciplinary ties exist across the University, including the UConn Center for Environmental Sciences and Engineering and the new Center for Energy Innovation among others, that bring law, science, and engineering students together in the same classroom.
"Students in our CEEL program take advantage of the vibrant energy and environmental atmosphere in both the Hartford legal community and through our strong cooperation with state government," says Joe MacDougald, professor-in-residence and director of the new LL.M. in energy and environmental law. "UConn law students can gain real world expertise at state agencies, federal agencies, law firms, and regulated utilities."
Fisher notes that energy law is a growth area in a tough legal market. "Addressing these challenges requires not just scientific expertise, but legal vision to facilitate technological advances and guide policy transformation," he says.
The UConn Board of Trustees' Executive Committee recently gave final approval to the creation of the new degrees, which are pending American Bar Association acquiescence, expected this spring. Both join the school's other two established LL.M. programs, one to teach foreign lawyers about the U.S. legal system and another in insurance law. The first cohort of students is expected to enroll in the fall of 2015.