In today's high pressure health care environment, doctors, pharmacists, insurers, and others must constantly scan the latest medical news in order to stay abreast of the most effective treatments.
But there are so many medical studies in circulation that it is practically impossible for health care professionals to review all of the material with a critical eye to determine whether a more effective drug, surgical procedure, or medical device is indeed in the offing.
At the University of Connecticut, a multidisciplinary team lead by two veteran pharmaceutical researchers is stepping up to help health care professionals make more informed decisions by sifting through the latest research in order to recommend the best treatment options based on a strict analysis of the scientific evidence.
In recognition of the team's clinical expertise, UConn was recently awarded a 5-year contract to serve as one of 13 Evidence-based Practice Centers supported by the federal Agency for Healthcare Research and Quality.
The designation is highly competitive and only a select few institutions are given the honor. Some of the other centers currently operating in the U.S. are overseen by Duke University, Brown University, Johns Hopkins University, and the Mayo Clinic.
Reports produced by evidence-based practice centers around the country are used by the federal Centers for Medicaid and Medicare Services in making health coverage decisions that affect millions of patients nationwide. National medical, nursing, and pharmacy organizations also use the reports to set guidelines for treatment and care.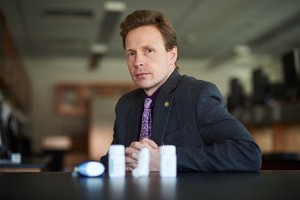 "There are so many studies published each month that a doctor or health insurer would have to read for hours a week just to keep current," says Professor C. Michael White, head of the Department of Pharmacy Practice in UConn's School of Pharmacy and co-director of the new evidence-based practice center.
"On top of that, sometimes there are conflicting studies that are more applicable to one population than another and other nuances that would be difficult for clinicians or payers to pick up on."
The studies performed at UConn will assess the safety and effectiveness of a drug, surgical device, medical procedure, or other intervention in order to determine its benefits and risks of harm. Investigators will conduct systemic reviews and meta-analysis of all the available scientific studies and compare different types of therapies to determine the most optimal treatments. Their conclusions will be based on the studies' strengths, methodology, scientific evidence, and how applicable the results are for targeted patients. The studies will not consider the costs of treatments and team analysts are carefully screened to avoid conflicts of interest.
"Our reports are very unique in that we look at the totality of all the literature, not just this one study you may be familiar with or this other study that has received some attention," says White. "We then review all of that data to answer the important questions people want answered in the health care system – not just whether something works, but the balance of benefits to harm and whether it is best for a targeted patient population."
White, along with the center's other co-director, Professor Craig Coleman from the School of Pharmacy, have years of experience conducting reviews for the AHRQ having led a previous UConn evidenced-based practice center that was under federal contract from 2008 to 2012. The center lost funding due to federal budget cuts, but recently reorganized and received a new 5-year contract through a new umbrella collaborative known as UConn HOPES, which stands for Health Outcomes, Policy, and Evidence Synthesis Group.
In prior years, UConn's evidence-based practice center produced some of the most widely read health reports in the country. The center's reports have appeared in such prestigious journals as JAMA, The Lancet, Annals of Internal Medicine, Pediatrics, and the American Journal of Medicine. UConn's studies have been reported by numerous national media outlets including NBC Nightly News, Good Morning America, National Public Radio and the Associated Press.
UConn HOPES includes a broad representation of UConn faculty with diverse backgrounds including pharmacy, nursing, medicine, psychology, statistics and others.
The center's Associate Director is Blair Johnson from the Department of Psychology and Dr. Lori Bastian from the School of Medicine serves as medical director. Christopher Rhoads from the Neag School of Education is the chief statistician while Diana Sobieraj, William Baker from the School of Pharmacy, and Dr. Thomas Van Hoof from the School of Nursing will conduct investigations. HOPES is a subsidiary of UConn's Center for Health, Intervention, and Prevention or CHIP and its members are all affiliates.
"CHIP is dedicated to supporting its research faculty both individually and collaboratively with others who hold complimentary expertise," said CHIP Director Jeff Fisher, a Board of Trustees Distinguished Professor of Psychology. "The HOPES group is an exemplar of the power of inter-professional and interdepartmental collaboration and having the EPC back at UConn is a powerful marker of that success."
Some of the center's past reports created controversy among various interest groups such as large pharmaceutical companies and patient advocacy groups. But Coleman said such reaction is to be expected given the often volatile nature of the issues under review.
"These reports are issued in a highly political environment," says Coleman. "There is no report that will come out that all the vested interests are going to be happy with and the response we receive underscores the tremendous impact these reports can have on the health care system."
Previous studies conducted by the center's research staff examined:
The use of high blood pressure medications known as ACE inhibitors or Angiotensin Receptor Blockers in stable coronary disease. Two medications were found to be equally effective but using both increased risks of complications.
Whether there is an increased risk of organ transplant rejection in patients who receive blood transfusions rather than drugs to stimulate red blood cell growth. There isn't an increased risk.
Whether generic or name brand drugs are best for preventing epileptic seizures. The two types are equally effective but switching from one to the other after treatment starts can increase hospitalization risks temporarily.
Whether human growth hormone is an effective treatment for children with cystic fibrosis. Faster growth generated by HGH means larger lungs for patients and reduced risk of hospitalization when they get pneumonia.
Says Coleman: "Our reports are a great resource for people who truly want an independent assessment of a particular health issue, who want to be confident in the answers we supply, and who want to clearly understand who the results apply to in terms of patient populations."