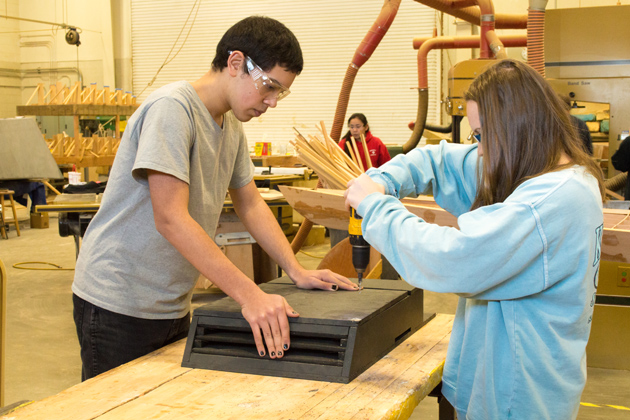 Students attending UConn's Natural Resources Conservation Academy during the summer leave the program with a challenge: Go back to your communities and develop a service project that will help the environment.
This year, their projects included a study on bluebird habitat; efforts to help restore the declining bat population in New England; biological control of the invasive plant purple loosestrife; and the status of osprey on the Connecticut River, among others.
During the summer program, led by assistant extension educator Laura Cisneros, high school students are exposed to a wide range of topics about the environment, including units on climate, water, forestry, soil, fish and wildlife, landscape ecology, and habitat protection.
Once they return to their communities, Cisneros monitors their work over the next six months, offering advice and encouragement where needed.
"This year's group of NRCA students was a real pleasure to work with from the start," Cisneros says. "They all were very excited to begin their community conservation projects, and had diverse ideas of the types of environmental topics and issues they wanted to address."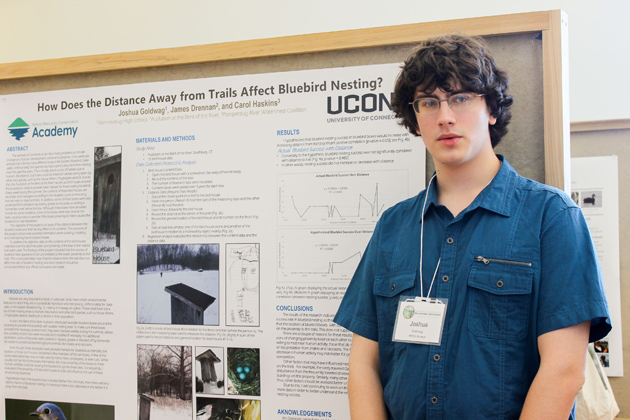 Joshua Goldwag, a junior at Nonnewaug High School in Woodbury, discovered that sometimes you learn as much when your hypothesis proves to be wrong as when it proves to be right. His study of bluebird habitat at a local Audubon center sought to determine whether the distance of bluebird nesting boxes from trails affects nesting success, but the results showed no correlation at all.
Goldwag says, "I expected that the farther the nest sites were from the trails, the more successful the nests would be – but that's not what happened at all. I discovered no significant correlation between where the nesting boxes were located and their success as nesting sites. This whole experience has helped me define my plans for the future, especially since I've been thinking about possibly doing research in environmental sciences."
Teaming up to study ways to improve the bat population were Brittany Marson, a junior at Ludlow High School in Fairfield, and Moises Hernandez, a junior at Warren Harding High School in Bridgeport.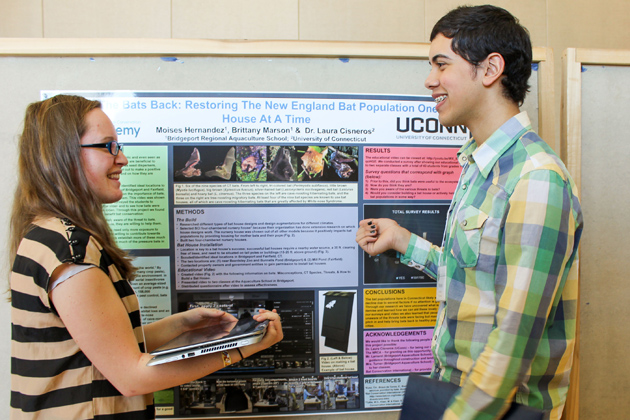 Both Marson and Hernandez divide their days during the school year between their individual high schools and the Bridgeport Regional Aquaculture Science & Technology Education Center, but because they attend different sessions at the Aquaculture Center, they had never met. This past summer, while attending the Natural Resources Conservation Academy, they discovered their similar interests and decided to work together on their community project.
"We had to pick a project," says Marson, "and I had become interested in bats when I learned that their population was plummeting due to a condition called White Nose Syndrome. Bats are incredibly valuable because of the role they play in insect control, and building bat houses is a way to help restore their population."
Hernandez had been doing work at the Audubon Society in Fairfield and was already interested in 'things that fly.' He says, "I had never heard about this fungus that has been killing all the bats, but because it seemed like a really important issue, I decided to work on the project along with Brittany."
Marson and Hernandez have both set their sights on attending UConn. After a gap year, Marson wants to study economics, and after her experience with the Natural Resources Conservation Academy she's thinking that maybe agricultural and resource economics will be the way to go. Hernandez has his eyes on a career in biomedical research.
Cisneros notes that this year, 21 of the 22 students who attended the summer program completed a community project, and 19 presented their work in the form of a poster at the Connecticut Conference on Natural Resources held at UConn on March 16.
"These projects have resulted in a variety of products/outcomes that will benefit their communities," she says, "ranging from informational videos and field guides to green infrastructure, such as rain gardens, to important baseline data that will help guide management of Connecticut forests, shrub lands, and rivers.
Three of the students were awarded Horace C. Eriksson Forestry Scholarships ranging from $2,000 to $8,000, should they decide to apply to UConn to study natural resources.
The Academy is run by the Department of Natural Resources and the Environment in the College of Agriculture, Health, and Natural Resources. It was made possible largely due to the generosity of an anonymous donor who approached the head of the department, John Volin, looking for a way to support environmental education. Working through the University of Connecticut Foundation, the Natural Resources Conservation Academy was developed; this summer will mark the fourth year of the program.