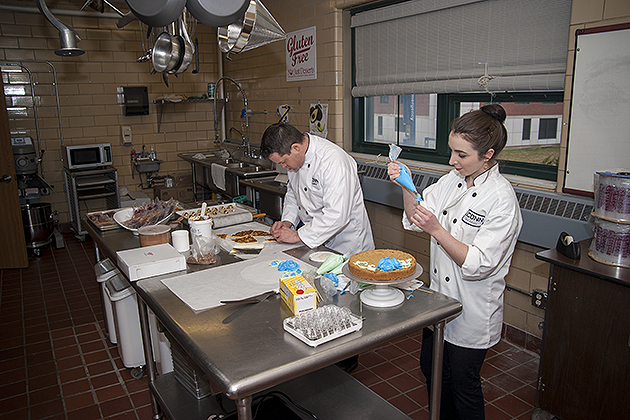 UConn Dining Services has opened a new dedicated gluten-free bakery this month, with the goal of supplying all residential dining units, cafés, catering, and grab-and-go's with gluten-free baked products by the end of the semester. It is believed to be the first bakery of its kind on a college or university campus in the U.S.
"It's pretty cool that we are the first college to have anything like this," says bakery manager Eric Merkle. "The staff is excited to have a whole separate kitchen, something that no other college has done."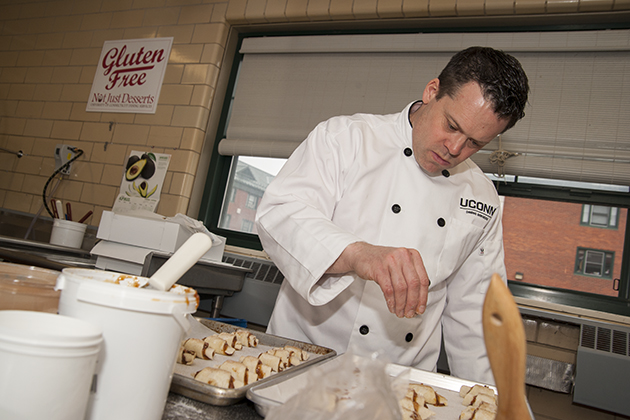 The gluten-free bakery – located in Trumbull House in the Towers residence halls, in the former test kitchen – will produce muffins, Rice Krispie Treats, brownies, cookies, cakes, and pies, replacing all the purchased items currently available at the gluten-free galleys in every UConn dining hall and at cafés.
"We are going to start off with our versions of the stuff we are doing now," says culinary manager Rob Landolphi. "We will put our products in the gluten-free galley fridges, and see how it goes from there."
Each of UConn's eight residential dining units at the Storrs campus has a special gluten-free area that stocks strictly gluten-free foods; and the Food Court also has a complete gluten-free menu, as does the casual dining restaurant, Chuck & Augie's.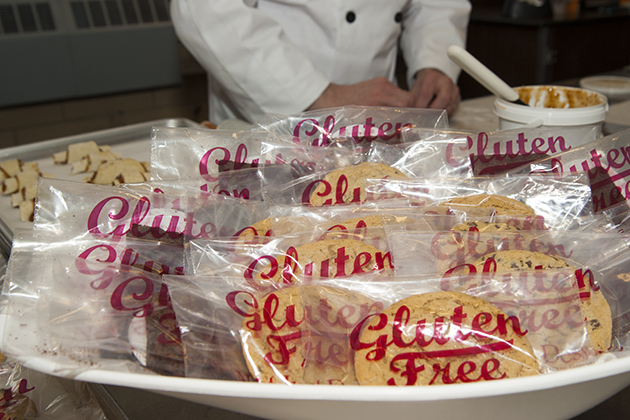 Gluten is the main protein in wheat, barley, and rye, so it is widely found in bread, cakes, cookies, and pastries. If someone who is allergic to gluten eats one of these, it causes an immune response in the cells lining the small intestine, preventing absorption of nutrients, so they must be vigilant about avoiding these foods.
The biggest difference in gluten-free baking is the flour. Without wheat flours, bakers must use a blend of rice flours, potato starch, and other grain meals.
"It's very different to cook without gluten," Landolphi says. "Gluten is everything – it holds it together, it gives us that elasticity, it gives that bite. Without it, we must use xanthan gum or guar gum to give the products structure."
The new kitchen is operated by a newly hired pastry chef, Kristina Breuninger, who is herself gluten-free and therefore well accustomed to the challenges of gluten-free baking, and is also educated in the field.
"Gluten-free baking is a whole other realm," Landolphi says. "Really what it comes down to is that you know how to properly blend the flours."
The new UConn products have no preservatives and no aftertaste, as is often the case for commercial gluten-free desserts.
"If you eat gluten and you can't tell the difference, then we know we've scored," says Landolphi.
Many other colleges and universities are only just starting to develop gluten-free options in their main dining halls, let alone their bakeries; but UConn has been offering gluten-free options for several years now. Last year, UConn was ranked #1 for the gluten-free options offered through Dining Services in the list of the Top 10 Gluten Free Accommodating Colleges for 2014. Landolphi says Dining Services staff are skilled and open-minded, and like to stay ahead of the curve.
Says Merkle, "We don't know where this is going to go. We would like to offer birthday cakes and cookie cakes as well, but we will give this a shot and see where it takes us."
UConn-baked gluten-free goods are already available in some campus dining halls, and can be purchased by members of the community and the public at Le Petit Marche in the UConn Co-op at Storrs Center and other Dining Services retail operations.